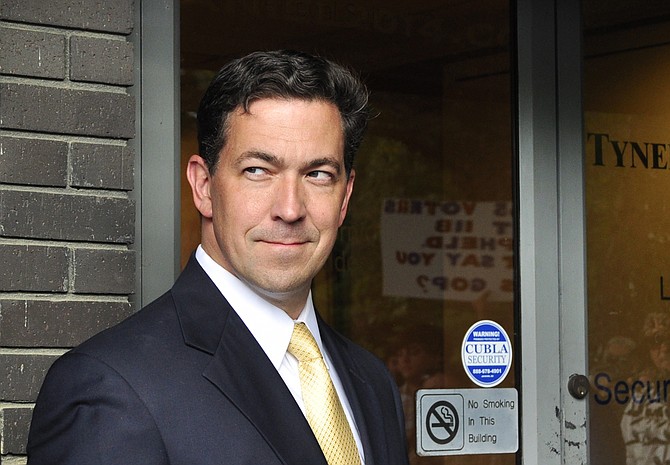 JACKSON, Miss. (AP) — A Mississippi state lawmaker who came close to defeating U.S. Sen. Thad Cochran nearly four years ago said Wednesday that he is going to run for the retiring senator's open seat.
Republican State Sen. Chris McDaniel announced that he will drop his primary challenge to incumbent Republican U.S. Sen. Roger Wicker and instead seek the Magnolia State's other Senate seat.
"We are asking Mississippi Republicans to unite around my candidacy and avoid another contentious contest among GOP members that would only improve the Democrats' chances of winning the open seat," McDaniel said in a statement. "If we unite the party now and consolidate our resources, we can guarantee Donald Trump will have a fighter who will stand with him."
Hours earlier, McDaniel had told The Associated Press he remained undecided about switching. The change allows him to run for a Senate seat with no incumbent and gives him more time to campaign and raise money. While the primary against Wicker would have been June 4, Cochran's seat is up for grabs in a nonpartisan election in November, which could be followed by a runoff.
McDaniel had qualified to challenge Wicker before Cochran announced his April 1 retirement last week. The 80-year-old senator cited poor health in stepping down.
Cochran's departure set off a scramble within a state Republican Party already struggling to manage a disaffected conservative faction. McDaniel is an outspoken, tea party-backed state senator who nearly defeated Cochran in a bitter 2014 Republican primary.
With Republicans trying to hold on to their slim Senate majority, pressure is building on Bryant to appoint someone who can keep the GOP's historical lock on the seat. There has been widespread speculation that he might appoint Lt. Gov. Tate Reeves or Secretary of State Delbert Hosemann, both Republicans.
Democrat Mike Espy, President Bill Clinton's first agriculture secretary, says he has a "strong intention" to run for the seat Cochran is leaving. In 1986 he became the first African-American in modern times to win a congressional seat in Mississippi.
McDaniel supporters rallied Wednesday at the state Capitol before the announcement, urging Gov. Phil Bryant to appoint McDaniel to the vacancy. They say the Republican legislator from Ellisville best represents their conservative views, suggesting McDaniel is owed the seat after losing to Cochran.
Bryant says pressure won't affect his decision on the appointment.
"Gov. Bryant will announce the U.S. Senate appointment once he decides who that will be," spokesman Clay Chandler said. "That decision has not been made. But he will not be affected by any political group or dynamic."
The Republican governor told WXXV-TV on Tuesday that he's likely to make the appointment in the middle of April. Bryant has said he won't appoint himself.
Copyright Associated Press. All rights reserved. This material may not be published, broadcast, rewritten, or redistributed.
Support our reporting -- Follow the MFP.