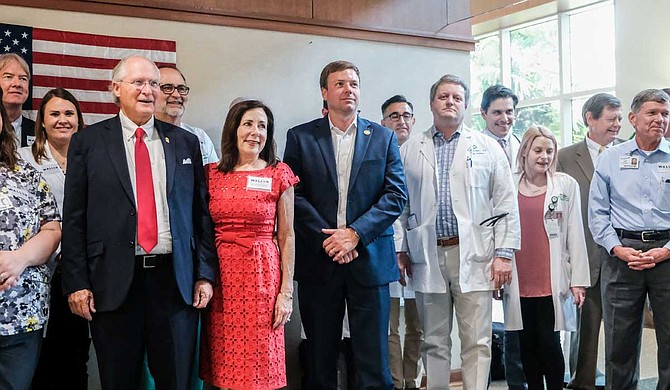 A doctor in a white coat eagerly shook Bill Waller Jr.'s hand and rushed back off to work after posing for a photo with the former Mississippi Supreme Court chief justice and his wife, Charlotte, alongside a host of other Hattiesburg Clinic doctors, nurses and clinic staff. The Aug. 13 visit marked the candidate's second stop of the day with a former GOP primary rival, Mississippi House Rep. Robert Foster, who had endorsed him in the party runoff earlier that morning.
Waller's stop at the clinic was a significant reminder of one of his key platforms, and perhaps the biggest issue of the campaign. He supports what he calls "Medicaid reform," which would bring affordable health-care options to about 300,000 working Mississippians whose households make too much for traditional Medicaid, but not enough for subsidized private insurance.
Waller's runoff opponent, Lt. Gov. Tate Reeves, disagrees. In speeches and in ads, Reeves calls Waller's plan "Obamacare expansion," a reference to the fact that President Barack Obama's signature health-care law, the Affordable Care Act, makes Waller's plan possible. He challenged Waller on it at the final GOP debate on Wednesday night, hosted by WJTV.
"I'm actually the only person running for governor that is opposed to more Obamacare in Mississippi. I don't believe that putting 300,000 more Mississippians on government healthcare is a good solution," Reeves said, sitting at a news desk next to Waller.
The Mississippi Hospital Association claims that expanding Medicaid will help save dozens of rural hospitals in the state facing financial peril.
"Justice Waller has demonstrated to us an understanding of the issues facing our citizens' access, or lack of access to health care and our hospitals' financial pressure," Hattiesburg Clinic Executive Director Tommy Thornton said before introducing Waller at the Aug. 13 press conference.
Under the ACA, states could expand the Medicaid program to fill in the "coverage gap" between traditional Medicaid and private subsidies. Mississippi Gov. Phil Bryant and Reeves, though, rejected the idea, along with over $1 billion a year from the federal government to pay for it, leaving a large number of Mississippians with no realistic health care options.
That decision, Waller argues, could discourage people from working so much that they exceed the earnings level to qualify for regular Medicaid.
"Why not make it advantageous for someone on welfare to go to work without losing all their benefits? That's how you move people into the workforce," Waller said at the Aug. 14 press conference.
Rural Hospitals Under Threat
In February, 23-year-old Shyteria Shardae Shoemaker died in Houston, Miss., after suffering an asthma attack, the Chickasaw Journal reported. Friends called 911 at 1:18 a.m. to say they were taking her to the hospital in Houston, but the operator told them its emergency room had closed in 2014 under financial strain, and that they should take Shoemaker to the local fire department instead.
Once they arrived at the fire department eight minutes later, an ambulance came and drove her about 30 minutes further to the Baptist Memorial Hospital in Calhoun City. At 2:38 a.m., an hour and 20 minutes after her friends first dialed 911, emergency-room workers pronounced her dead.
Just four months earlier, Mississippi Attorney General Jim Hood, now the Democratic nominee for governor, had announced his campaign in Houston, his hometown. There, he called for Medicaid expansion, warning of the dangers of rural hospitals like the one in Houston closing.
"We had an emergency room here in Houston my whole life, and now that emergency room is closed," Hood told supporters there in October 2018.
"In 1940, we had better emergency health care in rural Mississippi than we have right now. That's insane."
Uninsured people who cannot go to a clinic for treatment continue to end up in rural emergency rooms, often for non-emergencies. It is one of the biggest strains on rural hospitals in the state.
Since 2013, when the ACA went into full effect and state leaders refused federal funds to expand the program, five rural hospitals in Mississippi have shut their doors, leaving some 45 minutes or further away from the nearest emergency room. That can be deadly—as it was in Shoemaker's case.
Several Republican statewide candidates embrace Medicaid expansion in some form. Delbert Hosemann, the Republican nominee for lieutenant governor who would have broad legislative powers if elected, told the Jackson Free Press in January that he supports Medicaid expansion. So did Foster. The Mississippi Hospital Association also announced its "Medicaid reform" plan in May, the same one Waller supports, rebranded to distance it from the ACA "expansion."
"I'm the only candidate running for governor that opposes Obamacare expansion in Mississippi," Reeves announced proudly at the Neshoba County Fair on Aug. 1, calling it a "bad idea."
Reeves Misleads on Waller Plan
In the runoff, Reeves has sought to discredit Waller with Republican voters by associating him and his ideas with Obama.
Two weeks before the runoff, Reeves' campaign began sending mailers out to voters that show a photo of Waller with the words "OBAMACARE" stamped in large letters. It included four bullet points, each making inaccurate or misleading claims about the MHA proposal Waller supports.
Reeves' mailer claims Waller's plan would "cost state taxpayers over $200 million per year." The MHA plan that Waller supports, though, would not rely on state tax funds. The federal government has already agreed to pay 90% of the cost of Medicaid expansion, which would leave the State to pay around $159,000 per year by 2025 under a straightforward expansion, the Mississippi Institutions of Higher Learning estimated four years ago.
Under Waller's plan, though, the State would pay none of the remaining 10%. Instead, recipients of expanded Medicaid would pay limited fees, including a $20 monthly premium and $100 for non-emergency ER visits, while hospitals would cover the remaining costs.
Reeves' mailers also claim Waller's plan would "drive up the cost of private health insurance" and "cause thousands to lose their current insurance." With no evidence, they point to Louisiana, which expanded Medicaid in 2016, as having experienced these pitfalls.
In fact, data from the U.S. Census Bureau show that Louisiana's uninsured rate dropped after it expanded, falling from 10.3% to 8.4% between 2016 and 2017. Over that same period, the uninsured rate in neighboring non-expansion states increased, rising from 11.8% to 12% in Mississippi; from 16.6% to 17.3% in Texas; and from 9.1% to 9.4% in Alabama.
None of Louisiana's rural hospitals has closed since then. Across the country, 106 rural hospitals have closed since 2013, and 72% were in states that declined to expand Medicaid.
"Some say we are doing fine. The fact is, we have 31 rural hospitals on the verge of closing," Waller told a crowd at the Neshoba County Fair on Aug. 1. "This is where we are. This is the decision point."
At the fair and throughout the campaign, Waller has pointed out that his Medicaid plan is similar to the one U.S. Vice President Mike Pence used to expand Medicaid in his state when he was governor of Indiana.
'I.V. League' Tax Breaks
In July, Reeves accepted an endorsement from the Mississippi State Medical Association's political arm, the Mississippi Medical PAC, a physicians' group that calls itself the "I.V. League" of donors. Joining the PAC in offering its endorsement was Jeff Coyler, a plastic surgeon who served as the Republican governor of Kansas from January 2018 to January 2019. The PAC has supported anti-expansion candidates in the past, including Bryant, and donated $20,000 to Reeves earlier this year.
"The Medical Association has a long history of working with the lieutenant governor," MSMA Executive Director Claude Brunson said in a July 12 press release. "As most people know, health care is a very complex and complicated issue. And there's a number of different areas that we have to address in health care policy and medical policy."
Reeves wooed the PAC, supported by many prominent doctors in Mississippi who are listed on its website, with a plan that gives tax breaks to physicians who agree to locate to "underserved areas" and to businesses that contribute to local hospitals. He also promised to increase scholarships and residency programs for doctors working in rural areas and to support telemedicine, but offered no specifics. Already, Reeves says, he steered $27 million to such programs in the Legislature.
"I know that with innovation, incentives and investment we can create a health care system that better serves our entire state," Reeves said in the July 12 press statement. "We can bring quality care to underserved areas. We can keep Mississippians healthy. And we can lower costs to them."
Reeves did not explain how those plans would help keep rural hospitals afloat, or bring more health-care options to uninsured Mississippians. Brunson praised Reeves for his history of working with MSMA.
"The lieutenant governor has been there right by our side ever since he became the lieutenant governor. We have a very comfortable relationship with him," Brunson said. "He's always honest, upfront, and direct with us about where he is on issues."
Waller and Reeves have other disagreements, too—not just on Medicaid.
At Odds on Education
"We agree that the picture of having the highest-paid superintendent and the lowest-paid teachers is wrong," Waller said at an Aug. 14 event with Foster, alluding to the fact that Reeves scuttled an attempt at a $4,000 teacher pay raise this year—and that the Mississippi Department of Education Superintendent Carey Wright is the highest-paid in the nation, making $174,000 per year.
At last month's debate and at the Neshoba County Fair, Foster and Waller also jointly criticized Reeves for the way he pushed through a $3-million expansion of the state's voucher program, which transfers public-education funds to tuition for private schools. Republican leaders, including Reeves, who is president of the Mississippi Senate, snuck the money into an unrelated funding bill just minutes before asking members to vote—without telling them about the voucher funds.
At the fair, Reeves defended his support for the voucher program, saying it helps special-needs children. A PEER committee review of the program last year, though, found that just a few hundred children are able to take advantage of the vouchers. Of those, many go to private schools that do not even have special-needs facilities. In some of those cases, public schools have to use their special-needs resources to help the children at private schools.
While Reeves claims there is not enough money for a more substantial teacher pay raise, he unveiled a $100-million proposal at a stop in Jones County on July 13, which would invest $75 million to boost career and technical programs in Mississippi community colleges. Some of the remaining funds would go to K-12 education for programs like software development training.
Waller has criticized Reeves' proposal, saying the main focus should be on getting more career and technical programs into K-12 schools across the state.
"We agree that career and technical education needs to be a part of our high schools—not community colleges," Waller said at the Aug. 14 press conference with Foster.
'Solutions, Not Politics'
Waller also criticizes Reeves for not doing more to fund repairs for the state's roads and bridges. His infrastructure plan calls for hundreds of repairs to roads and bridges all across the state—and for new ones. At campaign events, Waller often wears a Trump-style red baseball cap with the words, "Make Mississippi Roads Great Again" in white.
Reeves has been light on policy proposals throughout the campaign, preferring instead to focus on national wedge issues designed to lure the most conservative of voters. Many of the ads he runs on Facebook refer to his love for Trump; his disdain for the four young, out-of-state Democratic congresswomen of color who make up what's known as "The Squad"; his support for federal Immigration and Customs Enforcement, or ICE, raids; and his disagreement with liberals in states like California.
"There's nothing conservative about pretending Mississippi doesn't have issues to address. That's why I'm proposing conservative solutions, not politics as usual," Waller wrote in an Aug. 14 press release. "I'm not satisfied with Mississippi having the lowest-paid teachers in America, 5,000 miles of state highways and 400 state bridges that need repair, and half of our rural hospitals in jeopardy of closing."
Send tips to [email protected]. Read more on statewide elections at jacksonfreepress.com/2019elections.
Correction: An earlier version of this story referred to the executive director of the Hattiesburg Clinic as "Mike Thornton." His name is Tommy Thornton. We apologize for the error.
Support our reporting -- Follow the MFP.