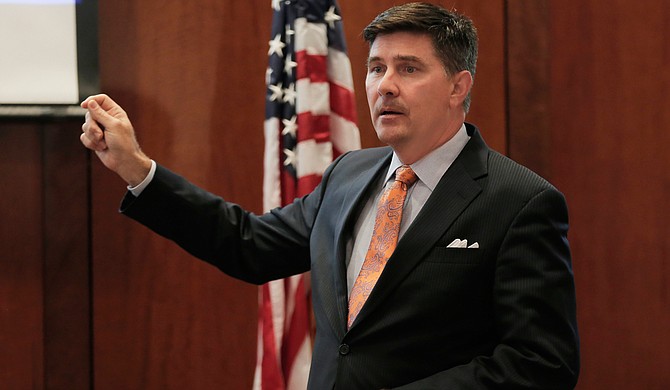 JACKSON — Work can get personal for State Auditor Stacey Pickering. With the release of a new study of the state's 19 public rural hospitals, Pickering reflected on almost losing his father to a stroke.
Pickering said his parents, who live out in the country on a farm hear his hometown of Laurel, were visiting his family in town a few years ago when his mother decided his father did not look well and took him to the hospital. She was right on time. Pickering's father suffered a massive stroke but survived and recovered.
"If they had not been in town and had been out at the farm where they live over 25 minutes from the town at 9 o'clock at night, I know what my father's answer would have been—'I'm going to bed, if I don't feel better in the morning, we will drive to town,'" Pickering told reporters last week. 
"He probably would not have woken up."
Pickering explained that South Central Regional Medical Center is a 25-minute drive from his parents' farm, adding that if the center was to close, Hattiesburg is 45 minutes away.
"What happens whenever you're dealing with a true-life threatening situation, and I've got another 20-plus minutes to get to emergency care? I got to thinking about it and asked how stable are our community-owned hospitals because there are some communities that are very rural, much more than where I live," he said.
A new report from Pickering's office shows that six of the state's public 19 rural hospitals, as defined by the Federal Office of Rural Health Policy, are in poor financial condition.
Greenwood Leflore Hospital, Magnolia Regional Health Center, Tallahatchie General Hospital, North Sunflower Medical Center, Tippah County Hospital and Franklin County Memorial Hospital are designated as "health and professional shortage and medically underserved" areas in the state. If any of the six on the list closes, the nearest hospital or medical center is at least a half hour away, the report shows.
Half the rural hospitals in poor fiscal shape are in the Delta. Pickering pointed out that when health-care facilities consolidate or close, the community loses financially, too.
"This is what happens when a rural hospital closes in a small town in Mississippi ... you have reduced access to health care, especially emergency care," Pickering said. "Physicians and other high-profile people, in order to have jobs, they leave the community. They move to where the work is. But now you've lost a tax base (and) income; you've lost people who are buying property. It's going to affect your real estate—the whole kit and caboodle gets impacted at a very significant level whenever you shut down a hospital."
Tallahatchie General Hospital had an increase in operating expenses of $4.1 million in the previous year, leading to its poor financial conditions. Additionally, 32.9 percent of Tallahatchie County residents are in poverty, the report shows. Pickering pointed out that many Mississippians already struggling financially would also struggle to access medical care if these hospitals close.
"Many families in Mississippi simply can't afford to do that kind of traveling on a regular scale, if you have chronic or critical health issues, and not everybody can sleep in a waiting room every night in a town an hour or two from where you live to take care of a loved one," he said. 
"...You're changing the culture of health care and the access to health care and those six hospitals in these small communities we've got some real concerns about their viability in the future."
Three years ago, Pickering conducted a similar study, finding four hospitals to be in poor financial condition. Those four hospitals are not even on the list this year because they have either closed or large management companies bought them out, he said. Since 2010, five rural hospitals have closed their doors.
In the 2017 legislative session, some bills got traction to support rural hospitals around the state—but never passed. Pickering's report suggests that the Legislature "should consider making some monetary resources available for these hospitals," but so far, it looks like the fiscal-year 2019 plan from the Joint Legislative Budget Committee is scaled back even from a very trim fiscal-year 2018 budget.
Rep. Sam Mims, R-McComb, got bipartisan support for House Bill 318 to support rural hospitals through grants if funds were made available in 2017, but the legislation died in committee in the Senate.
Pickering warned that the six hospitals in poor financial health will likely close or be scaled back with a management-company takeover in the future if the State does not act soon.
"This is a real issue we've got to pay attention to as a state as we move forward," he said. "There's a high risk that those six next time we do this report will either not be on the report in the way they are or will be in even worse condition."
Email reporter Arielle Dreher at [email protected].
More stories by this author
Support our reporting -- Follow the MFP.