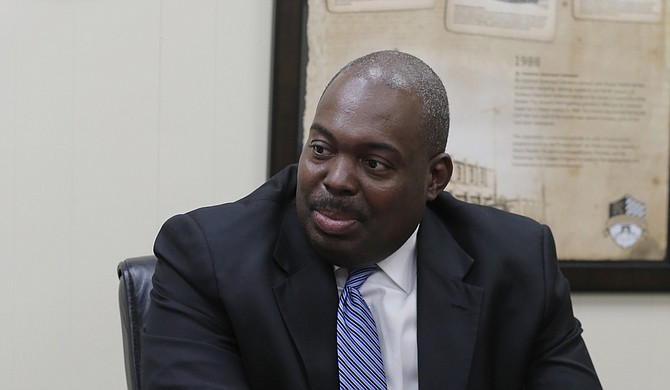 JACKSON — Freddrick Murray came to Jackson from Natchez when he was 17. He hasn't left since.
Inspired by a childhood friend to the profession of teaching, Murray enrolled at Jackson State University to study elementary education, a field in which black men are rare. He got his master's in educational administration and his PhD in educational administration and supervision.
Murray spent over 20 years as an educator. First he taught at French Elementary and then Johnson Elementary, and then left to work for a spell at the Mississippi Department of Education as a leadership specialist. Then, he went back to JPS to work as assistant and summer-school principal at Johnson Elementary. Afterward, he was the building principal at Boyd Elementary and Powell Middle School, until finally leading Murrah High School as its first-ever African American principal.
Until recently, Murray was the chief academic officer of high schools in JPS. Now, with the departure of former superintendent Dr. Cedrick Gray from the district, the school board appointed Murray as the interim superintendent. The Jackson Free Press sat down with Murray to talk plans for the district's future.
Dr. Gray came at a time of turmoil in the district. How is it to take the position in the eye of the hurricane?
It's challenging, but I'm glad I'm in the position because I think I can move us to where we need to be. If anybody's going to be the person to do that, I'm glad it's me.
I've started in most places in a dire situation, and we've been able to move it to a successful situation. It's not necessarily about me, but the model I employ, and that is surrounding yourself with people who are knowledgeable and competent, and treating people fairly. I have a good team. We're doing some reorganization of how things will work, and with that we want to make sure people are in the right place and that people are doing the jobs that they should be doing.
Are you applying for the permanent superintendent position?
As of right now, the board has entrusted me with this interim period. My focus right now is just on that interim period.
When that time comes when that position is posted, I'll cross that bridge at that time. But right now my focus, and I think it should be, is just on this. I'm not auditioning for the superintendent's job, because (when you do that) you make decisions to get the job, not necessarily to do what's best for JPS. My goal is to do what's best for JPS and move us forward.
What are your top priorities for JPS right now?
We need to have our CAP (Corrective Action Plan) accepted; that's priority number one. ... Then we'll continue the work to be removed from a probationary status to an accredited one.
Simultaneously, it's about what's happening in buildings. We're currently a district rated F. To not be an F district, you can't have F schools. We have to get in the weeds as it relates to the work in the buildings. We had instructional teams that we've employed. These teams are very focused. They have specific objectives. The goal of the teams is to provide support for schools with the clear objective of moving schools out of that status.
Are you concerned about charter schools at all?
If we do what we need to do, we'll put the charter schools out of business. We are currently rated F. We have to own that. But we have a lot of positive things going on in our district, and we're going to do whatever it takes to move past that status of F.
How are you handling community outreach?
This year we embarked on a plan to do what we call community chats because we realized we put a lot out, but somehow the community is not getting it. It's not a blame thing. We have to approach it a different way.
We've started community chats with all of our schools, a certain number per year, so that we can hear from parents. They don't come for our agenda, they come so we can hear from them. So all of our schools are moving toward those kinds of outreach processes to hear from parents, and not only our parents, but our teachers.
I'm going to over the next two weeks visit the 21 schools rated F. My goal is just to hear from the teachers - not buffed, not filtered, but to hear from them so that I can get a clear understanding of what their needs are. My door as well as my computer and phone are always available if they have concerns. We'll be responsive to the concerns that they have.
If you had a blank check you could write for JPS, what would you write it for?
Teacher salaries. And I would pay top dollar to get the best teachers in the country, and that would ... go a long way toward improving our district systemically.
If there were any money left over?
I would provide us better facilities. We have schools that are 50, 60 years old. The audit is littered with issues we have to react to because the buildings are so old. Our children deserve schools in good environments.
I would like to see more after-school programs, more midnight programs, more weekend programs to engage our African American males. ... I'd like to create a culture in our city where our children have so many positive things to do they don't have an opportunity to get into devilment.
About Dr. Gray's W.I.G.S. (Wildly Important Goals)—will they still be a thing?
Our goals and objectives, I think, are important. You may not hear FITS, WIGS, ABCs, but the philosophy behind it, these are good practices. When you talk about increasing academic performance, daily attendance, attracting and retaining teachers, that's still what we're about. The mantra "building stronger schools together" is what we're trying to do. It makes sense.
I'm not a person who believes in just changing (things) because the name on the door of the person in charge is changing. But we are still building stronger schools together. It's going to take all of us: schools, community, students, parents, everybody's going to have to own that responsibility so we can move this district to the A status that we (want to) see for the district.
Some people spread stories about the district online. What is the biggest misconception about the district?
I have been in this district a long time. You can probably count on your two hands the people who've been in the district in a leadership position longer than I have. I've hired a lot of people, worked with a lot of people, seen a lot of students. We have great teachers, administrators, students. Do we have challenges? Yes.
I think if you listen to the hype the naysayers—a person who has not been involved in the district, does not know it—might think we're a horrible place with horrible people. We have challenges. We're the only urban district in the state. With an urban environment comes urban issues. We have to deal with those. We're not about excuses. We will not make excuses on my watch. We will hold everybody accountable. We'll do what needs to be done to bring the district to the next level.
Sierra Mannie is an education reporting fellow with the Hechinger Report and the Jackson Free Press. Email her at [email protected].
Support our reporting -- Follow the MFP.