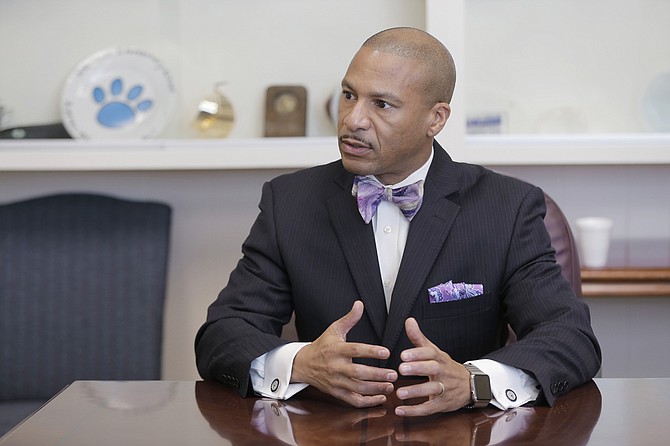 JACKSON — Jackson Public Schools Superintendent Cedrick Gray gave the school board his verbal intent to resign on Friday at a special school-board meeting.
The announcement follows the release of school district accountability rankings this month, which set the district back a step. JPS dropped from a D-grade district to an F; however, the second largest district in the state was not the only district to feel the effect of the state's new and more rigorous academic standards because 19 districts received F grades this year, compared to zero last year.
JPS had 21 failing schools, the 2015-2016 accountability rankings show. Ten of the district's 13 middle schools received failing rankings.
Gray joined JPS back in 2012, signing a three-year contract that paid a salary of $200,000 per year. In his contract, Gray listed several goals for the district, including raising reading-level performance, increasing test scores and meeting or exceeding No Child Left Behind standards. In those goals, Gray wanted to increase the average ACT score in the district to 20. JPS had a composite average of 15.6 on the ACT, but only 17 of the state's 82 school districts reached an average score of 20 or higher.
The office of JPS superintendent was not an easy role to step into, as the district was on probation until 2014, less than two years into Gray's tenure. The district was put on probation again in August, which means that it will be audited throughout the 2016-2017 school year.
Mayor Tony Yarber thanked Gray for his service in a statement on Friday. "I salute Dr. Cedrick Gray and his family for their commitment to Jackson Public Schools," Yarber said in a statement. "I bid him godspeed in endeavors to come. The City of Jackson and its schools will thrive. It's who we are and who we've always been."
Gray has not issued a formal letter tendering his resignation, nor is his date of resignation known at this time, Sherwin Johnson, executive director of public and media relations at JPS, said. The school board will have its regular meeting on Tuesday, and Johnson said there is no agenda item scheduled to discuss Gray's resignation at this time. The board can always add an item or go into executive session, however.
Sierra Mannie contributed additional reporting.
Read more stories on Jackson Public Schools at jfp.ms/jps.
More stories by this author
Support our reporting -- Follow the MFP.