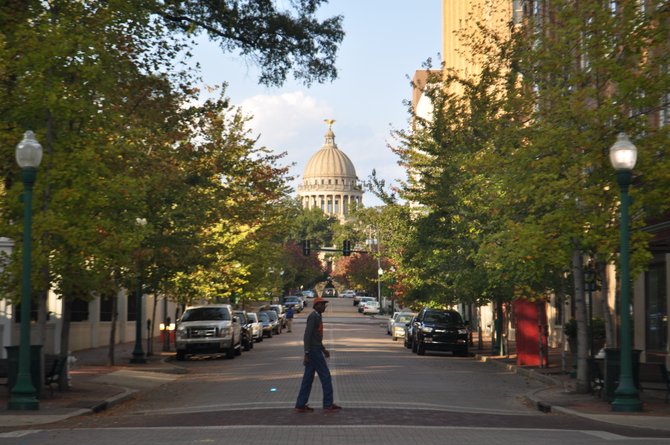 The greater metropolitan area of Jackson is a collection of loosely aligned, often-at-odds cities, towns and communities worthy of a university-sanctioned study on diversity and race politics.
It's roughly 540,000 people from almost every walk of life. From the shores of the Ross Barnett Reservoir to Westland Plaza to the Civil War battlefields of Raymond, there are "haves" and "have-nots." We have sensible folks and absurd sensationalists; we have honest politicians and self-serving narcissists. Jackson also has saints—both self-proclaimed and humble—and more than a few sinners.
Most Brandon and Madison residents don't seem to care what happens to Jackson, and in the same vein, your average Jackson resident doesn't trust his suburbanite counterparts. The race element is strong, and so is the class element. Divides are wide. The truth about the bigger picture in Jackson is complex, and it's not pretty.
Anyone who has history in and around Jackson knows the story, or should—the end of the Jim Crow laws and forced integration of public schools led to white flight in the early 1970s, and through the following decades, Jackson's suburbs grew faster than kudzu on a sunny hillside.
Thus, regionalism became the dream of a few who wanted to expand the scope of Jackson's shrinking populace, bringing the population that left city limits back into the fold, both to re-strengthen the city and to help those who fled reclaim power in the state's capital.
Enter the Greater Jackson Chamber Partnership, a conglomeration of metro businesses and civic leaders, and its 10-year strategic plan, Vision 2022, finalized in July 2012 by Market Street Services of Atlanta. Most chambers of commerce have a plan of some kind for the city or county in which they serve, but Vision 2022 casts a wide, ambitious net in a metro with difficult, unresolved power dynamics.
Fresno, Calif., has a 10-year plan to combat homelessness. Baltimore has a 10-year plan to repair broken inner-city schools. Anchorage, Alaska, has a 10-year plan to fight obesity.
Vision 2022, if ever fully implemented, would serve all of those functions and much more. Think of it this way: If regionalism is the bus we're going to ride into the future, Vision 2022 is the roadmap the chamber wants us to follow.
'Game-Changing Things'
The Vision 2022 plan has a 10-point strategy, with broad goals for each point.
It includes improving educational opportunities in the region, promoting arts and culture, attracting talent, building regional trails to connect communities, turning Jackson into a destination city, developing a 1,500-acre lake between downtown Jackson and Rankin County, creating an innovative marketing plan for the region, creating a market for aerospace technology, repairing and maintaining regional infrastructure, and helping the region become more healthy.
If that sounds like a mouthful, it's because it is. And they aren't just bullet points—for each initiative, Vision 2022 calls for a committee and several subcommittees.
Take the Core City Committee, chaired by restaurateur Jeff Good. Focused on Jackson proper, it branches off into subcommittees focused on neighborhoods, beautification, implementing one-stop service models, volunteer programs, housing, building a destination/events park, opening "healthy in a hurry" stores, designing a streetcar system to serve downtown, expanding downtown Jackson boundaries, creating activity centers called "livable centers," improving and promoting Farish Street, building a downtown arena, supporting small businesses, developing a convention-center hotel, and starting a blues and civil-rights tour.
Each of those goals has a team of volunteers working under a subcommittee chairman or chairwoman, and Core City is just one of the 10 tenets of Vision 2022.
Chamber organizers put the number of people involved at around 350. It's grown since the first coalition of private and public interests, including mayors and metro-area business leaders, travelled to cities around the southeast and midwest to steal ideas from other challenged metropolitan areas.
"I think the key here is that this is something that has never been done before," Greater Jackson Chamber President Duane O'Neill said. "It's such a comprehensive plan. Health care has done its own plan, cities have had their own plans, and we've had our own economic plans in the past, but now, we're putting all of that together so we can work off of everyone's synergy to really do some game-changing things."
Like Jackson, the metro areas visited, such as Oklahoma City and Nashville, have suffered from infrastructure problems, economic concerns, poverty-stricken communities and under-funded education systems.
Oklahoma City suffered greatly from its tax base emigrating to smaller bedroom communities, but Mayor Mick Cornett passed a $777-million infrastructure-investment bill that greatly improved the quality of life for residents by adding a 70-acre downtown park, improved sidewalks, hike and bike trails, a modern streetcar system, a new convention center, senior wellness and aquatic centers, and other amenities. Now, the city is on just about every top-five list you can find.
Tornadoes wrecked Nashville in 1998, but the disaster spurred a strong sense of solidarity and a flood of insurance money. Slowly but surely, cheap rent and innovative city planning led to an influx of young creatives. Entrepreneurs followed, and they transformed the city into a hub for the culturally savvy.
Helped along by big ideas and passionate citizens, those cities, along with others such as Memphis and Little Rock, are in the process of digging themselves out of holes that resembled the greater Jackson area's current situation.
Challenge of Regionalism
Jackson could be a unique case, though. Race politics are a divisive issue here, and the hostility these intertwined communities have for each other can be overwhelming, as evidenced by Jackson's recent election of Chokwe Lumumba, a mayor who is willing to unapologetically stand up for Jackson and negotiate with its bedroom communities with the same disdain their leaders have shown for the capital city in 
the past.
Research for Vision 2022 began long before Jackson's 2013 mayoral race, but that election could prove to be a turning point for the project. Former Mayor Harvey Johnson Jr. sat on the Core City subcommittee, and Lumumba's primary run-off opponent, Jonathan Lee, still does.
Lee, who lived in Rankin County the majority of his life, ran as a business-savvy young gun who would open up Jackson's resources to collaboration with surrounding communities, including allowing them to buy into the Savannah Street Water Treatment Facility and creating a board, made up of shares based on usage, to govern the facility. He also promised to send the 1-cent sales tax to a vote, regardless of the makeup of the commission that would decide how the money would be spent—a sticking point for both candidates Johnson and Lumumba. (Lumumba has since reversed his stance on the 1-percent tax issue, saying the GJCP has agreed to allow the city to appoint its members to the committee, effectively giving the city a super-majority on the commission.)
That message of making concessions to bring other communities to the table, plus his ties to Rankin County and strong support by Republican campaign donors, ultimately sunk Lee's candidacy.
Instead, Jackson handily elected Lumumba, who vowed to vigorously protect Jackson's interests.
"Regionalism has sometimes not played a good role," Lumumba said in a recent interview. "When you have populations like ours, where the so-called minorities are in the majority, and people try to divest that population of the ability to make authoritative decisions, they do that in a number of ways. One is to disenfranchise the voters, and the other is to take all the issues that you really make decisions over, and transfer them to another regional form of government. That, I will not accept."
Lumumba might play ball on some of the Vision 2022 components that will benefit Jackson, but he's quick to point out that any shared projects between Jackson and its bedroom communities will have to be even-handed and fair.
"I'm not for relinquishing Jackson's control over water, transportation or communication resources. At no point will I be willing to relinquish our control," he said. "But once we respect Jackson enough and give Jackson the power it's entitled to over this city, we can have inter-local agreements where we can work together on some things ... so long as we're going to be contributing on a relatively equal level, and we're going to be making decisions on a level proportionate to our size and numbers."
The Jackson mayor said he likes the breadth of ideas in the plan for Jackson, including the business community's acknowledgement about education's role in the city's future. "Many of the things they are talking about were things that, without knowing about this plan, I came up with in my platform when I ran for mayor. Two of the things that come immediately to mind are the importance of education campaign. Now I don't know specifically how far they've gone with their research and what their goals are, but I think emphasizing the importance of education is critical.
"Of course I'm talking about city-wide and they are talking about region-wide," Lumumba added. "Also, the infrastructure issues—my focus has been on Jackson's infrastructure, but they address that as well."
'Trunk of the Tree'
Despite regional distrust, Vision 2022 architects such as Duane O'Neill and Greater Jackson Chamber Chairman Socrates Garrett, have worked to get the various civic and business leaders to work together.
Flowood Mayor Gary Rhoads has been on board since the beginning and, when he talks about the future of the metro area, all the phrases he uses sound like they are coming from a man who is ready to work 
with Jackson.
"Jackson is the trunk of the tree," Rhoads said in June. "Without it, all the branches will die, so we have to work together to make it—and us—as strong as possible. The key is finding ways to work together that are mutually beneficial. That's what makes (Vision 2022) so appealing; there's something in there for everyone."
For Flowood, that means flood protection and development from the lake project and a business boom from a proposed aviation and aerospace technology park near the Jackson-Medgar Wiley Evers International Airport.
The lake project, which was known first as the "Two Lakes" project in an earlier iteration developed by oilman John McGowan, before becoming a scaled-down "One Lake" plan due to cost and environmental roadblocks, promises to provide flood protection for Jackson and 
West Flowood.
The Vision 2022 organizers and materials also make no secret that One Lake is at the core of their overall vision. It's also the component getting the most resources so far, with the GJCP investing $250,000 and the Mississippi Development Authority throwing in $1 million to help with its 
feasibility studies.
Vision 2022 leaders are adamant that the rest of the plan can and will proceed even if this lake project ultimately fails.
"No one part of Vision 2022 is tied to another," O'Neill said. "The master plan isn't tied to the lake, and while it's the biggest project, it isn't the most ambitious in my opinion."
The proposed 1,500-acre lake would run next to downtown, south of the fairgrounds and east of Jefferson Street, creating waterfront residential and commercial space. In the past, the problem that has confronted the creation of the lake has been getting the U.S. Army Corp of Engineers, the Levee Board, and the mayors of Jackson, Pearl and Flowood to agree that it's the best idea for flood control and worth the public money and controversy over taking property by eminent domain, not to mention environmental and downstream lawsuits sure to ensue.
An early salvo came on Sept. 5, when the St. Tammany Parish, La., Council passed a resolution opposing the project. Specifically, the council expressed concerns that the lake would lower water flows to the Lower Pearl, which are vital oyster beds and coastal marshes, and let in more salt water from the Gulf of Mexico.
Levee Board officials called the move premature because the plan is still under development and no final decisions have been made about which measure would be best to reduce flooding. As part of the federally requirement environmental impact study, developers must consider several flood-reduction options.
GJCP brass claims to have positioned all of its proverbial ducks into the right row to gain a consensus on the project.
"What I know is that the (Levee) Board is fully united in its goal to get this accomplished," said Garrett, a building contractor and newspaper owner who represents the Hinds County Board of Supervisors on the Levee Board and who supported Two Lakes as well. "We have implementation plans and a strategy to move the plan forward. We are getting unanimous votes to help move it forward. Hopefully, we'll be able to overcome whatever shows up."
Lumumba said he thinks the lake would be great for downtown, and could spur growth for Jackson's dwindling tax base. "I had a chance to meet with the 'Don' of the Two Lakes project and now the One Lake project, Mr. McGowan," Lumumba said. "I agree that something needs to be done on the development of a lake. It's been successful for many cities across the country, and I know there has been some skepticism about how much waterfront property Jackson would have. But if we will benefit from it as much as our neighbors will, it's going to be something we are going to support, going forward."
That kind of support, even if it is on one issue, is something O'Neill and the GJCP sees as an opportunity to build on. "The hardest part is something that is already being achieved," O'Neill said. "That part is getting everyone to believe it can be done. We have more enthusiasm around this than anything I've seen around here in the last 20 years. That's the big first step."
Big, Hairy Goals
Make no mistake: Jackson stands to benefit greatly from Vision 2022—probably more than any other city in the five-county footprint of the GJCP, which includes Hinds, Rankin, Madison, Copiah and Warren counties.
The Core City plan is ambitious, so much so that some of the initiatives will take the full 10-year implementation schedule to complete, at least. A long-elusive convention-center hotel—stalled by a deal to give prime land to a poorly vetted Texas developer and a long struggle to get it back—is the first major piece of the puzzle, but other Vision 2022 plans include planning and building a major destination and events park downtown, constructing a state-of-the-art arena and finishing the Farish Street Entertainment District development. Those goals are going to require resources, which are going to be harder and harder to come by through taxes due to fiscal crunches brought on by a federal consent decree from the Environmental Protection Agency and education bonds that come must be paid next year.
All are reliant on large pots of taxpayer money mixed with degrees of private support.
This reliance on big, hairy, expensive municipal projects for Jackson's future draws dissent from some other big thinkers in the area. Architect and developer Roy Decker told the Jackson Free Press recently that the city needs to get past its obsession with huge projects, warning about "utopian planning."
"We don't need one big project here and another there," he said. "What downtown really needs is a coordinated, strategic plan that can build consensus among the city leaders." Because "there's no connectivity among the projects," he added, "they end up creating buzz, but produce no results." Certainly, words like "Old Capitol Green, "Farish Street" and any project involving the word "lake" so far proves Decker's point.
But the 2022 visioneers promise to change the Jackson landscape where the Next Huge Thing proves to be an empty promise. And, at least on paper and in committees, 2022 brainstorming is devoted to smaller efforts (although stories of lake proponents bursting in and taking over an unrelated meeting with cheers about the lake component are not uncommon among participants).
The GJCP already provided the city funds $1.1 million to begin paving the Museum to Market Trail, the first stretch of a planned system of walking and biking trails that will eventually connect the metro area's communities. Another project slated for 2013 is the development of a trolley service that would connect various Jackson attractions.
But all the work isn't in the downtown area, and it's not just about bringing Jackson into a larger regional system, Vision 2022 leaders are quick to emphasize. Vision 2022 calls for strengthening Jackson's neighborhoods by developing an "enhancement program" and an "infill development strategy" for disinvested Jackson-area neighborhoods, leveraging property code enforcement and aesthetic improvement programs to enhance the metro area aesthetically and financially.
"There's only one city (in the metro) that has its own committee and initiative, and that's Jackson," Good said during a Chamber presentation to the JFP in March. "Everything else is a big, hairy goal or a softer goal like talent retention or place-making." Good co-owns several Jackson restaurants, including Sal and Mookie's, BRAVO! and Broad Street Cafe.
"I'll add to that," O'Neill followed up. "Every single one of the other initiatives are things that will benefit Jackson greatly. The health-care corridor is going to be 80 percent in Jackson, and the lake project is going to be good for both Rankin county and Hinds county, but it should benefit Jackson tremendously."
That's true, but the divisiveness that has derailed other attempts to unify the greater metro area and Vision 2022's own ambition are obvious stumbling blocks that will take more than "consensus" by the people crafting Vision 2022 to overcome.
In the last public update of the plan's implementation on the GJCP web site, many statuses included the words "attended a meeting," "met to discuss" or "continued to research."
O'Neill points out that it's only year one of a 10-year plan, and many of Vision 2022's biggest projects—beyond priorities like lake development—don't begin for years.
"If we were only looking for low-hanging fruit, we wouldn't make a very big difference in this community," O'Neill said. "We would be a little bit better, but we wouldn't be great."
See also:
Big Ideas: Getting Jacksonians into City Parks
Bright Idea: Conserve Energy, Create Jobs
Best Practice: Mid-South Minority Business Council Continuum
Build a Bicycle- and Pedestrian-Friendly Jackson
More stories by this author
Support our reporting -- Become a JFP VIP.
The news business has changed dramatically in the past year, and we need your help more than ever to keep bringing you important stories about Jackson and the Metro. Become a JFP VIP with an annual membership or you can Sign up as a monthly supporter. Thanks for anything you can do to empower our journalism!