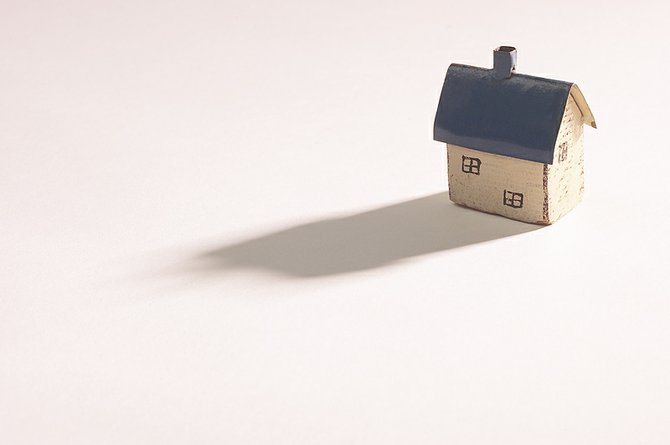 You've heard it before: For many Americans, homelessness is just a couple of paychecks away.
In an economy where people's finances are often stretched thin to the breaking point, losing a job, developing a chemical dependency, a serious illness or even having a car that needs major work can be the difference between paying the rent (or mortgage) or not. Any financial setback can be a long step toward being on the street with nowhere to live.
Once homeless, it's not easy to get back to permanent housing. Employers, landlords and banks all take a dim view of people with bad credit and no permanent address. For the men and women coming out of prisons, the road is even tougher.
People who are chronically homeless—those with combinations of mental and physical disabilities in addition to drug or alcohol addictions—most often come to mind when we think of homeless people. But losing one's home can happen to almost anyone under the right set of crappy conditions. Veterans make up a big percentage of the homeless population, as they often return home sick, traumatized and unable to reintegrate into society and "regular" jobs.
What Works to End Homelessness
The old paradigm is that people with unsolved issues—such as lack of a job or a drug addiction—had to address their problems before they could obtain a permanent home. Research now shows that a stable home allows a person to solve his or her problems much faster—and it keeps them off the streets.
It's also much cheaper. Homeless individuals are a huge burden on the emergency health-care system, for example. The Colorado Coalition for the Homeless found that a Housing First approach reduced emergency medical costs by 66 percent and detox costs by 85 percent. Even factoring in the cost of providing comprehensive supportive housing and services, a cost-benefit analysis found a net saving of $4,745 per person, while improving physical and mental health as well as quality of life.
To end homelessness, communities must develop a long-term plan. They may manage homelessness in the short run, but won't end it. Effective community plans include:
• Coordinated Access among providers to have a single, uniform method to access housing resources. "The aim is to ensure that (people) in crisis have the same experience as they seek housing services and that they are directed to the best housing solution for their situation." —Corporation for Supportive Housing (CSH)
• Housing First: Develop permanent alternatives to systems comprised of shelters and transitional housing progressions, and move homeless people immediately from the streets or shelters into their own apartments. "Housing First approaches are based on the concept that a homeless individual or household's first and primary need is to obtain stable housing and that other issues that may affect the household can and should be addressed once housing is obtained." —CSH
• Retool Shelters and Transitional Housing: Shelters provide important emergency and immediate resources. Especially for victims of domestic violence and sexual assault, shelters can provide a safe harbor from their abusers. But shelters are an ineffective and expensive method to address the needs of most homeless people in any long-term, permanent way.
Even for chronically homeless people, supportive permanent housing in the community is a better solution to homeless shelters or living on the street. Support can include helping those individuals get the financial aid they're eligible for, dealing with the disease of addiction, and teaching money management and other life skills. In such supportive environments, many chronically homeless people may even find productive work.
• A permanent solution requires prevention. Communities must invest in affordable rental housing, emergency assistance for household expenses, and in programs that build stronger people and families. Teach children and adults effective money management and life skills so that an unexpected emergency doesn't turn into a life on the streets.
SOURCES: Denver Housing First Collaborative; Corporation for Supportive Housing; Urban Institute; National Alliance to End Homelessness
What Factors Contribute to Homelessness?
• Job loss and insufficient wages.
• Substance abuse, which includes both alcohol and illegal drug use.
• Family disruptions, including separations and deaths.
• Domestic violence.
• Chronically homeless people are those with severe mental or physical disabilities who are unable to work. Alcohol and/or drug addictions often exacerbate their issues. They are unlikely to ever make a meaningful contribution to society.
SOURCES: Institute for Children, Poverty and Homelessness; The National Alliance to End Homelessness
The Problem of Affordable Housing
"Severely cost-burdened renters and homeowners with mortgages are at risk of homelessness because a single financial setback could result in a housing crisis."
—Mississippi Development Authority, "2010-2015 Mississippi Consolidated Plan for Housing and Community Development"
Ideally, rent or mortgage payments should make up no more than 30 percent of household income. A household has a cost burden when that payment is between 30.1 percent and 50 percent of income. A severe burden is when housing costs are more than half of household income.
• In Mississippi, more than a quarter of all people were severely cost burdened in 2000 (16.4 percent of renters and 10.6 percent of homeowners with mortgages), meaning they put more than half their income into housing.
• The average rent in Mississippi for a two-bedroom apartment was $663 a month in 2009. To be under the 30 percent cost-burden level, monthly net income would need to be $2,210 a month or more, or $26,520 annually.
• In 2011, more than 20 percent of Mississippians lived in poverty, with annual gross incomes of $22,350 or less.
SOURCE: Mississippi Development Authority
See also:
Vision 2022: A Regional Vision
Big Ideas: Getting Jacksonians into City Parks
Bright Idea: Conserve Energy, Create Jobs
Best Practice: Mid-South Minority Business Council Continuum
Build a Bicycle- and Pedestrian-Friendly Jackson
More stories by this author
Support our reporting -- Become a JFP VIP.
The news business has changed dramatically in the past year, and we need your help more than ever to keep bringing you important stories about Jackson and the Metro. Become a JFP VIP with an annual membership or you can Sign up as a monthly supporter. Thanks for anything you can do to empower our journalism!