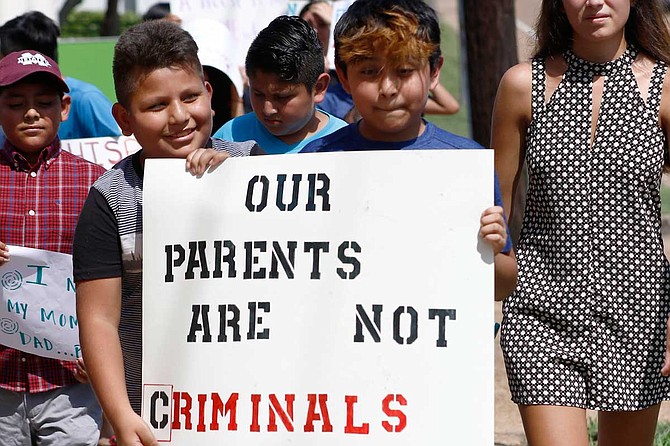 Scott County Superintendent of Education Tony McGee was driving to different schools in his district at 8:30 a.m. on Aug. 7 when something caught his eye. In Sebastopol, a small town about an hour and 15 minutes northeast of Jackson, he noticed a large law-enforcement presence outside the PECO poultry plant there. Not knowing what was going on, he drove on, unaware that federal agents were pulling dozens of workers out of the facility, zip-tying their hands and marching them onto buses.
The Sebastopol plant was one of seven across Mississippi where U.S. 
Immigration and Customs Enforcement agents carried out the largest one-day worksite raid in any one state in U.S. history that day. Alongside the U.S. Department of Justice, U.S. Attorney for the Southern District of Mississippi Mike Hurst coordinated the operation from Jackson.
"Let them go! Let them go!" the 
Associated Press reported some friends, family members and children crying as ICE agents loaded workers onto buses at a poultry plant in Morton, Miss., which is also in Scott County.
Some 650 federal agents had poured into Mississippi from around the country to storm seven poultry plants in six towns that day, arresting nearly 700 workers, many of them the parents of young U.S. citizens.
At schools near the targeted towns, some Hispanic and Latino teenagers 
began learning about the raids through text messages and notifications on social media that morning.
Some of the students, knowing their parents worked at the plants targeted and were undocumented, left class and went to principals and counselors, pleading to be allowed to check on younger siblings. But staff members did not even know what was happening, yet.
No one had bothered to tell the schools or even Mississippi's Child 
Protective Services that many children were about to be stranded on the first day of school with no parents to pick them up or plan to care for them. Some babies and toddlers remained at daycare centers with no parent to pick them up.
'Why Are They Doing This?'
At Scott Central High School about 20 minutes from Sebastopol, 
Superintendent McGee started getting calls from the public schools in Morton that ICE had raided the Koch Foods plant there.
"Hey, what do we do? Somebody came to pick a child up, but they're not on the sign-out list," McGee recalled a school official saying.
"So we started saying, 'OK, why are they doing this?'" McGee told the Jackson Free Press in an interview on Aug. 10.
McGee rushed back to the school in Morton. By the time he got there, the halls were filled with children and their family friends and relatives, all in varying states of shock, anguish and confusion.
Sometime close to noon, the agency finally informed McGee and other superintendents in affected areas that they had, indeed, raided the seven poultry plants. School districts across Mississippi, working with the local Child Protective Services, scrambled into the night trying to make sure all the children had a safe place to go.
In Forest, Miss., Scott County Youth Court Prosecutor Constance Slaughter-Harvey spent the night helping place about 30 children whose parents had been taken away.
The next morning, ICE released about 300 of the detained parents of children who had no one else to care for them. Slaughter-Harvey, a long-time civil-rights attorney, watched as a handful of the children under her stead tearfully wrapped their arms around mothers they had feared they might not see again for a long time.
"Some of them knew nothing about where their parents were. When their parents were reunited with them, they ran up and started hugging and crying, and it touched my heart," the prosecutor told the Jackson Free Press on Aug. 8.
That same day, U.S. Attorney Hurst sent out a joint press statement with ICE, claiming protocol was followed for the families.
"Pursuant to (Homeland Security Investigations) 
procedures as part of the operation, all those detained yesterday were asked whether they had any children who were at school or childcare and needed to be picked up," Hurst's statement claimed. 

"In order to make it possible for detained aliens to contact family members and address childcare issues, HSI made cell phones available for use by detained aliens to make arrangements for the care of their children or other dependents."
But people on the ground, including educators, saw no evidence of humane procedures with the children, 
especially, in mind.
'Visiting Terror on Families'
When Democratic presidential candidate Beto O'Rourke, a former Texas congressman, arrived in Mississippi on Aug. 16 to meet with affected families, he called what he saw an "attack on Hispanics."
In his hometown of El Paso just weeks earlier, a white-supremacist gunman had killed 22 people at the local Walmart. Just before the shooting, the suspect wrote in an online post that he was doing it because of a supposed "Hispanic invasion"—echoing language President Donald Trump, as well as FOX News, has frequently used about an "invasion" of migrants from South of the U.S.-Mexico border.
While O'Rourke was in Canton, where one of the raids happened, the Jackson Free Press asked him why he thought the Trump administration chose to target Mississippi, which has one of the lowest smallest immigrant populations in the country. "I don't know, other than to strike terror into the heart of this community, and if that were the goal, ... he is getting it done," O'Rourke answered.
Just minutes before, the candidate had met with several affected immigrant families near their homes in Canton, where he knelt down on the grass to speak to a 
2-year-old girl in pink while her father's palm rested atop her black pigtails.
Her father, speaking in Spanish, told O'Rourke that he and his wife are 
Guatemalan immigrants, though their daughter is a native-born U.S. citizen. 
During the raids at the plant in Canton, ICE took his wife. Because the little girl has a father who can care for her, he told the El Pasoan, ICE has not released her mother, holding her in a facility two hours away.
"We're visiting this kind of terror on families who have done nothing wrong, who pose no threat. We've got to make it better," O'Rourke told the press afterward.
'How Do We Buy Groceries?'
Even for the parents who returned to their children starting the day after the raids, though, all was not well. They cannot go back to work to provide for their families, and they have to wear ankle monitors to ensure they do not work while waiting for court dates, leaving families without money for food, bills or rent. Churches and other community organizations are working to help the families as best they can.
So is the Scott County Public School District.
"Right now they're worried about, 'How do we buy groceries? And how do we pay bills?'" McGee told the Jackson Free Press. Even though there are churches and centers set up, he said, some of the immigrants do not have transportation to get there. "And some of them are scared to go (out in public)," he added.
National groups have been 
donating to his district to help the children, and they have been getting help from the Mississippi Immigrants Rights Alliance, too. The district plans to use those donations, McGee said, to help cover the costs of food and bills. In the meantime, staff members from the schools are traveling to the homes of children affected and especially those who had not returned to school, bringing them care packages with food and other necessities.
"We're just doing the best we can," McGee said. "We're putting the academics on the backburner and trying to talk to the kids to help them through the process."
The University of Mississippi 
Medical Center is working with the district to provide counseling services to the kids who had gone through the traumatic experience, the superintendent said.
The Jackson Public School District, where some children were also affected because of the city's proximity to some of the raid sites, has also been working with MIRA to care for those kids.
"Recent raids and arrests by federal immigration officials in Mississippi have heightened a sense of anxiety for families and students. Jackson Public Schools is committed to educating children regardless of race, ethnicity, country of origin, or a student's immigration status," an Aug. 8 JPS press statement reads.
"We are working closely with the Mississippi Immigrants Rights 
Alliance and community partners to 
provide resources and support to ensure all of our families and students feel safe in their communities," JPS added.
Follow Jackson Free Press state reporter Ashton Pittman on Twitter @ashtonpittman. Read full team coverage of the ICE raids in 
Mississippi at jacksonfreepress.com/immigration and send tips to [email protected].
Support our reporting -- Follow the MFP.