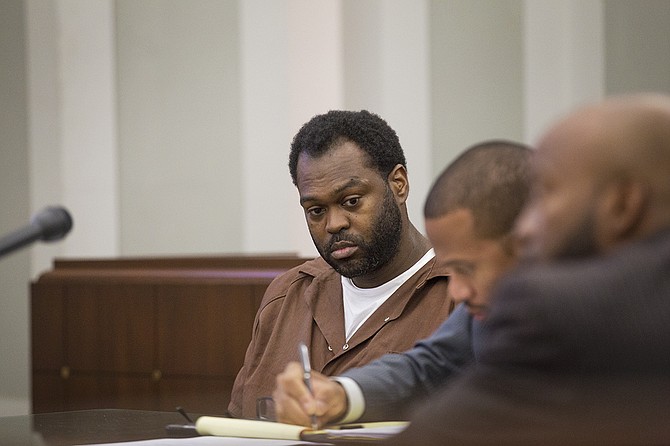 JACKSON — The young woman who accused Darnell Turner of beating her, dragging her, strangling her, shooting at her car, strangling her, and dangling her off a bridge in the Washington Addition when she was 22 was in the courtroom this morning when Hinds County Circuit Judge Jeff Weill sentenced the 39-year-old to 45 consecutive years in prison on three felony counts.
The petite woman—who the judge said weighed about half as much as Turner during the attack—took the stand with her hair pulled back tightly, large gold earrings and wearing a leopard-print blouse. She described what the father of her child was recently convicted of doing to her. She talked about leaving "the club" (Freelon's) on July 12, 2014, and following him to the Dairy Bar in the Addition with another woman in the car with him. After they pulled over, he came up to the car and said, "'I've got something for you,'" she said.
Turner, who also goes by Donald Turner and was arrested years ago under the last name Dixon, then pulled her out the car, dragged her through a ditch and then held her over the side of a nearby bridge, she said.
"Oh, my God!" she cried out then.
"Bitch, you ain't got no God," Turner replied, according to her testimony.
Turner's attorney Dennis C. Sweet then stood up to question her, trying to talk about allegations that she had followed him before that incident, but the judge sustained an objection to bringing up allegations that were not allowed into the trial. Sweet tried to get her to admit that Turner did not shoot her, which she quickly agreed with, adding, "He did not shoot me." But he shot toward her, she added.
She also confirmed that Turner had given her money for her child, but "not all the time."
"My Dad took care of her most of her life," she added about her daughter.
When the state prosecutor asked the victim what would be an appropriate sentence for Turner, she said, "It's hard to say." He then asked if it was a "serious incident," and she responded, "Yes, sir."
Sweet argued to the judge that Turner had not been on probation, parole or convicted of any crimes.
The judge then asked if Turner had a statement, as he stood in front of the bench in chains and handcuffs and wearing a dark-brown prison uniform. He declined, with Sweet then confirming that he had asked him not to say anything, clearly planning to appeal the verdicts rather than than ask for a lenient sentence.
Then it was Weill's turn to announce his sentence. First, he recapped the facts of the case, saying that the young woman had followed Turner, and then he "beat her severely, dragged her to a bridge and hung her over it." Turner strangled her and beat her in the face, Weill said. He then shot at the car several times, leaving two bullet holes in it. He then attacked a man from the Washington Addition who tried to intervene, hitting him in the head twice with his gun, the judge said.
The record shows that Turner then returned and put the victim in his car, and with the other woman following in his car, drove her to her father's house and dropped her off. The judge said that texts from Turner to the victim "essentially admitted assaulting her."
'Boasted About Your Relationship with Public Officials'
Weill also brought up a different investigation that was the elephant hovering over the courtroom for Turner—that Hinds County District Attorney Robert Shuler Smith had defended Turner in past criminal cases. After police investigated the 2014 attack on the victim, the judge said, Smith had gotten the case to prosecute, and his office opted not to include a recording that could have supported Turner's indictment. Smith's office presented the case to a grand jury, but without that evidence, the judge said, and the grand jury no-billed it, which means essentially dismissing the charges.
Weill told Turner that the recording indicated that "you had boasted about your relationship with public officials and that nothing would happen because of that relationship." The judge continued, indicating that Smith did not recuse before the case went to the grand jury on his watch: "I'll note that now-District Attorney Robert Smith represented you in the past, and his office, despite that prior relationship, and without any effort to recuse himself from his office, presented your case to the grand jury and (it resulted in a) 'no-bill,' essentially dismissing the charges until the AG's office discovered that relationship, and Mr. Smith agreed that his office should be removed from the case."
Mississippi Attorney General Jim Hood's office stepped in after the original "no bill" on Smith's watch, and presented a different case against Turner to a grand jury and got the indictment, Weill said, that led to Turner's most recent arrest in 2016 and recent trial and conviction. Hood's office is quick to point out that the State took over the case after Smith eventually recused in open court, saying that he had defended Turner as a defense attorney and that the accused had visited him in his home.
"Miss (name withheld) is a brave woman for testifying against you," Weill said to the accused standing right in front of him.
Weill sentenced Turner to 10 years for aggravated assault with a firearm; 20 for aggravated domestic violence; five for shooting into an occupied vehicle and an additional 10 years for using a gun in the attack. The judge said he was eligible for a 55-year sentence, but did not order the full sentence because none of his previous arrests had ended in conviction.
Sweet chose to address Weill's comments about the district attorney after the sentence. "Your honor, throughout this trial, you have mentioned public officials, Robert Smith," Sweet told Weill. "... We started early on to investigate, emails, Robert Smith and everything else. Robert Smith has played no role in this trial. He's not assisted me. I represented Mr. Turner from the very beginning. … I was never contacted, Mr. Turner was never contacted. We never were involved in the presentation of this case to the grand jury. We had no involvement whatsoever. Robert Smith provided us no information, no documents. We hadn't even talked to Robert Smith about this case."
The defense attorney then referred to emails that the attorney general's office used to initially include Turner in their case against Smith. "It appeared in the newspaper of Robert Smith having assisted me," Sweet said. "We made a concerted effort not to be involved with Robert Smith. My client has told me on more than one occasion: 'You represent me. Don't get involved with Robert Smith stuff.'"
Still, Smith himself kept bringing up Turner's case in the lead-up to his own trial. He told his assistant district attorney Ivon Johnson, who was the State's wired confidential informant, for instance: "Oh, we going to get (Butler) free now between me and Waide and all that, and then Dennis is doing his thing on the other one." He was, presumably, referring to Turner and his attorney, but there is no evidence that Sweet was in agreement at the time.
Sweet declined comment for this story after the sentencing hearing ended.
'Summary: Political Prisoners'
Weill's comments about the district attorney support the attorney general office's narrative that Smith has helped certain criminals avoid prosecution and trial, while Smith and his legal team argue that he is just trying to ensure that innocent people do not go to prison.
Smith texted a Clarion-Ledger reporter on May 17, 2016, to pitch a "hot topic" that involved himself, Butler, Weill and presumably Turner, as he named Sweet in the text: "Summary: political prisoners who are being held on false charges because of the AGs office and judge Jeff Weill fighting the hinds DA. It's very serious because their constitutional and civil rights are being violated. Dennis sweet represents another defendant and he is furious about it. I'm filing something today with Supreme Court on Christopher butler. Thanks. I know you're busy." (sic) The transcript was part of Hood's first trial of Smith that ended in a mistrial.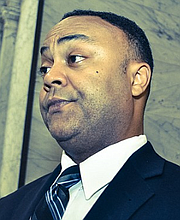 An archive of reporting on controversies surrounding Hinds County district attorneys, present and past.
Hood's office had originally included Turner's case in an affidavit indictment of Smith for hindering the prosecution of Turner by allegedly working with his attorney, Sweet, whom he has known much of his life. But a later grand-jury indictment of Smith did not include Turner, and just focused on Smith's efforts to help Christopher Butler avoid charges in a drug case and another for wire fraud at his place of employment. Smith's first trial ended in a mistrial, and he was acquitted in his second trial. Smith now faces felony charges in a Rankin County court in October for domestic violence and assault charges from a former girlfriend who says the DA also pulled a gun on her. The attorney general is also prosecuting that case.
An FBI agent who investigated both Smith and Turner, Robert Culpepper, sat in the front row during the sentencing. He alleged in a letter to the attorney general's office that Smith was shielding drug attackers, possibly including Turner, whom he said the FBI was looking at for possibly running a criminal trucking operation out of the Clinton home, where he lives with his mother. But neither Smith nor Turner have been charged or tried for those allegations, which are part of the court files in the DA's trials.
Culpepper also reported to the attorney general that the mother of two of Turner's children worked in Smith's office at the time, but it was not the same woman who was the victim in the courtroom today.
"I'm glad to see a person who has no respect for his own child's mother put away not only from her, but others who could be in his path of violence," Hood said in a statement today. "Domestic violence is a very serious offense, and to have Judge Weill recognize that through this sentencing should let other offenders know this violence will absolutely not be tolerated, and our office will prosecute it to the largest extent."
Author's Note: The above story is updated with additional information including transcription from the video of Turner's sentencing about Robert Smith's alleged efforts to help Turner.
Read more about the cases referenced above at jfp.ms/dafiles.
Support our reporting -- Follow the MFP.