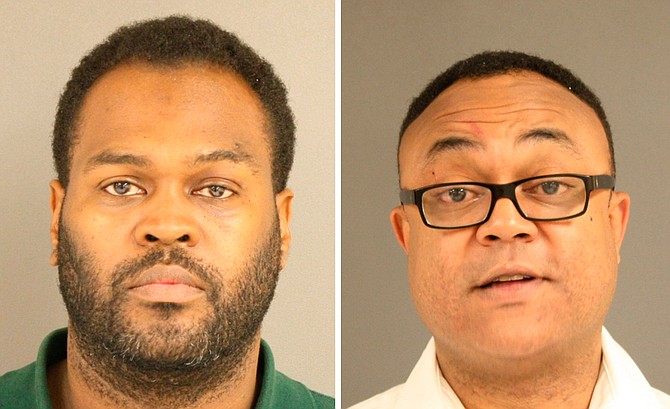 JACKSON — A Hinds County jury yesterday convicted Darnell Turner of Clinton, who also goes by Donald Dixon, in three separate counts related to a 2014 domestic incident—aggravated assault with a firearm, aggravated domestic violence and shooting into an occupied vehicle. The 39-year-old now faces sentencing in Judge Jeff Weill's courtroom. The time he must serve could be upward of four decades: In Mississippi, "aggravated assault" is the equivalent of attempted murder.
State prosecutors said in court that Turner, whose nickname is "Slick," was arrested in 2016 after the State got him indicted for beating the 22-year-old mother of one of his eight children and shooting into the car she was in. He dragged her out of her car, took her to a bridge in the Washington Addition vicinity, tried to strangle her there and suspended her over the railing of a bridge, they say. Then he left, and someone came to her aid. Turner came back and beat that person, picked the victim up, put her in his car and kept beating her there as he drove her home, the State said.
"This heinous act of strangling a woman while dangling her over a bridge deserves maximum punishment," Attorney General Jim Hood said in a statement on Sept. 11. "Domestic violence is a serious offense. I'm glad to see that a Hinds County jury recognized that fact and stood for protecting other victims of domestic violence. This should send a strong message to other offenders."
Turner is no stranger in the Washington Addition, or in Jackson. His name earlier surfaced in 2016 as part of the Attorney General Jim Hood's official accusations that Hinds County District Attorney Robert Shuler Smith was declining to prosecute certain individuals.
FBI documents emerged during the state's investigation of Smith for hindering prosecutions in his jurisdiction showing that the feds believed that Smith and Turner were close, and that might have kept the district attorney from pursuing charges against him. In Hood's original indictment of Smith, by affidavit in June 2016, for "ex parte communication" with suspects, he included Turner/Dixon in the charges, alleging that the DA "did willfully and unlawfully consult, advise and counsel" both Turner/Dixon, as well as Christopher Butler.
However, the later grand-jury indictment of Smith only included Butler. Smith faced two trials for the Butler-related charges: the first ended with a hung jury earlier this year, and the latest an acquittal for the DA, even as now the State has convicted both Butler and now Turner/Dixon on serious criminal felonies for the charges it says Smith would not pursue.
The DA Smith Saga
FBI Special Agent Robert Culpepper wrote in a Sept. 11, 2015, letter to the State that Smith was "a close, personal associate" of Turner's and had not pursued cases against him although "extensive reporting indicates that Turner has been involved in a wide range of criminal activity."
"As recently as November of 2014, Turner was arrested by the Jackson Police Department for an aggravated domestic violence incident, but was not indicted by the District Attorney's office," the letter continued.
The FBI agent's letter to the State also revealed that Turner's trucking company, Southern Miss Transport LLC, "is under investigation for being a front for drug trafficking." James Mangum, the letter said, was the son of one of Turner's drivers. Mangum turned himself in after the June 24, 2014, homicide. Jackson police presented a murder case on Mangum to the district attorney's office, but a Hinds County grand jury failed to indict Mangum, saying there was not enough evidence. Mangum went free.
In the same letter, Culpepper told the State that Smith's office had "deliberately avoided prosecuting convenience-store owner Chirag Kharbanda "due to ties to the store-owning community." Police arrested Kharbanda after two raids on his businesses revealed stolen property, including a stolen handgun in a safe and another in the later raid next to the cash register. But the Hinds grand jury said they did not see enough evidence to indict him.
These accusations, which are part of Smith's court file and police documents, have not been proved in court and are one side of a legal dispute. Kharbanda, now 27, told WJTV in 2015 that police were harassing him, including after opium and spice busts at his store. "If they want to close it, close," he told WJTV. "... The store has been there for years. I just got there."
In a motion by Assistant Attorney General Stanley Alexander in 2016 to install the AG's office as the prosecutors of both Turner and Butler due to the DA's potential conflicts in the cases, the State made the case that Turner and Smith were "good friends," and "it is because of this friendship that the (district attorney) has chosen not to prosecute the instant cases." In a letter attached to the legal document, Alexander also talked about an alleged connection between one of the DA's employees at the time and Turner.
"Additionally, DeOndra (Dee) Parker, the mother of two of Mr. Turner's children, is an employee at the District Attorney's office," Alexander wrote. "According to records, Ms. Parker signed for one of the cases that has not been prosecuted by the DA's office." (Parker is not the woman Turner was convicted of assaulting yesterday.)
Alexander was an assistant district attorney under Smith's predecessor, Faye Peterson, and ran unsuccessfully to unseat Smith in the last DA's election.
Smith has made it no secret that he had known Turner for a long time from back when he had his private legal practice in the Washington Addition, from which he defended many young men accused of criminal activity. He told the Jackson Free Press early in his tenure as DA that Turner had helped him with his first campaign when he defeated incumbent Faye Peterson for the position, including distributing campaign materials. Also, in open court, Smith said that Turner visited him in his home. The AG also charged Smith with giving emails between the State, DA and the county judge to Sweet to help with his defense of Turner, who the Hinds County Sheriff's Department said is also known as "Darnell Dixon."
After Hood's original affidavit indictment of Turner in 2016, his attorney Dennis Sweet III filed a motion to dismiss. He said that Smith had represented Turner in an earlier criminal case and pointed out that Turner had no previous conviction. He also argued, as other attorneys have in various charges the State has brought against Smith, that the attorney general does not have authority to interfere in the cases Smith was not prosecuting, or to prosecute Smith.
The Melton-'Grayhead' Days
Smith had represented Turner in a high-profile, Frank Melton-era aggravated assault trial in 2006, alongside Corey Redd, Elisha Moton and Andre Mason—all allegedly members of the so-called "Grayhead" gang nicknamed supposedly due to Moton's prematurely gray hair. The young men had allegedly shot Michael "Mike-Mike" Sanders in the leg, duct-taped his mouth and locked him in a trunk for hours on March 10, 2004. Prosecutors then argued that the shooting was part of retaliatory violence between Inge and Cohea Street crime groups.
Former Mayor Frank Melton called the young Grayhead men his "boys," and defended them publicly once they were charged. Melton was known for defending certain accused young men and going after other ones, leading to rumors that he was involved in criminal activity himself, which was never proved, although some officials tried, battling missing files, recanting and dying accusers, and other barriers. Melton died after one controversial term as mayor and while facing a federal retrial for leading a group of cops and young men to destroy a mentally ill man's duplex on Ridgeway Street in Jackson with sledgehammers, a story the Jackson Free Press broke.
By then mayor, Melton attended the "Grayhead" trial in then-Hinds County Circuit Judge Bobby DeLaughter's courtroom—before the judge went to prison after an Ed Peters bribe offer—and defended the young men who had turned themselves into him to media, which prosecutors believed at the time hurt the case. A Hinds County jury acquitted the five men after Sanders suddenly refused to testify. Sanders recanted his identification of Turner and the other men to police.
Melton, along with former District Attorney Ed Peters, also supported DA Smith in his campaign to unseat former District Attorney Faye Peterson, who had prosecuted Melton in Hinds County court for leading a group of cops and teenagers to destroy the home of a young Jackson man with sledgehammers and for illegally carrying weapons. Her office also prosecuted the "Grayhead" gang and was visibly frustrated when Sanders recanted his testimony.
One of the Grayhead associates, Terrence Womack, attended Melton's federal trial daily in his support. On Oct. 29, 2013, U.S. District Judge Henry T. Wingate sentenced Womack to 72 months in federal prison followed by five years of supervised release for possession with intent to distribute more than 28 grams of crack. Womack was indicted in connection with Operation Paperchase, an extensive investigation targeting illegal narcotics distribution in Jackson.
In 2005, Turner was also accused of shooting Floyd Buckley Jr., 32, at the Dairy Bar in the Washington Addition, which used to be a busy hang-out, allegedly associated with drug activity. Based on witness reports, Municipal Judge Melvin Priester Sr. signed a warrant for Turner's arrest on Oct. 13. On Nov. 9, 2005, Buckley requested that the charges be dropped, and the case was remanded to the files.
Judge Weill scheduled a sentencing hearing for Turner/Dixon 1 p.m. on Oct. 17. He faces up to 45 years in prison.
Read more about Darnell Dixon/Turner at jfp.ms/dafiles. This story includes earlier reporting on DA Robert Smith's trial by Tim Summers Jr. It was also updated Sept. 11 with more details from legal documents and quotes from a statement from the attorney general's office. Follow Donna Ladd on Twitter @donnerkay.
Support our reporting -- Follow the MFP.