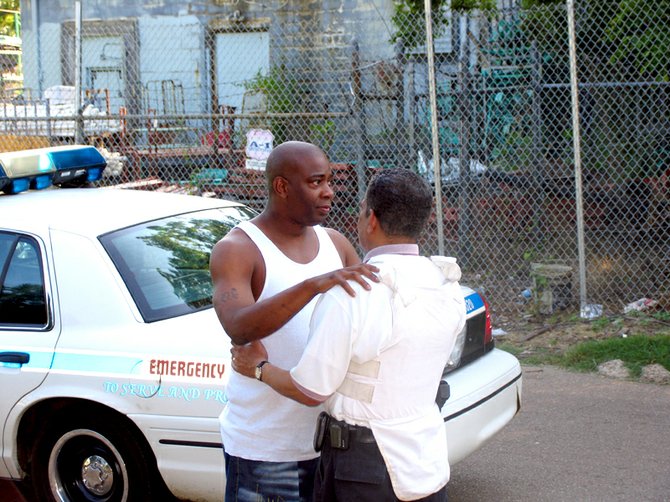 JACKSON — More than three years after Frank Melton challenged the JFP outside Bravo! restaurant to look into the rumors about him, it is clear that his Jackson web of young friends, and enemies, is complicated and crosses generational lines.
The Dairy Bar, the site of the Sheppard murder, is also at the center of other Melton-related coincidences: One of the witnesses to that 1992 murder, Terrence "Fellow" Womack, was prosecuted along with Corey Redd, Darnell Turner, Elisha Moton, Andre Mason —all allegedly members of the so-called "Greyhead" gang—for an aggravated assault on March 10, 2004, that police believed was part of a string of back-and-forth relations between Inge and Cohea Street groups.
Melton told the media in that case that he had known the "Greyhead" kids since they came to the Farish Y as children. They are "just a group of kids," he said about the men, all of whom were in their late 20s then.
Redd and Womack turned themselves into Melton in 2004, causing a JPD controversy when Sgt. Billy May and another officer left their beat to trail Melton while he took the two men to the Hinds County Detention Center. The victim in the "Greyhead" trial, Michael Sanders, withdrew his testimony during the February 2006 trial, and the charges were dropped against the four men.
As recently as Oct. 11, 2005, another man who had lived with Melton, Floyd Buckley Jr., 32, was allegedly shot, but not killed, at the Dairy Bar by Darnell Turner. Based on witness reports, Municipal Judge Melvin Priester signed a warrant for Turner's arrest on Oct. 13. On Nov. 9, 2005, Buckley requested that the charges be dropped, and the case was remanded to the files.
— Donna Ladd
Support our reporting -- Follow the MFP.