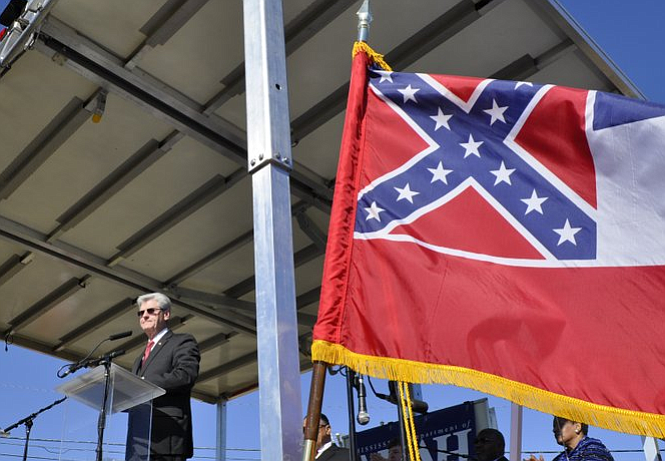 Most Viral and Viewed Stories Since 2007
The JFP has gotten hundreds of thousands of page views for our top-viewed stories since we started tracking a decade or so ago. The biggest one was last year, thanks to Gov. Phil Bryant, and most were enterprise stories that we worked hard to do well and be the first to reveal.
Others show the international interest in Jackson's "Dancing Dolls" and local support of the city's best restaurants. Many of our most viral stories blew up due to sudden media interest (The Huffington Post featured Ronni Mott's Michelle Byrom work, for instance, thus amplifying it to a much larger stage).
Some stories, such as the "Poverty-Crime Connection," have shown up steady over the years. Still others, those that have to do with "Dancing Dolls" or guns, for instance, draw traffic in spurts, depending on whether the TV program is airing, or in the case of guns, if the national news cycle is paying attention to them.
Here are our top 15 as of about late 2006 when we started tracking analytics as we do today.
Most Impactful Stories
Many JFP stories and investigations had significant impacts on the community in a variety of ways. Here are our favorites in no particular order.
"I Want Justice, Too": The 1964 Murders of Henry Dee and Charles Moore
In 2005, after a Neshoba County court convicted Edgar Ray Killen in the infamous civil-rights cold case, Donna Ladd, photographer Kate Medley and later intern Thabi Moyo joined a Canadian Broadcasting Corp. cameraman to investigate the 1964 Klan murders of two young black men near Meadville, Miss. On the first day, they learned that James Ford Seale was still alive, even though the Associated Press and The Clarion-Ledger had reported him dead. Our package of stories about the trip with Moore's brother, Thomas, helped get the case re-opened and, ultimately, was used extensively in federal court leading to the conviction of Seale for federal kidnapping charges. He died in federal prison in 2011.
Cedric Willis' Deepest Midnight
The JFP did not get Cedric Willis out of prison. Due to District Attorney Ed Peters' office—the prosecutor was Bobby DeLaughter just months after he had famously convicted Byron De La Beckwith for killing Medgar Evers—botching the prosecution, Willis went to prison for a rape and murder he did not commit. He stayed there for 12 years until Innocence Project attorneys successfully proved that he was not involved.
Brian Johnson's long-form narrative showed how justice was denied under the media radar with few people asking questions about a wrongfully accused young black men. The story motivated a local reverend to raise money for Willis, give him a job and work with him to get a restitution law passed in Mississippi. Willis has regularly talked to JFP staffers and interns, as well as Youth Media Project teens, since his release in 2006, inspiring them to do deep work that matters. The story also exposed some problems with the prosecutor, whom actor Alec Baldwin played in the 1996 film "Ghosts of Mississippi" years before then-Judge DeLaughter went to prison after a bribe offer from Peters. Ahem.
The Mysteries and Trials of Frank Melton
Donna Ladd took notice of former WLBT executive and Texan Frank Melton when he challenged Harvey Johnson Jr. for mayor in 2006. Based on a conversation with Melton during his campaign, she learned that police had accused him in the 1990s of drug dealing and sexual assault of young men—charges never brought based on unreliable witnesses and missing files. Ladd, along with Adam Lynch and Brian Johnson, reported many ignored issues with Melton through the campaign and his four years in office.
Lynch's report about him taking teenagers and cops on the JPD Mobile Command Center to bust up the house of a mentally ill man with sledgehammers landed Melton in both state and federal trials. Ladd's narratives about her ride-alongs on the Mobile Command Center with Melton and friends is among the JFP's most discussed work. Melton was not convicted before he died, but authorities did remove many young men who were living in the troubled alcoholic's home, which the JFP considered a major win on behalf of the young people of Jackson.
Donna Ladd and Adam Lynch's coverage revealed many things about an ambitious "flood control" development for the Pearl River, including who was involved, who owned land in the footprint, who had quietly given money to a pro-lakes mayoral candidate, the full environmental concerns and much more. The project soon halted, and now a scaled-back "One Lake" project has replaced it, which we are tracking.
Michelle Byrom On, and Off, Death Row
One of the JFP's most viral stories ever was the work of Ronni Mott in uncovering the questionable prosecution of Michelle Byrom, on death row in the state for 14 years for killing her husband, who had abused her. National and local media covered the story after Mott broke it in March 2014, showing that her son had confessed in writing how he had killed his father—evidence that the prosecutor did not present to the jury. The courts soon reversed her death sentence, which is very rare.
Throughout the JFP's 15 years, we have focused much attention on the until-then little-reported issue of domestic and interpersonal violence in the state, especially against women, through powerful narratives about victims such as Heather Spencer and Doris Shavers. Ronni Mott did much of that reporting with multiple long-form stories about various aspects of the problems, including many potential solutions. The annual JFP Chick Ball—which has been on hiatus since 2015 due to other projects—raised money and awareness about the issues.
In related coverage, Mott and intern Sophie McNeil investigated and broke the story of pardons that then-Gov. Haley Barbour granted to several murderers, all of whom had brutally killed women, wives or partners—which most local media ignored then, even as our work attracted national media attention. Four years later, Barbour pardoned a longer list of criminals, including domestic murderers, on his way out of office, then attracting wide media attention. But the JFP was there first, even if few cared then.
HB 1523 and LGBT Rights in Mississippi
From Adam Lynch's early work on Ceara Sturgis to Arielle Dreher's recent and stellar coverage of House Bill 1523, the Jackson Free Press has led the state's media on in-depth coverage of discrimination against LGBT residents of Mississippi. Federal cases winding through the courts have cited our work, especially Dreher's, numerous times, and her feature on homeless LGBT youth, was a finalist for a GLAAD media award. Along with our embrace of the "If You're Buying, We're Selling" campaign, started locally, the JFP has led on mainstreaming coverage of LGBT rights in the state.
Mississippi Defeats Personhood
On Nov. 8, 2011, Mississippi stunned the nation by defeating the Personhood amendment, which would not only have outlawed abortion here, but birth-control pills, the IUD and even threatened in vitro fertilization. For nearly a year before the vote, the JFP led the Personhood coverage with a team of reporters including Valerie Wells, Lacey McLaughlin and Elizabeth Waibel, reporting on all aspects of the issue, from the constitutional to the medical. We also elevated the "Grassroots Mamas" in our pages—mothers in and near Jackson who led the social-media fight to educate woman and men of all political stripes about the dangers of Personhood.
Following the Money and Shining a Light
When the JFP launched in 2002, nobody around here paid much attention to political action committees or campaign finance in general. (Other media were too busy supporting tort reform.) We changed this, from our push to unearth a secret Better Jackson PAC angling for Two Lakes development, to multiple mayoral races, to the white Republican-black Jackson leadership that established PACs to keep Chris McDaniel out of the U.S. Senate, to the various shadowy PACs that worked to defeat Initiative 42 to require full MAEP funding. We've proudly worked to reveal truth at all angles while some other media pay more attention to campaign finance, and that's a win, although state law and enforcement has a long way to go.
We can't swear it, but we believe that our deep investigations into Haley Barbour—pushing the "southern strategy," pitting Mississippi against Louisiana after Hurricane Katrina, diverting Coast housing funds to a port, his criminal pardons, his family's iffy race history in Yazoo City, his deregulate-nursing-home PAC work, his lobbying clients/income, his pushing of a mythical "jackpot justice" crisis, and more—eventually helped knock him out of consideration for a White House run.
Ever since Donna Ladd published her Trent Lott cover story back in 2002, detailing the "southern strategy" of courting the racist vote to Mississippi, the JFP has stayed the course on filling in gaps in knowledge on basic history of why Mississippi and the South seceded (to preserve and extend slavery), and what all those Confederate memorials, including the state flag, really stand for. Hundreds of people have thanked us for exposing primary sources that shatters myths—and the work has gone viral with the national awareness of racism in recent years. See the work at jfp.ms/slavery.
The work we're probably the proudest of at this point is our effort to find causes and solutions to violence in Jackson over the last two years. The work, which John Jay College of Criminal Justice fellowships and Solutions Journalism Network grants supported, has gone deep into the myriad causes of youth crime—and vetted potential solutions. Our coverage won many awards in the last year and continues.
Our favorite result of this initiative is how often we're now in public dialogues about crime and violence, and the word "solutions" is the most common word; this just did not used to happen. We also have many related conversations about the work, from the Mississippi FBI director to elected officials. Dig in at jfp.ms/preventingviolence.
We are very proud of our Hurricane Katrina coverage—which ranged from a weeks-long "Triage Blog" (no longer on site) to connect resources with people who needed help, to on-the-ground narratives about the destruction and human pain, to investigations of how Gov. Haley Barbour, his family and others dealt with funds and grants in the aftermath of the disaster.
Work We Wish Had Worked
The JFP also did deep, award-winning coverage of several topics that did not change the problem. We wished it had. Here are a few examples:
More like this story
More stories by this author
Support our reporting -- Become a JFP VIP.
The news business has changed dramatically in the past year, and we need your help more than ever to keep bringing you important stories about Jackson and the Metro. Become a JFP VIP with an annual membership or you can Sign up as a monthly supporter. Thanks for anything you can do to empower our journalism!