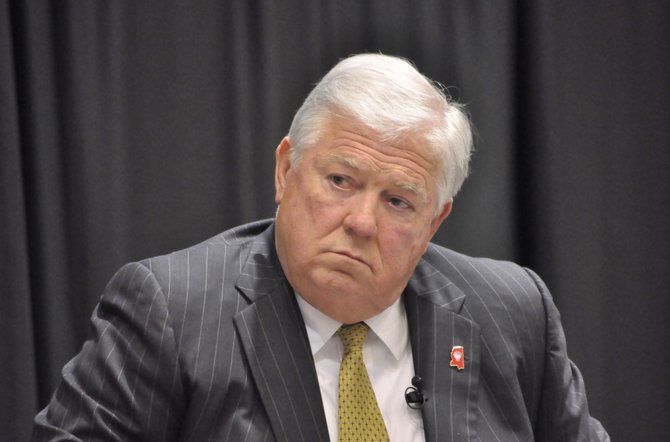 Haley Barbour, the former governor of Mississippi, head of the Republican National Committee and one of the world's most powerful lobbyists, is going to work for the Ukrainian government to lobby the United States government, Reuters is reporting.
Barbour and his Washington lobbying firm, BGR Group—which he claimed to be leaving behind when he ran for governor of Mississippi, where he served two terms—are taking on the role at a tense time in relations between the United States and Russia. As a part of the former Soviet Union, Ukraine is a hotbed for Russian Federation President Vladimir Putin that he is working hard to control, including a controversial invasion in 2014.
"The hiring of Barbour and his lobbying firm BGR Group comes at a time when U.S. President-elect Donald Trump's public embrace of Russian President Vladimir Putin has increased worries in Washington that the new administration may side with Russia in the Ukrainian dispute," Reuters reported.
"Russia has increased its military presence in Ukraine since annexing the Crimean peninsula in 2014."
Reuters reports that Barbour's firm will receive a $50,000-a-month retainer to "design and implement a comprehensive government affairs and business development strategy" for the current Ukraine government. That will include "arranging meetings" with U.S. lawmakers, Reuters reported. BGR hopes to "encourage private U.S. businesses to invest in Ukraine."
The Jackson Free Press previously reported on the controversies over Barbour's interests in BGR (which stands for Barbour, Griffiths and Rogers). Bloomberg News also reported heavily on Barbour's lobbying connections at the time. Like Trump, Barbour refused to release his tax returns while running for or serving in office.
For a short time, Barbour was considered a strong candidate for president in 2012, but his controversial comments about his hometown's civil-rights history helped upend his campaign.
Early in his career, after leaving Ole Miss, Barbour worked as a political strategist in the early years of the party switch between Democrats and Republicans over national Democrats' embrace of civil-rights laws, which angered southern Democrats, leaving an opening for Republicans to draw their support.
While governor of Mississippi, Barbour fought hard and successfully to bring "tort reform" to Mississippi, and limit the damages that juries could award in medical and business liability lawsuits. He also oversaw the aftermath of Hurricane Katrina, which was not without controversy for him and family members.
On his way out of the Mississippi governor's mansion in 2012, Barbour pardoned a large number of criminals, including a number of people convicted for violence. Back in 2008, a Jackson Free Press investigation had revealed that Barbour had also pardoned several men convicted of brutally killing wives and girlfriends. (One of the men Barbour pardoned in 2012, Robert Earl Henderson, has been back in the news lately for being caught up in a bribery controversy involving the Hinds County district attorney's office.) Barbour's full pardon list is here.
Since leaving public service, Barbour joined the Butler Snow law firm as counsel and returned to BGR.
Support our reporting -- Follow the MFP.