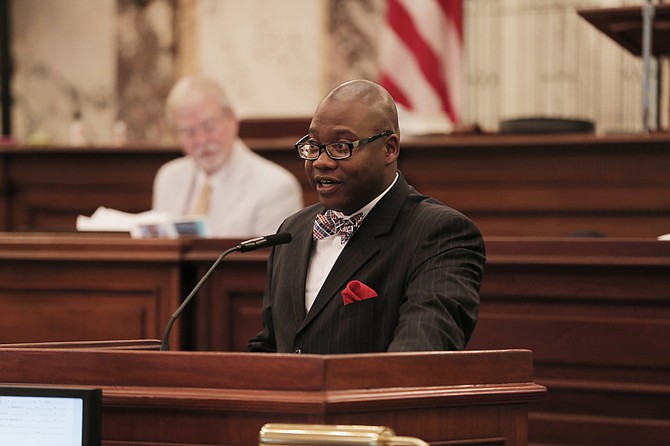 JACKSON — A young, white woman allegedly brutally murdered by a 27-year-old man in north Mississippi was the poster child for increasing penalties against gang members who conspire to commit crimes and those who lure them into criminal groups late on bill deadline night at the Mississippi Legislature.
Sen. Brice Wiggins, a Republican former prosecutor on the Gulf Coast, put the 19-year-old victim front and center as he argued for an overhauled state gang law to deal with the gang "scourge" in Mississippi.
"Jessica Chambers, who we all know was a result of gang activity in Panola County; the first transgender murder in Mississippi was in George County; it was gang-related," Wiggins told fellow senators well after dinnertime on March 8. He was arguing for an amendment to House Bill 240 that would resurrect earlier efforts to add additional prison time to crimes committed as a result of gang association; create prison time for an adult who "solicits" a minor to join a gang; and widen the definition of "gang" to make prosecution easier.
The problem with Wiggins' examples, though, was that the Panola County district attorney has said the murder of Chambers was not gang-related and was a "personal crime against Jessica" by Quinton Tellis, 27, whom she might have been romantically involved with (and who has not yet stood trial for her murder). And while a known Latin Kings member, Josh Vallum, had killed Mercedes Williamson, 17, out of fear of his gang friends discovering that she was transgender, it apparently was not a crime resulting from gang collusion. Vallum pled guilty to the first federal hate-crime charge in the U.S. due to gender identity.

'Hyper-criminalization'?
Most of today's most-known street gangs—from the Vice Lords to the Latin Kings to the Simon City Royals—formed decades ago in neighborhoods, juvenile detention centers and prisons, often as a result of racial strife and block segregation between ethnic groups. Over those years, the word "gang" has long been used colloquially to encompass any young person flashing a distinctive hand signal, wearing a certain color t-shirt or cap or shoestrings, or who is seen hanging out around suspected gang members. And long past a person's early gang or group dalliances, their names can still show up in police databases as "associates" with groups supposedly conspiring to commit organized criminal activity.
Violence is tragic, but morphing any crime by a suspected "gang" member into a legal conspiracy in order to pile on more prison time—behind bars with other restless "gang" members—can be a dangerous stretch, violence experts say.
Therein lies the rub with far-reaching legislation such as the House Bill 240 amendment (click "Amendment Report" PDF), which finally passed that night after much cheerleading from Wiggins and pushback from the bill's critics.
Wiggins seeks to amend the existing Mississippi Streetgang Act that defines a gang as "any combination, confederation, alliance, network, conspiracy, understanding or similar conjoining in law or in fact, of three ore more persons with an established hierarchy" that commits a felony.
The amendment would define a gang as "an association of three or more persons whose members are involved in criminal gang activity and who collectively identify themselves by adopting a group identity by one or more of the following: a common name, slogan, identifying sign, symbol, tattoo or other physical marking; style or color of clothing or hairstyle; hand sign, hand gesture or finger position; or graffiti."
"South Mississippi gangs, Clarksdale, Oktibbeha—I know it's a long night, but I think this is important: Mississippi has a gang problem," Wiggins told the Senate as numerous news stories flashed on a screen. "All of the places I just mentioned to you ... have convicted gang members in their communities ... in your communities."
He referred to a diversity of prominent gangs including the predominately white Simon City Royals, the Black Gangster Disciples, the Aryan Brotherhood, Latin Kings and MS-13 as he argued that gang investigators need more latitude to pursue gang nembers and the people who lure them into them.
Omitting the "hierarchy" requirement means that, suddenly, a gang here is less of an organized criminal enterprise; the wordy new "Mississippi Gang Act" rewrites current law through the amendment, giving law enforcement much more discretion.
The changes give prosecutors the ability to treat non-violent and violent offenses similarly, allowing prosecutors to ask for additional five- to 15-year sentences, including for a misdemeanor, if the perpetrator is deemed a gang member.
Sen. Derrick Simmons, D-Greenville, argued that such sweeping language can result in over-criminalization. He said constituents had called to ask why alleged gang members get the same kinds of additional penalties for minor crimes.
Wiggins defended the language expanding gang-related offenses. But he said prosecutors still have to prove intent. "They have to prove that they were getting into it ... to further the ends of the gang," he said, presenting the question of how the murders of Chambers and Williamson helped him build the case for this legislation.
Some Republicans are concerned about giving prosecutors too much leeway to pile on additional time. "We can't keep encouraging a culture of over-criminalization," Sen. Chris McDaniel, R-Ellisville, said in a Jan. 31 Senate committee meeting discussing the wider gang law, as reported by The Clarion-Ledger. "There are far too many young people already incarcerated, so whenever we construct a criminal statute, it has to be very narrow."
Sen. Simmons has long argued that such language can actually lead to more profiling and even calling a suspect a gang member in order to pile on more time, which research shows often increases recidivism—much criminal and gang activity is hatched behind bars in the U.S.
"With the proper training of officers, without putting the right dollars behind giving all these law-enforcement agencies the professional development and training they need, we just possibly create a situation where, as opposed to promoting community policing, we are in turn promoting hyper-criminalization," Simmons said at the Jan. 31 committee meeting.
Gulf Coast District Attorney Tony Lawrence, who has helped push for a strong "Mississippi Gang Act," however, believes law enforcement need much wider latitude to round up gang members in order to make communities safer. He said on Jan. 31 that a task force on the Coast had "declared war" on gangs there in the last couple years and needs legislative leeway to do more.
'Gang Culture Has Changed'
The word "gang" means different things to different people—and the realities of organized gangs in U.S. cities have shifted over the years. One result is that many of them are not the hierarchical organized-crime syndicates of past years.
In 2014, the Legislature authorized a $500,000 study on Jackson crime, including a specific report on gangs. The BOTEC Analysis Corp. went into communities in Jackson to study causes and realities of crime and violence. Researchers found varying opinions on "gangs" here—some say they are still the gangs of the past, especially since so many young people identify with one or another subset of famous gangs such as the Vice Lords or the Black Gangster Disciples. Others, including within local law enforcement, argue that they are now more like groups, "sets" or cliques, which while still soaked with guns (and trauma) and, thus, potentially violent, they are less likely to engage in the kind of conspiratorial crimes of more organized, "real" gangs.
"Gang culture has changed," one interviewee told BOTEC about Jackson. "No one controls anyone anymore with little cliques all over the city." This is common in towns around America, experts say. The victims also are pretty consistent; a death like that of Jessica Chambers is unusual in areas usually targeted for gang activity; the most common murder victims are young men of color caught up in cycles of violence.
As Jackson Police Chief Lee Vance puts it, those who many still call "gang" members are more likely to commit violence due to "beefs" and retaliation for previous acts of violence—which BOTEC calls a "group problem," not a gang problem. "As will be made clear in this assessment," BOTEC stated, "experts agree that the term 'gang' is unimportant in addressing crime problems." BOTEC itself only uses the term "colloquially," the report added.
BOTEC concluded that the "labels are less important than an accurate assessment of crime patterns." Put simply, its gang report explained, "Jackson has a bad problem with multi-offending groups. The solution will emerge from further investigation into the identity of the offenders and the nature of the crimes being committed."
That is, BOTEC argues, get granular about who is committing what crime in Jackson, and Mississippi, in order to figure out appropriate solutions. It recommends a systemic approach to fixing the criminal-justice system, from ensuring that police are engaging in evidence-based practices to ensuring that the system itself is not reproducing more criminals and recidivism—and cynicism.
The study warns that the two highest precursors of a young person committing worse crime, gang-related or not, are high drop-outs/school absenteeism and being arrested and put into detention or jail. The more jail, the worse the chances the offender ends up a part of a violent group.
"If jails are a breeding ground for gang involvement, minimizing the length of pre-trial detention should be a priority to ward off further reason for young men to affiliate," BOTEC warns.
BOTEC recommends the targeted enforcement-plus-services approach of David Kennedy's "Operation Ceasefire" model, which both identifies those likely to commit crime and with offering services to help turn them around, as well as threats of what will happen if they don't. Other prevention models include Cure Violence's "violence interrupters"—former criminals and gang members who help youth choose better options and stop them from retaliating for violence.
Either way, the state-funded study is clear that the best way to avoid gang and criminal activity is to repair the conditions that cause them. It said Jackson is "trapped in a vicious cycle": "Many city residents are desperately poor and victimized by violent crime. Government fails to protect them, leading to bitterness and a perception that law enforcement is incompetent or indifferent. Children grow up with no opportunity and turn to crime."
Often, BOTEC found, young people arm themselves for self-protection because they don't believe police are there to help them, and they have so few job opportunities that they believe crime is the only way to support their families.
Either way, a belief in beefed-up policing and more prison time without an evidence-based strategy to prevent crime will just lead to even more violence, the researchers warn. "BOTEC recommends working toward a precise understanding of the situation before embarking on a solution," the report says.
See links to reports mentioned above in this story at jfp.ms/ganglaw and read the JFP's ongoing "Preventing Violence" series at jfp.ms/preventingviolence. Additional reporting at the Legislature by Arielle Dreher.
Support our reporting -- Follow the MFP.