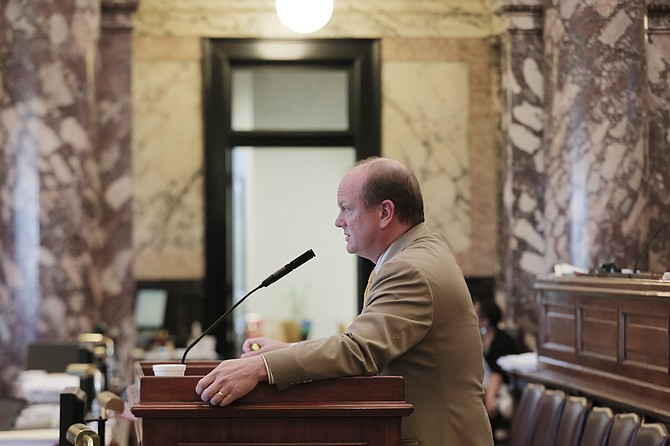 When Sen. Brice Wiggins, R-Pascagoula, stood up at the last hour to amend state gang law at the Mississippi Legislature on March 8, he committed what can be called a "tell." The former prosecutor was determined to help police and prosecutors have greater latitude to pursue "gang" members, but he didn't choose the best examples.
For one, he used the tragic murder of Jessica Chambers by a man believed to be associated with a gang to argue for adding additional charges if a crime was committed as part of gang collusion. But, in that case, the prosecutor has said that the crime was "personal," not part of gang activity. If it didn't have to do with gang activity, it's not a great example for expanding the gang law and shouldn't be used to emotionally cloud an important conversation about reducing gang violence. And even if she had been killed in a gang ritual, it doesn't argue for sending someone labeled a "gang member" to prison for additional years for a misdemeanor as Wiggins is also trying to do.
It does make a lot of sense to research and discuss the true causes of gang violence and figure out how to repair conditions and trauma that lead someone to join a crime syndicate or build up to violent crime. It does not make sense to sneak into a different bill late at night and add in a replacement gang law that you couldn't get passed sooner to make it easier to call someone a gangster so you can more easily arrest and lock them up longer.
What is really wrong, though, is ignoring a comprehensive report by the BOTEC firm that the Legislature itself paid half a million dollars for that explores causes and solutions for gang violence and warns about the dangers of increasing recidivism by only choosing a criminalization approach.
Put succinctly, what the Legislature may be about to do if they do not change or strike that amendment in conference can, and probably will, make our communities more dangerous. It will not help to expand the meaning of "gang" and then pile on more jail and prison time—especially since many people who have just flirted with gang activity, or just called themselves a group name, actually become hardened criminals in prison.
Mississippi has shown signs of embracing smarter criminal-justice alternatives and strategies in recent years, although it comes in fits and starts. The evidence is incontrovertible that most of these lock-em-up strategies are self-defeating and build out the cycle of violence even further.
The laws are on the books to arrest suspected gang members for serious crimes already; the two men Wiggins referred to at the Capitol were both apprehended. Trying to use those cases to make it easier to round up a young person looking for belonging with a hand sign is disingenuous at best, and dangerous to our state at worst. Mississippi must be smarter about crime prevention every single day and night. We need consistent, evidence-based solutions and a laser focus on creating opportunity and solving the conditions that breed crime. Any other approach will waste our time and resources.
Read the JFP's ongoing "Preventing Violence series at jfp.ms/preventingviolence.
Support our reporting -- Follow the MFP.