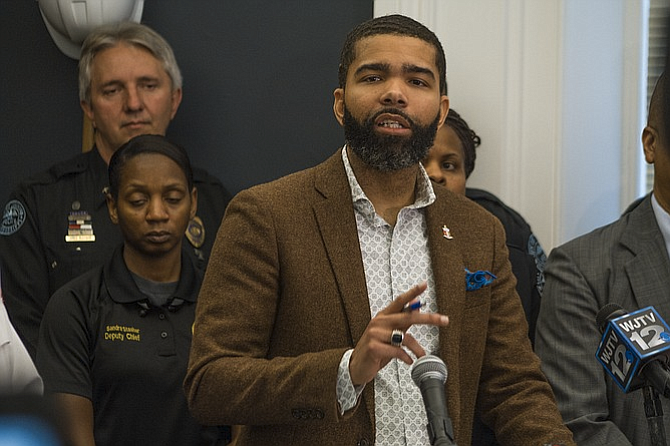 Months ago, Mayor Chokwe A. Lumumba named a task force to develop a policy on when and how to identify officers who shoot non-law enforcement in Jackson. This came after multiple shootings since Lumumba took office in early July 2017 without the Jackson Police Department identifying any of them to the public.
This newspaper called on the mayor, who ran for office in part on a platform of criminal-justice reform and transparency, to immediately name the officers and to begin identifying officers within 72 hours of a shooting incident, a national standard that the U.S. Department of Justice has suggested.
That did not happen. Instead, the mayor appointed a task force of both law enforcement officials and various civilians who started meeting near-weekly to reach consensus over a policy.
A task-force meeting last night at Mynelle Gardens, which the editor of the Jackson Free Press attended, did not have a quorum, and the chairman of the task force and Lumumba's former law partner, C.J. Lawrence, called in on an iPhone and was difficult to hear, deciding nearly a half hour after the meeting began to reschedule it for next Monday night at an undetermined location "in order to advance the conversation as far as the policy is concerned."
A severe disorganization within the task force was apparent at the meeting and a lack of clarity on how many members were needed to have a quorum, which was believed to be nine last night. The group had 21 members when it launched, but has apparently lost eight members—they supposedly drop after missing two consecutive meetings without an excuse—leaving the roster at 13.
It wasn't clear what the new mix would be between law enforcement and non-law enforcement, but members of the committee assured audience members that it would still be balanced.
The task force distributed a draft policy, which would require officials to release names of officers who fire a weapon within 72 hours with some caveats, at last night's meeting. But a few task-force members complained that some of the changes recommended at the previous meeting were left out.
It wasn't clear to all members who was responsible for ensuring that the policy was up-to-date, although the name of a woman who was not in attendance came up.
After the decision to postpone was final about 45 minutes after the meeting was to begin, the assembled members decided to take questions from several media sources and audience members in attendance. Two major causes of concern emerged from that interchange.
Clarion-Ledger reporter Justin Vicory asked if the Mississippi Bureau of Investigation, which is investigating officer-involved shootings in Jackson, would abide by the task force's and the mayor's decision to release the names within 72 hours if a shooting was under investigation.
Committee members responded that Hinds County District Attorney Robert Shuler Smith had assured the task force at a previous meeting that he could release them withoutthe MBI's permission.
We are not comfortable with simply Smith's assurances on that point, considering that the MBI is a state agency, and urge the task force to get confirmation from the bureau on that point and in writing to share with the public.
All these months of waiting for a policy would be for nothing if the MBI simply decides not to release the officers' names. Task-force members also revealed that the MBI had declined an invitation to appear before the group, which does not shore up our confidence in Smith's answer.
In addition, Lumumba and Smith have supported each other's campaigns for office, and Lumumba walked into a Hinds County courtroom and sat on the front row on Smith's side during jury instructions in the district attorney's second state trial for alleged witness tampering. Smith was acquitted. That relationship may have no effect on the proceedings in this situation, but further assurances are clearly necessary to ensure that the State of Mississippi and all agencies will abide by the task force's recommendation.
Secondly, the task force plans to allow JPD to withhold the identities of the officers if they deem there is a "credible threat" against the officer or his or her family after a shooting. They do not plan to provide details of that threat to the public, however, which the JFP editor pointed out to the task force could be a circular problem taking the process back to the beginning when JPD officers and commanders were fighting to never release the officers' names due to threats.
We will repeat what we said then. It is highly likely that the people making those threats already know the identify of the officer who fired on their loved one or associate due to witnesses in the community where it happened. Hiding either the identity of the officer or the details of an alleged "credible threat" from public view is not likely to prove protective. It is not a practice of most major cities in the country and should not be one of a capital city with a prominent progressive mayor.
We understand the need to protect officers and their families, but it is not acceptable to allow it based on a reason shrouded in secrecy. There must be a way for the public, and the media, to monitor the internal procedures and decisions of the Jackson Police Department and the City of Jackson to make these decisions.
The task force assured those in attendance last night that it will vote on a final draft policy next Monday at a 6 p.m. meeting to present to the mayor. This newspaper still maintains that the mayor of Jackson should have issued an order months ago, as he rightly did to stop media "perp walks" and the release of mugshots of children, to start immediately identifying officers who fire their weapons, injure or kill people.
However, it is now time for a policy with teeth that shows both that the mayor is serious about real policing reform in Jackson and the need for public transparency, even if the police department is not happy about it.
It is not acceptable to adopt a policy that still allows the police department, or a state agency, to make these decisions in the dark without a way for the public to vet those decisions. And it is a waste of time for the task force to call constant meetings with so little to show for it months into the process.
Support our reporting -- Follow the MFP.