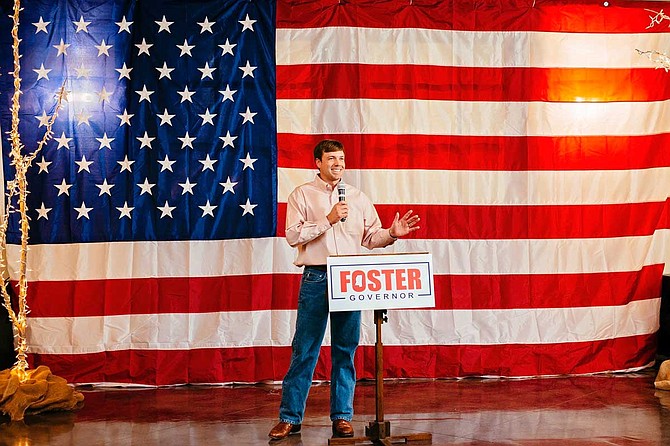 This article has been updated to reflect a comment from Lt. Gov. Tate Reeves' office.
JACKSON — A third party offered to help Mississippi State Rep. Robert Foster, R-Hernando, secure $1 million in fundraising if he would drop out of the race for governor, the GOP candidate claimed in an interview with the Jackson Free Press Thursday.
Foster said he turned the offer down.
"I'm not going to give any names or anything because I can't prove anything because it was all done through a third party, through phone calls and stuff," he said. "But I can confirm it was made."
He said the source of the alleged offer, which was first reported Wednesday by Larrison Campbell in Mississippi Today, made it last month and stipulated that he would receive the financial help if he ran for a different statewide office instead.
Foster announced his run for governor on Tuesday. He will likely face Lt. Gov. Tate Reeves in next year's Republican Party primary, though Reeves has not yet announced a run.
"We don't know anything about that," Laura Hipp, Reeves' director of communications, told the Jackson Free Press Thursday evening. Neither the Mississippi Republican Party nor Republican Gov. Phil Bryant's office immediately responded requests for comment. The Jackson Free Press was unable to verify Foster's claims Thursday.
Foster, whom locals know as "Farmer Bob" because of his family-owned farm, is a freshman legislator who first entered office in 2015. Since then, he has earned a reputation for supporting hard-right legislation and harsh rhetoric on social media, although he strays somewhat from the mainline Republican Party's recent stances on the drug war and "school choice."
On his newly unveiled campaign signs, Foster touts himself as a "Man of Faith," a "Conservative Outsider" and a "Farmer." He told the Jackson Free Press he does not consider himself an anti-establishment candidate in the mold of State Sen. Chris McDaniel, R-Ellisville, though.
"That's not how I view it," he said. "I'm not running to go against any kind of establishment. I'm just running because I feel like people need another choice. I'm just a conservative who feels a calling to run."
He would not speculate on why his candidacy would lead someone to try to lure him out of the race, saying he would "prefer other people to just make their own decision about that."
While Reeves has a sizable headstart in fundraising with well over $5 million cash on hand, Foster's conservative views and record may endear him to the hard-right GOP base he will need to court to pull off an upset. Foster, who is Baptist, touts his status as a "strong Christian and balanced conservative voice," and his record of supporting anti-abortion and anti-LGBT legislation is sure to endear him to evangelicals.
In a campaign video released alongside his public announcement, Foster cast himself as an everyday Mississippian.
"I've been a Mississippian all of my life. I'm a public-school graduate, I'm a farmer, and I'm running for governor," he says in the video.
Already, the freshman legislator is closing in on his likely opponent in terms of his Facebook following. As of Thursday, Reeves—who has served as lieutenant governor since 2012 and before that was state treasurer from 2004 to 2012—had a Facebook following of a little more than 15,000, while Foster's following stood at just under 13,400. That is a jump from Monday, when Foster's follower count was a little more than 13,100.
Reeves is well ahead of him on Twitter, though, with nearly 12,000 followers compared to Foster's less than 600.
Foster may face more competition if he is vying for the votes of conservatives who prefer outsiders less attached to GOP machinery in Jackson. Far-right Petal Mayor Hal Marx, known for his Trump-like Twitter habits, announced a run in May. In 2014 and 2018, Marx supported Tea Party conservative, Mississippi Sen. Chris McDaniel, R-Ellisville, in his unsuccessful bids for U.S. Senate.
The DeSoto County legislator plans a tour to speak to Mississippians in all parts of the state, though he has not yet announced details.
On Dec. 8, Velesha P. Williams announced that she was running for the Democratic nomination for governor. Like Foster and Reeves, she faces an uphill battle against a formidable candidate. Mississippi Attorney General Jim Hood—the only Democrat to hold statewide elected office since the parties completed a realignment over race issues that began in the 1960s—announced his run for governor in October.
Voters will have almost a year to make up their minds about who should succeed Gov. Phil Bryant, who has held the office since 2012. Mississippians will elect its next governor on Nov. 5, 2019.
Ashton Pittman covers politics and elections for the Jackson Free Press. Follow him on Twitter @ashtonpittman. Email him at [email protected]. For news on the 2019 Mississippi elections, visit jacksonfreepress.com/2019elections.
Support our reporting -- Follow the MFP.