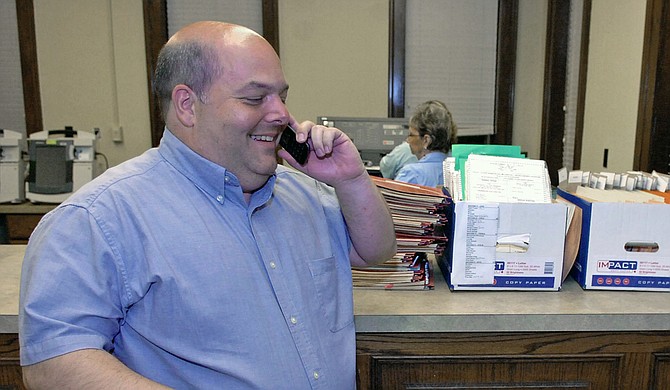 JACKSON, Miss. (AP) — A Republican mayor from south Mississippi said Thursday that he is running for governor next year, even though he expects to be widely outspent by other candidates.
Hal Marx has been mayor of Petal since 2009, and has advocated limiting the scope of government programs.
He said leading city government, including going through two tornadoes, has prepared him to run for governor. Mayor and governor are executive branch jobs, and Marx said he is accustomed to dealing with budgets. He also said Petal, with a growing population of about 10,700, has not increased its tax rates since he took office.
Marx said he doesn't expect to attract big campaign contributions from lobbyists.
"I know I'm going to be the underdog, but I think people like the underdog; they root for the underdog," Marx told The Associated Press. "I'm OK with being underestimated."
The current governor, Republican Phil Bryant, is limited to two terms and cannot run again in 2019.
Republican Lt. Gov. Tate Reeves and Democratic Attorney General Jim Hood are among the high-profile officials who have said they might run for governor. Reeves reported having $1.2 million in campaign cash at the end of 2017, and Hood reported about $662,500. Marx does not have a statewide campaign account listed on the secretary of state's website.
Marx, 50, previously worked as a high school social studies teacher. Before that, he was a reporter and managing editor of the Laurel Leader-Call newspaper.
Marx supported state Sen. Chris McDaniel during a contentious Republican primary for U.S. Senate in 2014. With help from tea party voters, McDaniel came close to defeating longtime Sen. Thad Cochran in a race that divided the state GOP. Marx said Thursday that critics use "tea party" as a pejorative label, but he believes in the original goal of keeping taxes low.
"I consider myself a conservative, first and foremost. ... I would gladly be called a tea party candidate," Marx said.
He said he thinks his candidacy will appeal to "people who work for a living, who struggle paycheck-to-paycheck and sometimes feel like they're forgotten."
Copyright Associated Press. All rights reserved. This material may not be published, broadcast, rewritten, or redistributed.
Support our reporting -- Follow the MFP.