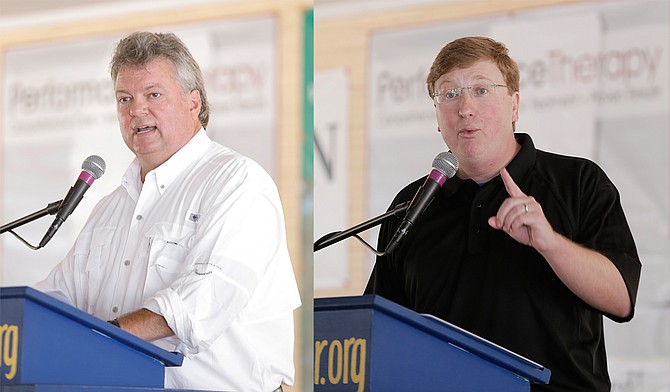 JACKSON — Lt. Gov. Tate Reeves and Attorney General Jim Hood are the obvious candidates expected to face off in the 2019 gubernatorial election if both make it past the party primaries, although neither one has officially declared his intention to run for the office. Petal Mayor Hal Marx said last week that he is running in the Republican primary for governor.
An April poll suggests a close race but shows 44 percent of voters supporting Hood, while only 39 percent of voters surveyed support Reeves. About 17 percent of voters polled are undecided.
Hood, the only statewide elected Democrat in an otherwise Republican-led state, polls well with women, non-white voters and young people. Reeves polls strongest with white Republican men.
The margin for error in the poll is about four percentage points, meaning if the was held today, the results would slightly favor Hood.
As far as campaign finances go, Reeves has Hood beat by millions. As of Jan. 1, 2018, Reeves has $5.36 million in his personal campaign-finance account. A new organization, called "Friends of Tate Reeves," filed its statement of organization paperwork on April 16. The organization lists its purpose "to raise and spend funds for the purpose of exploring a potential campaign for elected office in Mississippi."
Hood, on the other hand, does not even have $1 million in his campaign-finance account. He had about $656,000 in his account as of January 2018. No campaign committee in his name has filed recent reports. Hood told the Associated Press on May 1 that he is still weighing his options about 2019.
Hood's waffling on the decision might end soon, after Rep. Mark Baker, R-Brandon, announced May 1 that he would not seek re-election in the House of Representatives, instead running for the post of attorney general. Baker, who constantly introduces legislation to limit Hood's power, has long been rumored and even teased in the House about running for the post, so 2019 will be the year.
Baker, who has served in the House since 2004, said in a press release that he was not a "yes man" in the Legislature, opting instead to focus on his constituents' needs and concerns.
"My public service in the Mississippi House of Representatives is something I will forever cherish; but, it is time for me to try something new, to put my energy toward a new challenge," Baker said in a press release. "I am moving forward with a plan to run for Attorney General next year. I believe my legal and legislative background uniquely position me to do the best job for the people of our great state."
Rep. Jay Hughes, D-Oxford, also jumped in the 2019 election cycle last week with his announcement on Thursday that he would run for lieutenant governor.
Email state reporter Arielle Dreher at [email protected].
More stories by this author
Support our reporting -- Follow the MFP.