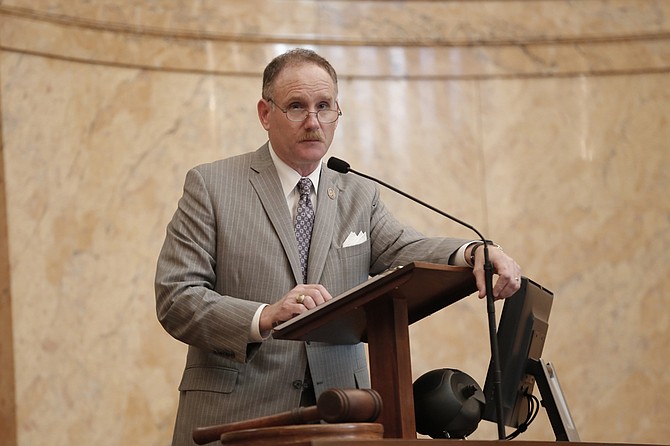 Republican state Rep. Mark Baker of Brandon announced Tuesday that he is running for Mississippi attorney general next year, saying he believes the office "needs to be reformed from the inside out."
Baker is the first candidate in what could be an open race for attorney general. Democratic incumbent Jim Hood is considering running for governor in 2019, though Hood said Tuesday that he has not decided whether he will do that or seek a fifth term as attorney general.
Hood is the only Democrat in statewide office, and Republicans have long expressed interest in taking over the attorney general's office.
In an interview Tuesday with The Associated Press, Baker criticized Hood for not joining other states years ago in suing to block the federal health overhaul that then-President Barack Obama signed into law in 2010.
Baker also criticized Hood for not seeking to end the longstanding requirement that Mississippi seek federal permission, better known as "preclearance" for changes to election laws. The Voting Rights Act required Mississippi and several other states with a history of racial discrimination to seek preclearance. The U.S. Supreme Court removed that requirement in a 2013 case from Alabama.
"Rather than take the position that Mississippi didn't need continued federal oversight over our elections ... he took a position with the federal government," Baker said.
Hood, 55, told AP that he hopes whoever is attorney general will respect the office as he said he does. He said candidates should not accept campaign contributions from corporations or people who have "stolen from the state."
"The people deserve their lawyer's office to be above reproach," Hood said.
Hood said he is receiving encouragement from Democrats and Republicans to run for governor, which will be an open office because Republican Gov. Phil Bryant is limited to two terms. Hood said he is speaking to his wife, Debbie, about 2019 and will announce his plans after she is comfortable with their joint decision.
Baker, 55, has been in the Mississippi House since 2004. He became Republican leader in the chamber in 2008, when Democrats were still in control, and he helped the GOP gain the majority of the 122 House seats in the 2011 election. That was the first time Republicans held the majority in the chamber since Reconstruction.
Baker is in private law practice, and House Speaker Philip Gunn appointed him chairman of the Judiciary A Committee — a key leadership position.
Baker was a primary author of a 2012 law requiring the attorney general's office to disclose details about contracts it has with private attorneys it hires to represent the state. Baker has unsuccessfully sought to require the attorney general's office to seek permission from a commission before filing a major lawsuit. In Baker's bill that died this year , commissioners would have been three officials who are currently Republicans — the governor, lieutenant governor and secretary of state.
"I've tried to reform the office from the outside in as Jud A chair," Baker said. "I have come to the realization that that office needs to be reformed from the inside out."
Baker's announcement came two days before Democratic state Rep. Jay Hughes of Oxford plans to announce his own plans to seek a statewide office in 2019. Hughes, an attorney, would not say Tuesday whether he will run for attorney general.
"I'm going to be announcing my future plan that I believe is best for the people of the state of Mississippi and their priorities, as opposed to the priorities of the largest campaign donors," Hughes, 54, told AP. "I congratulate Mark Baker for announcing this morning. Our democracy is always better when people run for office and allow transparency and real discussions to happen. I may not always agree with Mark Baker, but, like me, there is certainly never a question of where he stands."
Copyright Associated Press. All rights reserved. This material may not be published, broadcast, rewritten, or redistributed.
Support our reporting -- Follow the MFP.