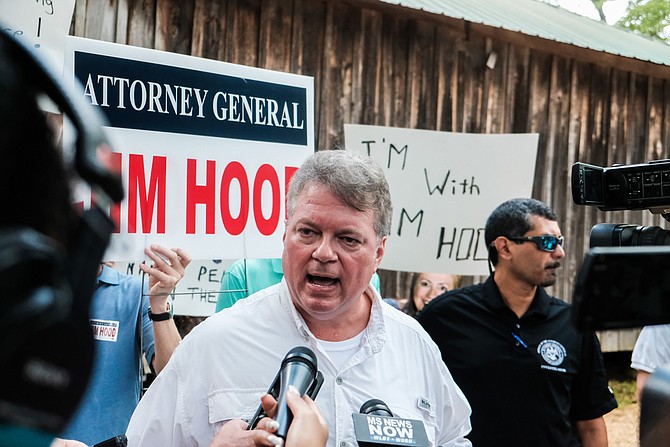 JACKSON — Mississippi State Attorney General Jim Hood will kick off a campaign for governor on Wednesday, Oct. 3, he announced in a statement on Monday, Oct. 1.
Hood's expected decision comes in the wake of a Millsaps-Chism State of the State Survey released Tuesday showing him with a 23-point net positive approval rating; 50 percent of Mississippians approve of the job he's doing compared to just 27 percent who disapprove. Among independents, Hood's approves lead disapproves by 28 points. Among Republican-leaning voters, approves lead by 21 points. Even among voters who describe themselves as "strong Republicans," Hood is 15 points above water.
Chism Strategies is a Democratic pollster in the state.
Hood, the only statewide-elected Democrat known for more conservative views on criminal justice, had planned an announcement tour across the state, but decided to postpone it after two Brookhaven police officers, James White and Zach Moak, were killed Saturday.
"Out of respect for the Brookhaven police officers who lost their lives in the line of duty last weekend, I will suspend my planned statewide announcements until further notice," Hood said. "I will make a single announcement in my hometown of Houston on Wednesday at 9 a.m. on the steps of the Chickasaw County Courthouse so that I can attend the funerals of these brave officers on Wednesday and Thursday."
In 2003—the same year Hood was first elected to serve as attorney general—Mississippi's last Democratic governor, Ronnie Musgrove, lost his re-election bid to Republican Haley Barbour. If Hood wins next year, it will be the first time Mississippi has sent a Democrat to the governor's mansion since 1999.
Petal Mayor Hal Marx, a far-right Republican who supports state Sen. Chris McDaniel for the U.S. Senate, is the only candidate to announce so far, but political observers expect Republican Lt. Gov. Tate Reeves to run and become the Republican nominee.
The Millsaps-Chism polling picture is less rosy for Reeves. More voters approve than disapprove of the job he is doing as lieutenant governor and Mississippi Senate leader, but by a more narrow 37-32 margin. Reeves is barely more popular with Republican-leaners than Hood, from whom he earns a 24-point net positive approval rating, and does not enjoy the kind of bipartisan goodwill Hood does. Reeves is 26 points underwater with Democratic-leaning voters and 41 points underwater with self-described "strong Democrats." The poll of 640 Mississippi voters was conducted Sept. 15-16 and has a margin of error of +/-3.6 percent; 65 percent of respondents were on landline phones, while 35 percent were on cell phones.
A separate Mason-Dixon poll conducted in April asked about a potential Hood-Reeves race and found Hood leading Reeves 44-39, with 17 percent of voters undecided.
Voters will have more than a year to make up their minds about who they want to succeed Gov. Phil Bryant, who has held the office since 2012. Mississippians will not elect their next governor until Nov. 5, 2019.
Ashton Pittman covers politics and elections for the Jackson Free Press. Follow him on Twitter @ashtonpittman. Email him at [email protected]. Read more 2018 campaign coverage at jfp.ms/2018elections.
Support our reporting -- Follow the MFP.