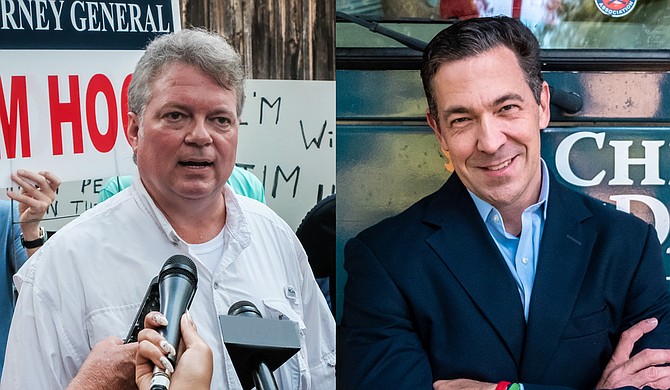 JACKSON — Just days after his hopes of becoming a U.S. senator were dashed for the second time in four years, Mississippi State Sen. Chris McDaniel, R-Ellisville, signaled interest in a possible run for governor next year.
McDaniel, known for his strong support for keeping the state flag that bears the symbol of the Confederacy, McDaniel responded to rumors he might run in a Nov. 8 interview with the Clarion-Ledger.
"I hear those same rumors," McDaniel said. "... Yes, sir, it's possible."
In Tuesday's U.S. Senate special election, McDaniel placed third behind appointed Republican incumbent U.S. Sen. Cindy Hyde-Smith, and Democrat Mike Espy. Hyde-Smith led Espy 42-41, while McDaniel drew just under 17 percent of the vote.
McDaniel won a plurality in just two counties: Jones County, where he lives, and Greene County. Because no candidate reached the 50-percent-plus-one threshold statewide, Espy and Hyde-Smith face one another in a runoff on Nov. 27.
McDaniel, who ran a blistering campaign against Hyde-Smith in which he criticized her as a puppet of the GOP establishment, said he would do his part "to unite the party" behind Hyde-Smith.
"Once we win this seat and defeat Mr. Espy, then I'm going to clear my thoughts, sit back and think about it, pray about it and discuss it with my friends and family, and determine what's in the best interest of this state and our country," McDaniel said.
McDaniel has given similar answers ahead of past runs. In 2013, when he was considering primarying then-U.S. Sen. Thad Cochran, he wrote on Facebook that he was "praying for guidance and seeking counsel." That October, he launched a bid to unseat the incumbent, but narrowly failed in the summer 2014 primary.
If McDaniel does run for governor, he will likely once again run up against his party's establishment in a Republican primary. State political observers expect Republican Lt. Gov. Tate Reeves to run for governor in 2019, when current Gov. Phil Bryant will be termed out.
So far, Mississippi Attorney General Jim Hood, a Democrat, and Petal Mayor Hal Marx, a Republican, are the only announced gubernatorial candidates.
Marx held a town hall for McDaniel in August, where McDaniel praised him as "a wonderful mayor and a conservative champion."
'Out of State Corporations ... That's Who's Ruling Our State'
If McDaniel made it through a Republican primary for governor, he would likely face Hood in a general election. Hood, who is Mississippi's only statewide elected Democrat, is seen as the party's best hope to capture the governor's mansion in decades.
Hood previewed next year's campaign in a speech at the Mississippi Economic Council's annual Hobnob event on Nov. 1, where he called on voters to "drain the swamp in our Legislature." He criticized the Legislature for tax cuts in recent years that largely benefited corporations outside the state.
"We gave tax cuts to large out-of-state corporations so they could give big campaign contributions," Hood said. "That's who's ruling our state."
When McDaniel was not explaining his own offensive remarks about African Americans or women during his most recent U.S. Senate run, he often struck a similarly populist tone, lambasting the "fat cats" and "special interests" who he said held the reins of his own party.
During his speech, Hood criticized the Legislature for what he called a "smoke and mirrors special session" held in August. During the session, the body passed a state lottery and decided how to allocate funds from it, recently legalized sports betting, and funds Hood brought into the state via a lawsuit against BP for the 2010 oil spill that devastated Gulf Coast communities.
Those funds, Hood argued, should have gone to support early-childhood education.
Hood took a swipe at Gov. Bryant, who rejected billions in federal dollars to expand the state's Medicaid program under the Affordable Care Act. Since then, several rural hospitals have been forced to close thanks, in large part, to the rejection of Medicaid expansion.
"In 1940, we had better emergency health care in rural Mississippi than we have today," Hood said. He has promised to expand Medicaid if elected next year.
A Millsaps-Chism Strategies poll in July found Hood with a 50-percent approval ratings statewide, outpacing likely opponent Reeves by double digits.
Mississippians will elect a new governor in November 2019.
'Please Don't Be Angry With Him'
The day after his U.S. Senate defeat, McDaniel urged his supporters not to abandon President Trump, who endorsed Hyde-Smith.
"The Trump endorsement of Hyde-Smith caused a devastating split to our base of support," McDaniel wrote on Facebook on Nov. 7. "Thousands of Mississippians followed his lead. But please don't be angry with him. He's having to cut deals with (Republican U.S. Sen. Majority Leader) Mitch McConnell to get things done. I understand."
After a video surfaced Sunday in which Hyde-Smith said she would "be on the front row" at "a public hanging," however, some McDaniel supporters expressed reluctance. Kelvin Smith, who served as McDaniel's campaign chair for Jones County and told the Jackson Free Press he even drove the campaign bus at times, called the comment "embarrassing" and said he would not be voting for her despite McDaniel's urging.
"I am obviously not alone in thinking that this is & should be a big deal when a U.S. Senator makes a statement like this...especially in MS!" Smith wrote on Twitter. He also retweeted former Jackson Mayor Tony Yarber, who wrote, "Cindy Hyde-Smith... RESIGN!"
Hyde-Smith's comment drew sharp criticism because it calls back to Mississippi's history of lynching African Americans. From 1877 to 1950, Mississippi led the South in lynchings. In a press release Sunday, Hyde-Smith said the comment was just "an exaggerated expression of regard" and called the criticism "ridiculous."
Jackson Mayor Chokwe Antar Lumumba called the remark "incensing."
"Senator Hyde-Smith's remark that she would 'be on the front row' of a 'public hanging' is repulsive & her flippant disregard for our state's deep history of inhumanity tied to lynching is incensing," Lumumba tweeted Sunday. "What is worse is her tone-deaf justification for the comment."
Around 900,000 Mississippians voted in the Nov. 6 elections—a midterm turnout record. No matter who wins, the Nov. 27 runoff will be historic. When Bryant appointed her, Hyde-Smith became the first woman from Mississippi to serve in Congress and could be the first duly elected come November. If Espy wins, he would be the first black U.S. senator from the state since Reconstruction, when Sens. Hiram Revels and Blanche K. Bruce represented the state in Washington, D.C., until the end of Reconstruction brought the disenfranchisement of black voters.
Anyone who registered to vote by Oct. 29 will be eligible to vote in the runoff, even if they could not vote in the Nov. 6 election. Polls are open in Mississippi from 7 a.m. to 7 p.m.
Ashton Pittman covers politics and elections for the Jackson Free Press. Follow him on Twitter at @ashtonpittman. Email him at [email protected]. Read more 2018 campaign coverage at jfp.ms/2018elections.
Support our reporting -- Follow the MFP.