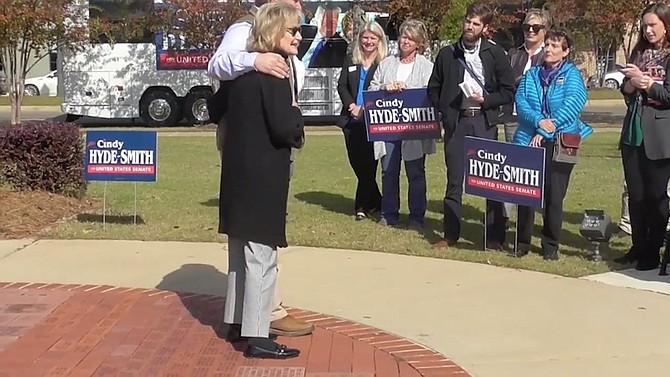 This story has been updated to reflect additional statements from Sen. Cindy Hyde-Smith, her Democratic opponent Mike Espy and the Mississippi Democratic Party.
JACKSON, Miss.—Republican U.S. Sen. Cindy Hyde-Smith lit up social media Sunday morning after a video clip surfaced in which she says she would be "on the front row" at "a public hanging," laughing as she says it, then drawing more laughter from the crowd.
The clip was first posted on Facebook and Twitter by Lamar White Jr., the publisher of The Bayou Brief.
"If he invited me to a public hanging, I'd be on the front row," Hyde-Smith says in the 10-second clip, standing next to a man with his arm around her shoulder.
White reports that the man was Colin Hutchinson, a Tupelo cattle rancher who had just praised her. The clip is from a campaign stop Hyde-Smith made in Tupelo on Nov. 2.
"Hold up. Hold up. Stop EVERYTHING," activist Shaun King tweeted to his 1.08 million Twitter followers. "A sitting United States Senator, IN MISSISSIPPI just said 'If he invited me to a public hanging I'd be on the front row.' REALLY? She just said this in the heart of lynching country. SHE'S RUNNING AGAINST A BLACK MAN! Unthinkable."
In a statement released just after 4 p.m. Sunday, Hyde-Smith called criticisms of her comment "ridiculous."
"In a comment on Nov. 2, I referred to accepting an invitation to a speaking engagement," Hyde-Smith said. "In referencing the one who invited me, I used an exaggerated expression of regard, and any attempt to turn this into a negative connotation is ridiculous."
Hyde-Smith's talk of "public hanging" comes just days after Clayton Hickey, a nurse at a Memphis health facility, wore a t-shirt with a rebel flag, a noose and the words "Mississippi Justice" to vote at a polling place in Olive Branch, Miss. Regional One Hospital confirmed Thursday that Hickey, a former Memphis police officer, had been fired.
'We Are the Kind of People Who Do The Hanging'
Hyde-Smith is running against Mike Espy, who in 1987 became the first black congressman from Mississippi since the Reconstruction era. If he wins, he will become the first black U.S. senator from the state since Blanche K. Bruce in 1883. In 1993, Espy became the first black U.S. Secretary of Agriculture under President Bill Clinton.
"She said what?" Espy campaign Communications Director Danny Blanton said after the Jackson Free Press read the comments to him this morning. "I'm kind of stunned."
Blanton got off the phone to watch the video, and called back.
"I'm shocked that somebody would still use a reference like that in this day and time," Blanton said. "Regardless of what context it was used in, it still showed a lack of judgment."
Between 1877 and 1950, Mississippi had the highest number of lynchings of African Americans of any states in the United States, just as the state had been the wealthiest from slavery before the Civil War, and then later passed the most onerous laws after Reconstruction to stop black people from voting and gain equal rights in the state.
Across Mississippi, 654 lynchings were reported in that period, including two in Lee County, where Hyde-Smith's comments were made. Lynchings—extrajudicial mob justice used to intimidate African Americans—were usually done by hanging, often in front of crowds of joyous whites who even mailed postcards with lynching photographs to friends and family.
In a press statement, Espy called Hyde-Smith's comment "reprehensible."
"Cindy Hyde-Smith's comments are reprehensible," Espy said. "They have no place in our political discourse, in Mississippi, or our country. We need leaders, not dividers, and her words show that she lacks the understanding and judgment to represent the people of our state."
Angus Johnson, a historian at the City University of New York, called her comment "an obscenity."
"The last execution by hanging in Mississippi occurred in 1940," Johnson tweeted. "The last alleged lynching by hanging in Mississippi occurred in 2018. Cindy Hyde-Smith was born in 1959. Public executions aren't part of the history of Mississippi in her lifetime. Lynchings are."
"And, of course, many of Mississippi's public executions were themselves legal lynchings," Johnson continued. "To speak of 'public hangings' in Mississippi is to evoke a long and brutal history of racial terror. To joke about it is to utter an obscenity. Whatever her intention, Hyde-Smith's joke amounts to this: 'We are not the kind of people who are hanged. We are the kind of people who do the hanging.'"
Hyde-Smith Defiant Amid Questions
For the first time since the video surfaced, Hyde-Smith faced the press at an event at the Mississippi GOP headquarters Monday where she came to accept the endorsement of National Right to Life, an anti-abortion organization. After the endorsement, the press pelted her with questions about the hanging comment.
"We put out a statement yesterday and we stand by that statement," Hyde-Smith said.
The reporter then asked Hyde-Smith to explain her statement.
"We put out a statement yesterday and it's available and we stand by that statement," Hyde-Smith said.
Another reporter asked Hyde-Smith if she was familiar with Mississippi's history of lynching.
"I put out a statement yesterday and that's all I'm going to say about it," Hyde-Smith responded.
That reporter then asked Hyde-Smith if she could explain what positive connotation the comment had.
"I put out a statement yesterday and that's all I'm going to say about it," Hyde-Smith said once again, her voice rising.
"Is that phrasing in your everyday lingo, your everyday vocabulary?" another reporter asked.
"I put out a statement yesterday," Hyde-Smith said.
Mississippi Gov. Phil Bryant then stepped in, defending her.
"I think she is, she's certainly addressing the fact that she put out a statement," Bryant said. "All of us in public life have said things on occasion that we could have phrased better."
Then, Bryant defended his own record on race.
"Absolutely, we have been sensitive to race relations in this state," Bryant said. "I brought the president of the United States here to open the Civil Rights Museum, and African American leaders failed to even come to the event because the President of the United States was there. Today, I talked about the genocide of 20 million African American children. See, in my heart, I am confused about where the outrage is at about 20 million African American children that have been aborted. No one wants to say anything about that."
The video, Bryant said, "was clearly designed for a political purpose."
As aides told reporters the question and answer session was over, reporters continued to interject.
"Is public hangign a pro-life position?" one asked.
"We did address it yesterday." Hyde-Smith said.
'Hateful and Hurtful'
In a press release Sunday, NAACP President Derrick Johnson said her remarks "prove once again how Trump has created a social and political climate that normalizes hateful and racist rhetoric."
Trump endorsed Hyde-Smith in August and campaigned with her in North Mississippi in October.
"Hyde-Smith's decision to joke about 'hanging,' in a state known for its violent and terroristic history toward African Americans is sick," Johnson said. "To envision this brutal and degenerate type of frame during a time when Black people, Jewish People and immigrants are still being targeted for violence by White nationalists and racists is hateful and hurtful. Any politician seeking to serve as the national voice of the people of Mississippi should know better. Her choice of words serves as an indictment of not only her lack of judgement, but her lack of empathy, and most of all lack of character."
In a tweet Sunday, Jackson Mayor Chokwe Antar Lumumba said her "flippant disregard for our state's deep history of inhumanity tied to lynching is incensing."
"What is worse is her tone-deaf justification for the comment," he added."
Felicia Brown Williams, the Mississippi state director for Planned Parenthood Southeast, called on Hyde-Smith to resign in a tweet.
"Cindy Hyde-Smith does not represent my values," Brown Williams wrote. "It is shameful to have her representing MS in the US Senate. We are ready for your resignation."
Republican political strategist Rick Wilson tweeted his own criticism of Hyde-Smith.
"Luckily, talk of public hangings in Mississippi isn't fraught with any kind of, you know, racial meaning, historical resonance, or echoes of certain late-night, white-hooded social club," wrote Wilson, who worked on campaigns for George H. W. Bush and Rudy Giuliani.
The Mississippi Democratic Party released its own statement Sunday afternoon.
"It is sad that Senator Hyde-Smith thought of, much less used, this language, especially given our state's past history. Senator Smith (sic) should immediately explain herself and then apologize to the entire state she wishes to continue to represent."
Recent Suspected Lynchings in Mississippi
While public lynchings are thought of as a thing of the past, several suspected cases have occurred in Mississippi in recent decades.
In Scott County, the family of Willie Jones, Jr. is still seeking answers after he was found hanging from a tree outside his mother's home in February. The family rejected a suicide ruling, and, in a press release, pointed to the fact that he had been dating a white woman for years whom he had a child with.
In an eerily similar story, 17-year-old Raynard Johnson was found hanging outside his family's home in Kokomo, Miss., in 2000. In that case, the family also rejected a suicide ruling, and pointed to the fact that he was known for dating white girls. Civil rights leader Jesse Jackson led a march down the country road that passed in front of his family's home, but the U.S. Department of Justice ultimately ruled the case a suicide.
In 2003, Nick Naylor was found hanging from a dog leash in Kemper County after he took his dogs for a walk and never returned. His death, too, was ruled a suicide, and his family also rejected the ruling.
In 2017, Mississippi State Rep. Karl Oliver, R-Winona, called for lynchings after then-New Orleans Mayor Mitch Landrieu ordered the removal of Confederate monuments in that city.
"If the, and I use this term extremely loosely, 'leadership' of Louisiana wishes to, in a Nazi-ish fashion, burn books or destroy historical monuments of OUR HISTORY, they should be LYNCHED!" Oliver wrote on Facebook at the time. "Let it be known, I will do all in my power to prevent this from happening in our State."
Oliver later apologized after his comments drew widespread rebuke. He still serves in the Mississippi Legislature.
On Nov. 6, Espy and Hyde-Smith snagged the top two spots in the U.S. Senate special election, knocking Mississippi State Sen. Chris McDaniel, R-Ellisville, out of the race. In September, Hyde-Smith criticized McDaniel for remarks he made about African Americans in the state. Hyde-Smith communications director Melissa Scallan said he "demeaned the African American population in Mississippi."
As the "public hanging" clip continued to spread across social media Sunday afternoon, Tanner Watson, who was McDaniel's communications director, sent out a vague tweet that seemed directed at Hyde-Smith.
"You've made your bed," Watson tweeted. "Now you've got to lay in it."
In his election night concession speech, McDaniel called on supporters to vote for Hyde-Smith.
White, the Louisiana blogger who posted the video, said that while he is a Democrat who runs a progressive-leaning non-profit website, he has no connection to either campaign.
"I have not contributed to and have no relationship whatsoever to either of the campaigns," White told the Jackson Free Press, adding that the only U.S. Senate candidate he donated to was Democrat Beto O'Rourke, who narrowly lost a bid to unseat Republican Sen. Ted Cruz last week.
"The reason I was sent this, I was told, is the work I've been doing on exposing racism in the American South," White said. "People need to see what these candidates really are like when they don't think the cameras are rolling. Or when they do and they're so arrogant they don't even realize what they're saying is offensive. I hope it changes the dynamic a little bit, or at least forces a conversation."
When Gov. Phil Bryant appointed her, Hyde-Smith became the first woman from Mississippi to serve in Congress and could be the first duly elected come November.
Mississippi voters will choose between Espy and Hyde-Smith in a Nov. 27 runoff. Anyone who registered to vote by Oct. 29 will be eligible to vote in the runoff, even if they could not vote in the Nov. 6 election. Polls are open in Mississippi from 7 a.m. to 7 p.m.
Ashton Pittman covers politics and elections for the Jackson Free Press. Follow him on Twitter at @ashtonpittman. Email him at [email protected] Read more 2018 campaign coverage at jacksonfreepress.com/2018elections.
Ko Bragg and Donna Ladd contributed to this report.
Support our reporting -- Follow the MFP.