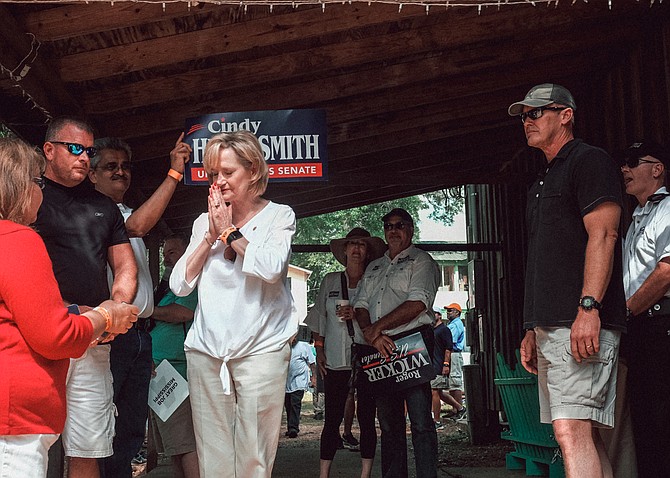 Dear Mississippi Republican leaders:
Like much of the recent 40 years, your actions toward African Americans in our state in the last 10 days have been atrocious. First, my mailbox was filled with glossy mailers from the Mississippi Republican Party falsely indicating that black U.S. Senate candidate Mike Espy is a "corrupt" criminal. You even included a jail image on one of them to bolster your hackneyed narrative that black men are surely criminal. The rub is that Espy isn't; a political prosecution during the Clinton administration (which even Justice Antonin Scalia said was absurd) resulted in a full exoneration of charges.
Then we hear U.S. Sen. Cindy Hyde-Smith declare she would be on the front row for a "public hanging." Hangings are no laughing matter in Mississippi, even if white Mississippians and their children (maybe some of your ancestors) attended public lynchings of black men like they were joyous garden parties, then mailed out postcards to loved ones with pictures of men dead in the trees. Her only response? It was some weird "expression of regard" to the white man introducing her.
A day after that video emerged, Gov. Phil Bryant, who appointed her, opened a press conference about her support for no-abortion-no-matter-what by declaring that black women (many of them already mothers) were causing "black genocide." This wasn't, of course, to ingratiate yourselves with furious black Mississippians (it didn't), but to soothe your white voters back into their false belief that black people are their own worst enemies.
Except that, in our state and increasingly in the U.S., today's white GOP leaders are the worst enemy of anyone with darker skin or different beliefs. Here in Mississippi, you will do nothing of import to change the view that you run a care-about-whites-only party that has no concern about black children once the umbilical cord is cut.
You won't support medical services for mothers and children once they're born, or prenatal care; you defund majority-black schools and shift funds to more affluent whiter schools to "reward" them (the word of your gubernatorial hopeful Tate Reeves); you embrace Confederate mythology and icons in the public square; you've long sent out crazy mailers, often depicting a scared white woman looking out her window due to all the Jackson (meaning: black) crime you depict in inaccurate or out-of-date figures.
You want employers to prohibit workers from using earned insurance for birth-control pills, and now your leaders "joke" about "hanging," as Hyde-Smith and her listeners laughed, the worst accompaniment to racism. You respond by accusing black women who can't afford to raise another child (and perhaps didn't have access to contraception) of, wait for it, genocide.
As astute black women point out, you don't also accuse white women choosing abortion of "white genocide." You want to make black people look bad to enough bigoted white voters to get them to vote Republican, even as your racist approach becomes glaringly atrocious to more voters, including in Mississippi. Your message to younger or more educated voters who can't stomach your "southern strategy" of growing the bigoted vote? "Leave." And you continue to falsely call everyone who cares about racial healing commies, socialists and liberals just like bigots did in the 1960s.
But guess what? We're staying because we're tired of your political and very real intolerance running off people who could blow up this horrendous cycle in our home state and start resetting Mississippi on race relations and collaboration. Make no mistake: You and your enablers are responsible for the Mississippi "brain drain" you clutch your pearls over.
This strategy isn't new, but it has come into full relief under Donald Trump, who now has y'all over his transom. He's the president that southern strategists like former Gov. Haley Barbour and his late mentor Lee Atwater—who explained the GOP race strategy on tape before he died—and all the presidents from Nixon to Reagan to the Bushes who benefitted from hawking bigotry installed for us. You have milked the bunk "race science" that black people are more prone to crime (see the Espy mailers) every way you can to draw enough white voters to shore up a party on life support 50 years ago.
The initial target was those Dixiecrat types who fled the Democratic Party in the 1960s because it supported federal civil-rights laws. You've since done your damned best to make sure white southerners, and increasingly Americans, do not turn the corner from our racist past or try to together fix the problems white supremacy created for us all.
You want us divided so non-wealthy whites will vote against our own best interests and give you and your corporate backers tax cuts and ways to avoid responsibility for unsafe practices, products and climate change. You want us divided so you get to ensure this sick, bullshit white-supremacist privilege will last for generations. And you're willing to lie about voter fraud and Mike Espy's past, or anyone else who tries to stop you, to ensure it happens.
This continual racist drumbeat is deafening around the country, but as everything is, it is magnified in Mississippi. The telling moment for me this week was when Cindy Hyde-Smith, who has sold out lock-stock-and-conscience to y'all's strategy—wouldn't broach why her "public hanging" statement might be offensive to black Mississippians.
Hyde-Smith could have said, truthfully or not, "I didn't mean it the way it sounded. I know it was painful to many of my constituents in our state with its horrendous history of race violence and division. I pledge to mend those divides. I'm sorry."
But no, she couldn't risk losing one racist vote. She is a puppet of Bryant and GOP leaders, who can't show compassion for black people and stay on the inside of their power cave. (Ask former RNC Chairman Ken Mehlman who apologized to the national NAACP in 2005 for the party's racist strategy.) Although imperfect, the earlier version of the party—Lincoln's—was very different before the modern GOP pivoted and fully sold out to racism. Y'all can change and be a decent party again, but you have to start now before you help Trump destroy our nation from the division you've stoked from the inside. Why not start that change, and healing, right here in Mississippi?
To borrow from an authority you may be familiar with, it is time to sweep away "your offenses like a cloud, your sins like the morning mist." Redemption is only possible with real, intentional change.
Follow Donna Ladd at @donnerkay.
Support our reporting -- Follow the MFP.