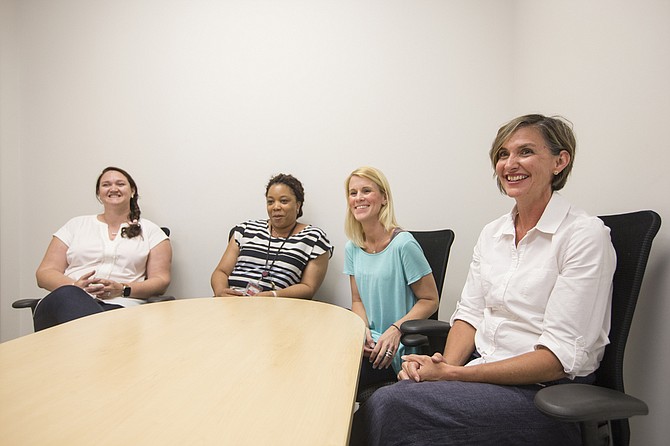 JACKSON — At the end of a school day and an exhausting period of state testing, four Clinton Public School District teachers looked tired but content as they crowded into a tiny conference room. These educators, along with most of the teachers in their district, will see a pay bump in the coming school year because the Legislature voted to fund a teacher salary supplement program this spring.
Jennifer Guyor, Ladreana Goins, Judy Adkisson and Stephanie Jierski sat down with the Jackson Free Press last week, but none of the teachers had heard of the School Recognition Program, however, although it will reward them because they teach in schools considered successful, even as the Legislature is cutting funds allocated for struggling schools in poorer areas.
"I don't know anything about it," one of them said about the reward program. The rest agreed. "You said it passed?"
The School Recognition Program, initially passed in 2014, was part of larger teacher pay-raise legislation, but the Legislature had not funded it until this year. In the most recent session, lawmakers allocated more than $20 million of the Mississippi Department of Education's funds for schools around the state that received "A" or "B" grades as well as schools that improved a letter grade from 2015 to 2016. A Jackson Free Press analysis of school rankings from 2015 to 2016 shows that only a handful of schools actually improved a letter grade, however, while many more schools actually scored lower in 2016 than in 2015.
Northside Elementary in Clinton received an "A" in 2016, meaning it will get an additional $100 per pupil in average daily attendance, which it must use on non-recurring salary supplements to teachers and staff at the school.
"One of the things that we've talked about is that we believe we should reward performance in our schools," Lt. Gov. Tate Reeves told reporters in March as he explained the accomplishments of the 2017 legislative session, including funding the School Recognition Program. Republican leaders in the Legislature pushed funding for the program this spring, while Democrats hesitated to get behind a program that benefited already successful schools in the state.
So while the Mississippi Adequate Education Program, set up to bring resources to poorer schools up to an "adequate level," took an almost 2-percent budget cut, certain teachers and staff members at better-performing schools will get an extra bump in pay next school year.
That is, the better-off schools get more resources, and the poor ones get nothing extra.
Community > State
The four Clinton teachers readily admit that they already have abundant resources at their disposal, from technology to local financial investment.
"We have a great community who is invested in the education of their kids, so they pass those expectations on to the school board who pass it on to our superintendent," said Goins, who is an interventionist at Northside currently teaching third-grade math. "If you say, 'I need (this), or I think I'd like (that),' it's like you have it."
Students at Northside Elementary are "one-to-one" technology learners, meaning the school has enough devices for each student to use an iPad or laptop. This is largely due to the influx of local tax revenue—not state funds.
"Our community has never hesitated; when it came down for a new school bond, everyone was there saying, 'Yes, this is what we want,'" Guyor said. "When we need pay increases or more funding, the community said, 'Yes, we want the schools to have what they need.'"
The School Recognition Program mainly funnels additional money to high-rated, wealthy schools and some top-rated outliers in large or underprivileged school districts in the state, a JFP analysis of school rankings shows. Of the state's 882 schools, 327 received "A" or "B" grades in 2016, meaning the teachers and staff members at these schools—not administrators—will see supplements in pay.
A Jackson Free Press analysis of accountability data from the Mississippi Department of Education from 2015 to 2016 scores shows that only 26 schools* improved a letter grade, meaning 26 schools went from a "F" or "D" ranking to a "D" or "C" grade from 2015 to 2016. It logically follows that the majority of the over $20 million in supplements will go to schools that were already considered "high achieving" by state standards.
One of the likely reasons so few schools improved a letter grade from 2015 to 2016 is because MDE upped its standards, and state testing got a lot harder last year. In total, 353 schools will benefit from the School Recognition Program, and over half of those schools are in districts already ranked with an "A" or "B" grade.
Joyce Helmick, the president of the Mississippi Association of Educators, said that while her organization supports any additional incentives for teachers, its member also recognize that the incentives will go to a miniscule number of schools compared to those that actually need additional resources.
"We do not feel it (the School Recognition Program) is accomplishing the goal of making a school particularly better; we are not going to discount that we want our teachers to be recognized and have higher pay, but it's not a teacher pay raise," Helmick told the Jackson Free Press. "It is not something that's going to help our teacher shortage—we need to concentrate on having a teacher pay scale that's competitive with the states around us."
Most research in education funding today centers on two facts: money can lead to student achievement gains and how that additional money is spent really matters. "Our findings provide compelling evidence that money does matter and that better school resources can meaningfully improve the long-run outcomes of recently educated children," a 2015 study from the National Bureau of Economic Research found. "At the same time, our results also suggest that money alone might not improve outcomes because the effect of any spending increases will depend on exactly how funds are spent."
The Legislature has only fully funded MAEP, the state's education-funding formula, twice since passing it in 1997, and a fight simmered at the Legislature last session when Republican leaders planned to change the formula using a New Jersey-based consultant, EdBuild.
Ultimately, leaders said a new formula plan, to change MAEP to a weighted student funding model, was not ready in time to introduce this legislative session, but upcoming changes continue to loom in policy discussions around the state. Critics of the proposed EdBuild proposal question the need for change when the current formula is still not fully funded.
Teacher Pay Matters, Too
All four Northside Elementary teachers agreed that their pay raises would likely go right back into their classrooms. Even in a district with resources like Clinton Public School District, the teachers all spend additional funds, outside of their allotted classroom expenditures, on their students.
"Our jobs and the way we love our kids, if they need something, I can promise you that anyone here won't hesitate. They go out, they spend the money they need, they get the supplies they need, and they just do it because it's for the kids," Guyor told the Jackson Free Press.
Research shows that teacher incentives can work to increase student achievement, but the state is already struggling to retain teachers. In Mississippi, Helmick said, three things are used as predictors for teacher shortages: race, location and the percent of local tax revenue going to schools. A 2017 study of Mississippi's teacher shortages, included in the 2017 Mississippi Economic Review published by the IHL University Research Center, found "that districts with a high percentage of black students, districts located in the Yazoo-Mississippi River Delta Region, and districts that generate less money locally for education are more likely to have a teacher shortage." In other words, the state's "failing" majority-black school districts are at high-risk for having teacher shortages to begin with.
What do teachers wish lawmakers would spend more money on? The group of Northside teachers said extra staff, without hesitation. Most teachers at Northside Elementary have 25 children in each classroom, and teachers said they could benefit from having additional teacher assistants and interventionists, who help children who might need extra help with schoolwork or behavior problems.
Teachers in Mississippi make a minimum of $34,390 under the state law setting the 2015-2016 school-year salary rates. The state's average teacher salary here lags far behind other states, and Helmick said Mississippi's starting teacher salary is the lowest in the nation, ranked at 50th currently. Many teachers work in the summer or take on a second job.
The Northside Elementary teachers said they spend extra money on their students for things like classroom projects or T-shirts for children who cannot afford their class shirt for field day.
"I wish a teacher salary was enough that a teacher wouldn't have to do a second job or a part-time job ... because I'm using all my money for stuff in the classroom," Goins said. "I think that would retain more teachers in the field because the ones of us that stay here stay because we love it. ... (Others) leave because there's not enough money in it."
Adkisson, a single mother who lives in Clinton, said it is hard to live on her salary at times, and she tutors during the summer. She does her job because of those "special moments where maybe a child isn't necessarily taken care of or loved very much, and then you have that chance to be that role model and caregiver for that kid."
"Our jobs are really important on more than just a learning level," Adkisson said.
*The analysis included and counted schools who improved in 2016 from their 2015 official and without waiver grades (19 schools improved their official grades; 7 schools improved their without waiver grades).
Update: This story has been updated to show that the teacher shortage study was published in the 2017 IHL Economic Review Report. Email state reporter Arielle Dreher at [email protected] and follow her on Twitter at @arielle_amara. Read more education reporting at jfp.ms/state.
More stories by this author
Support our reporting -- Follow the MFP.