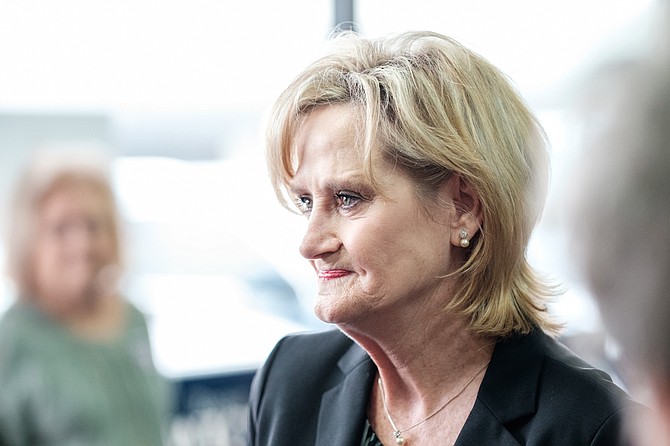 JACKSON — Tech giant Google donated $5,000 to U.S. Sen. Cindy Hyde-Smith, even as she courted national outrage for her comment about attending a "public hanging."
Federal Election Commission filings show the campaign received the donation on Tuesday, Nov. 13—well after the video had already gained widespread national attention.
In a statement to progressive newsletter Popular Information, however, Google claimed it made the donation on Nov. 2—the same day Hyde-Smith made her comments.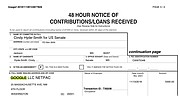 "This contribution was made on November 2nd before Senator Hyde-Smith's remarks became public on November 11th," Google representatives said. "While we support candidates who promote pro-growth policies for business and technology, we do not condone these remarks and would not have made such a contribution had we known about them."
If Google's claim were true, that would mean the Hyde-Smith campaign filed a false report. It would also mean the campaign failed to report on time. Federal law requires than any donations made within 20 days of an election be reported within 48 hours. But Popular Information reports that after being pressed on the discrepancy, a Google spokesperson would only say the check was dated Nov. 2.
Hyde-Smith communications director Melissa Scallan confirmed to the Jackson Free Press that the check is dated Nov. 2, but said the campaign did not receive it until Nov. 13.
"We received the check on Nov. 13 and reported it the same day," Scallan said. "Donations must be reported within 48 hours of receipt."
That would mean the company wrote the check days before the Nov. 6 general election, but the candidate did not receive it until a week after the election. Google could not have known on Nov. 2 that Hyde-Smith would be in a runoff on Nov. 13.
Google did not respond to a request for comment.
'Beyond Disrespectful and Offensive'
In the Nov. 2 video that surfaced on the Bayou Brief blog on Nov. 11, the Mississippi Republican says she would sit "on the front row" of "a public hanging" if one of her supporters invited her.
Mississippi historically had the highest rate of lynchings of African Americans, critics note. The clip drew rebuke from the likes of Democratic Jackson Mayor Chokwe Antar Lumumba, Democratic Mississippi Congressman Bennie Thompson, conservative Mississippi Tea Party Chairwoman Laura Van Overschelde and the NAACP.
"Sen. Cindy Hyde-Smith's comments are beyond disrespectful and offensive to the over 30 percent of African Americans residing in Mississippi," Thompson, who is Mississippi's only black representative in Washington, D.C., said in a statement Monday. "... It's plain and simple, Hyde-Smith should apologize to all Mississippians especially African Americans who have been the recipients of terrorist lynching. Real statesmanship dictates that she does."
In an appearance on CNN Monday, her Democratic opponent in the Nov. 27 runoff for her seat, Mike Espy, called her comments "hurtful" and "harmful."
"They're hurtful to Mississippians who are people of good will, and they're harmful because they tend to reinforce the stereotypes that held back our state for so long and that have cost us jobs and harmed our economy," Espy said. "I mean, this is 2018. We are going into the third decade of the 21st century, and we should not have this. We should have leaders that try to unite us, not divide us."
In 1986, voters elected Espy as the state's first black congressman since the post-Civil War Reconstruction era, and he became the first black U.S. secretary of agriculture when President Bill Clinton appointed him to the post in 1993.
A Color of Change petition is asking Google to request Hyde-Smith return the $5,000 donation.
"Lynchings shaped the political landscape of America and their terroristic legacy continues to play an outsized role in Mississippi," the petition reads. "Lynchings were used to drive Black farmers off their land, stop black people from voting or being political actively, and to broadly terrorize us into accepting a subordinate place in society. As (a) company that has defined itself around the idea of 'don't be evil,' supporting a candidate that makes light of this legacy of racial terrorism is an abdication of Google's moral authority." Google is not the only tech giant that has donated to Hyde-Smith. Before the "hanging" comment, Facebook's PAC donated $2,500 to Hyde-Smith's campaign in October. That month, she also netted $2,000 from Rolls Royce, $2,500 from Ice Miller and $1,000 from Best Buy, among others.
Hyde-Smith Faces Espy in Debate, Nov. 27 Runoff
On Nov. 20, Mississippi Farm Bureau will host Espy and Hyde-Smith for a U.S. Senate debate that will be broadcast on WLBT, WLOX and radio stations statewide. It will be the first U.S. Senate debate in Mississippi in 10 years.
No matter who wins, the Nov. 27 runoff will be historic. When Gov. Phil Bryant appointed her, Hyde-Smith became the first woman to represent Mississippi in Congress and could be the first duly elected come November. If Espy wins, he would be the first black U.S. senator from the state since Reconstruction, when Sens. Hiram Revels and Blanche K. Bruce represented the state in Washington, D.C., until the end of Reconstruction brought the disenfranchisement of black voters.
Hyde-Smith and Espy headed to a runoff after snagging the top two spots in the general election on Nov. 6, with neither getting an outright majority. Hyde-Smith beat back a challenge from a fellow Republican, Mississippi State Sen. Chris McDaniel, whom her campaign argued could lose to Espy because of his "toxic" history of remarks about race and gender.
"If Chris McDaniel made the runoff against Democrat Mike Espy, his toxic image would put the seat at risk in much the same way Roy Moore lost the Alabama Senate race to Democrat Doug Jones," Hyde-Smith campaign communications director Melissa Scallan said in September.
Around 900,000 Mississippians voted in this year's election—a midterm turnout record of 40 percent, up from 29.7 percent in 2014. Anyone who registered to vote by Oct. 29 will be eligible to vote in the runoff, even if they could not vote in the Nov. 6 election. Voters must have a valid form of photo ID, such as a driver's license or student ID. The Secretary of State's website has a full list of acceptable forms of ID. Polls are open in Mississippi from 7 a.m. to 7 p.m.
Ashton Pittman covers politics and elections for the Jackson Free Press. Follow him on Twitter at @ashtonpittman. Email him at [email protected]. Read more 2018 campaign coverage at jfp.ms/2018elections.
Support our reporting -- Follow the MFP.