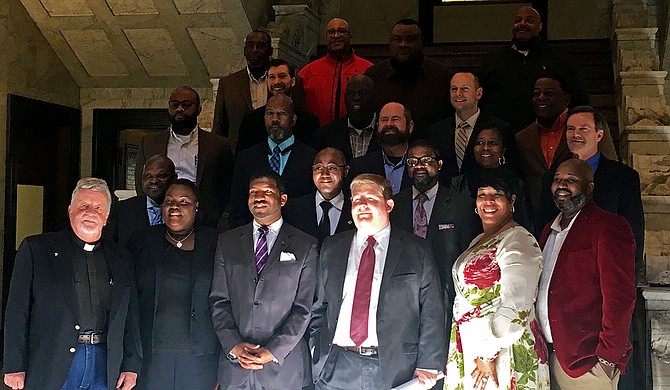 JACKSON — The Mississippi Legislature could approve two re-entry and criminal-justice reform measures this session, which are still alive. House Bill 387 and Senate Bill 2841 would change several parts of state law to help inmates coming out of prison get on their feet financially and avoid going back to prison or jail immediately for not being able to pay fines and fees, among other changes.
Last week, several pastors and faith leaders from around the state and the Jackson metro area gathered at the Capitol to express support for both bills.
"We all need some form of restoration and rehabilitation, so I want to be an advocate for the incarcerated to see them not re-enter, not to go back, but to get what they need: programming while they're incarcerated and also rehabilitation, counseling, health care," Matt McGue, lead pastor of One Church, said.
"So sometimes people can take this advocacy piece as soft on crime, and it's not. We're saying let's be fair to the human dignity of all people, whether they are serving time or not."
Rev. CJ Rhodes, who leads Clergy for Prison Reform, counts almost 12 bills, including the gang bill that died after a House committee did not meet. Rhodes was glad to see the gang bill go down. He said his group is really watching House Bill 387, hoping it will pass.
"Our major push has been more humane treatment when you go into the system, but on the front end, finding less reasons for people to be put in those positions in the first place," Rhodes said at the Capitol last week. He wants local communities, local government agencies and mental-health providers to get to them first before they get involved with the courts or detention centers."
House Bill 387 contains many provisions from the re-entry council's bill that died last year after Gov. Phil Bryant's veto. The bill would ensure that Mississippians are not locked up automatically for their inability to pay court fines and fees; allow inmates convicted of certain crimes to be parole eligible after serving 25 percent of their sentence; and create the Mississippi Sentencing Disparity Task Force.
Senate Bill 2841 contains a few similar measures but adds other reforms, too. The measure would remove the requirement in state law that a person's license be suspended after a controlled substance violation, unless the violation is related to operating a vehicle. Additionally, it would require drug courts to make medication-assisted treatment an option for participants and allow judges to suspend or change sentences after a person has begun serving their time.
A group of pastors with Clergy for Prison Reform sat in on the class-action trial against the Mississippi Department of Corrections brought by inmates at East Mississippi Correctional Facility last week.
Rhodes said the group had also monitored the Walnut Grove lawsuit, before that facility closed. "We want to see justice done in East Mississippi," he said. "... Hopefully this will set a precedent for better treatment."
The deadline for lawmakers to concur with amendments made to both House Bill 387 and Senate Bill 2841 is March 22. The East Mississippi Correctional Facility trial continues this week in federal court.
Email state reporter Arielle Dreher at [email protected]. Also see jfp.ms/preventingviolence.
More stories by this author
Support our reporting -- Follow the MFP.