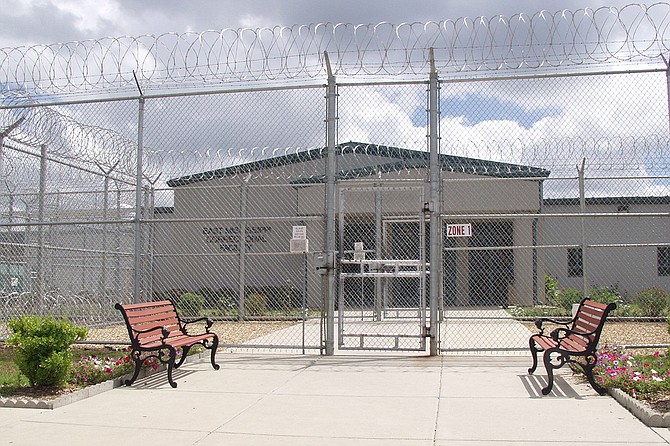 JACKSON — Rats crawling out of toilets. Cells with no lights. Inmates dying in solitary confinement with zip ties around their wrists and ankles. This is a sample of the laundry list of deficiencies the Southern Poverty Law Center and the ACLU National Prison Project outlined in a lawsuit filed in 2013 against the Mississippi Department of Corrections.
Inmates housed at the East Mississippi Correctional Facility alleged squalor conditions, solitary confinement practices, lack of medical and mental health care, and an overall unsafe environment. Five years later, the case goes to trial before U.S. District Judge William Barbour today.
Jody Owens, the managing attorney at SPLC who was in the facility last week, describes EMCF as in "consistent chaos." He said four inmates have died in the last two months alone.
"Our investigations support that two have been overdoses, one has been an individual who could not get the help he needed as he choked on his lunch," Owens told reporters last week. "That has been the history of East Mississippi from then to now—a lack of security, safety and staff."
EMCF is one of three state private prisons that the Utah-based Management and Training Corporation operates, mostly in southern states. Of the 1,200 inmates there, the facility primarily houses inmates with mental-health issues or special medical needs. The lawsuit charges that MDOC has not done its part to ensure that contractors are keeping prisoners safe and healthy.
SPLC and the ACLU began their investigation of the facility in 2011 and sent then-MDOC Commissioner Chris Epps a letter demanding changes to the facility. MDOC declined, and Owens said MDOC has refused to settle the case twice during the last five years of litigation.
MDOC for its part has denied the majority of allegations in the lawsuit and has asked the judge to throw out the case. The attorney general's office has hired private attorneys to help defend the state in the case. MTC manages the facility in Meridian, and Centurion of Mississippi, partnership between MHM Services and Centene, provides medical care for prisoners there (as well as the rest of the state's prison system) with headquarters in St. Louis, Mo., the Mississippi Secretary of State's website shows. MHM Services is not registered with the secretary of state, but St. Louis-based Centene Management Company registered in Mississippi as an LLC in 2011.
MTC took over the facility in July 2012, after attorneys began their investigation. The corporation maintains that conditions at EMCF have improved. In an emailed statement, which avoids specifics of the case, MTC emphasized its adequate staffing levels, new security measures (like a body scanner) and a GED program.
"The facility is safe, secure, clean, and well run. From the warden on down, our staff are trained to treat the men in our care with dignity and respect. Our mission is to help these men make choices in prison and after they're released that will lead to a new and successful life in society," the statement said.
"The facility is accredited by the American Correctional Association and the Correctional Education Association. It's also 100% compliant with the federal Prison Rape Elimination Act, which was created to further protect the rights of inmates," the statement continued.
Centurion is the third medical-provider contractor at the facility since the litigation began. MDOC is also on its third commissioner since the litigation began; the initial complaint names former Commissioner Chris Epps, who is serving time in federal prison now after he was convicted of a bribery scheme.
Erin Monju, an attorney at Covington & Burling representing the plaintiffs, said the facility still does not have a staff psychiatrist.
"It is also the Mississippi Department of Correction's obligation to ensure that their contractors abide by the contract paid for with Mississippi tax dollars, but across these three contractors, (the department) has failed to ensure prisoners are receiving adequate health care, and they have failed to hold these contractors to their obligation," Monju told reporters last week.
Taxpayers foot the bill for private prisons, as well as for the contractors operating within them. In the 1990s, lawmakers took out bonds to pay for private prisons, and that debt service will not be paid off until fiscal-year 2028. The state is currently paying more than $6 million in debt service this year for EMCF. Attorneys said the contract with Centurion is valued at more than $50 million in taxpayer money.
Attorneys representing the inmates expect the trial, which Judge Barbour will decide and not a jury, to go on for a few weeks. They plan to call experts, inmates and possibly former prison staff members as witnesses during the trial. Just how much conditions have improved—or not—will likely become clear during the trial as well as how much MDOC has worked to hold private contractors accountable for changing the environment, health and practices in the facility.
Correction: A previous version of this story said former MDOC Commissioner Chris Epps was serving time in MDOC. He is not. He is serving time in federal prison. We apologize for the error. Email state reporter Arielle Dreher at [email protected] and follow her on Twitter @arielle_amara.
More stories by this author
Support our reporting -- Become a JFP VIP.
The news business has changed dramatically in the past two years, and we need your help more than ever to keep bringing you important stories about Jackson and the Metro. Become a JFP VIP with an annual membership or you can Sign up as a monthly supporter. Thanks for anything you can do to empower our journalism!