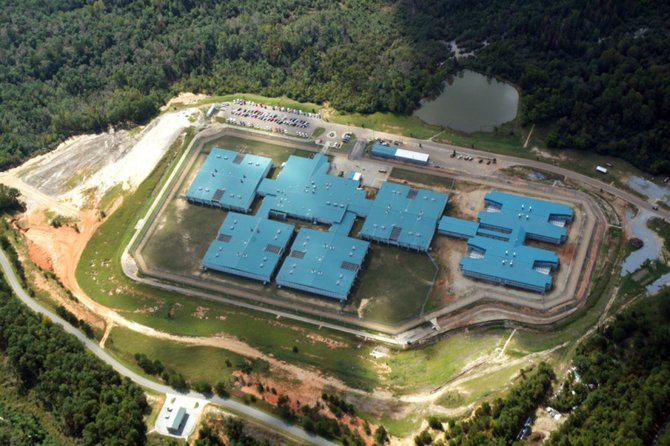 New information about a troubled private prison raises questions about a Jackson company that has a contract to provide medical care and the possible role of a local judge.
In May, mental-health professionals and attorneys from the American Civil Liberties Union and Southern Poverty Law Center—who sued East Mississippi Correctional Facility last summer on behalf of inmates—toured the Meridian prison and completed a report that found the prison to be "a cesspool."
"Although designated as a facility to care for prisoners with special needs and serious psychiatric disabilities, EMCF denies prisoners even the most rudimentary mental health care services. Many prisoners have attempted to commit suicide; some have succeeded. One prisoner is now legally blind after EMCF failed to provide his glaucoma medications and take him to a specialist, and another had part of his finger amputated after he was stabbed and developed gangrene," ACLU observers wrote in a report.
Experts conducted two rounds of tours in February and April, with each visit lasting three or four days. The walk-through came 11 months after attorneys sued on behalf of Jermaine Dockery, a Hinds County man, who was charged with armed robbery and rape, and other prisoners.
Dockery, 34, has spent months in solitary confinement and, as a result, has near-constant suicidal thoughts. He acted on those thoughts in late 2012, when he hanged himself until he blacked out; prison staff did not take him to a hospital emergency department. Attorneys say that Dockery also has had to endure physical abuse from prison staff, lights that never turn off, and a toilet that does not flush and attracts mice.
Christopher Epps, commissioner of the Mississippi Department of Corrections, and several other top-ranking MDOC officials, are named as defendants in what lawyers hope becomes a class-action suit that alleges "grossly inhumane conditions" at the prison that MDOC has known about for years but failed to address.
The complaint alleges that prisoners' health needs are often ignored. A Jackson-based company, Health Assurance LLC, provides medical services to the prison. The company holds contracts worth $38 million to provide health care at EMCF, Walnut Grove Youth Correctional Facility, Wilkinson County Correctional Facility and Marshall County Correctional Facility in Holly Springs.
Lawyers for Dockery and other plaintiffs note that in April 2012, a federal judge admonished MDOC and Health Assurance "for being deliberately indifferent to the needs of children and youth incarcerated" at Walnut Grove. This indifference contributed to "a picture of such horror as should be unrealized anywhere in the world," the complaint states. Two weeks after the scathing critique, MDOC awarded Health Assurance the contract for EMCF.
"The contract signed by Defendant Epps with Health Assurance dramatically reduced the amount of psychiatric care available to patients," the complaint states. A previous contract between MDOC and Boca Raton-based private-prison operator GEO Group provided one full-time psychiatrist. In the new contract, MDOC required a psychiatrist site visits once per week.
"Upon information and belief, Health Assurance has no prior experience operating a psychiatric prison or providing an inpatient level of care to seriously mentally ill prisoners. Defendants (with MDOC) were aware of this deficiency when they selected Health Assurance as the health services contractor for EMCF," the complaint states.
Physicians Carl Reddix and Michael Reddix own the company, state records show. Carl Reddix served on the Mississippi Board of Health for a short time. On June 6, 2013, E. Charlene Stimley Priester replaced her husband, Melvin Priester Sr., a Hinds County judge, as the company's registered agent on the Mississippi Secretary of State website. That site still lists Melvin Priester under "Officers & Directors" for Health Assurance.
Neither LaGrand Elliot, Health Assurance's senior vice president, nor Judge Priester returned telephone messages for this story. Charlene Priester told the Jackson Free Press that Judge Priester "was the registered agent, but I don't recall his ever being an officer" and that the information currently on the secretary of state's website is inaccurate.
Under the contract with EMCF, Health Assurance is to provide dental and optometric care, drug testing and pharmacy services as well as mental-health care. Health Assurance's agreement with MDOC also includes a list of medical staff positions and the pay rate per employee. It calls for a total of seven mental-health professionals and lists hourly rates for each including a director ($22 per hour), three social workers ($15-$19 per hour) and three counselors ($12 per hour).
In a June 7 New York Times story, Epps said MDOC is "committed to running a constitutionally sound prison and look forward to communicating that point in court."
Gabriel Eber, staff counsel at the ACLU National Prison Project, said the mental health-care services at EMCF are the worst he's ever seen.
"The care that Health Assurance is providing is absolutely abysmal," Eber said, who added that MDOC bears ultimately responsibility for the problems.
Eber said attorneys expect to ask a judge in August to allow the case to proceed as a class-action lawsuit before proceeding to trial.
Editor's note: Charlene Priester is also an attorney for Health Assurance. She emailed the following statement, printed here verbatim, about the allegations in the ACLU lawsuit after the Jackson Free Press went to press on the evening of June 18:
"Health Assurance, LLC looks forward to an unbiased review of the services provided at East Mississippi Correctional Facility. We trust that the federal district court will fairly evaluate and measure the quality of health services provided by the State of Mississippi to its prison population. Due to pending litigation and the privacy rights of all citizens, Health Assurance, LLC cannot comment about the medical care provided to any individual inmate. However, Health Assurance, LLC has a proven record of delivering quality treatment to those we serve. Our track record and the quality of our employees and sub-contractors demonstrate our ability to provide a level of medical care at correctional facilities that meets or exceeds all constitutionally guaranteed health standards for prisons."
More stories by this author
Support our reporting -- Follow the MFP.