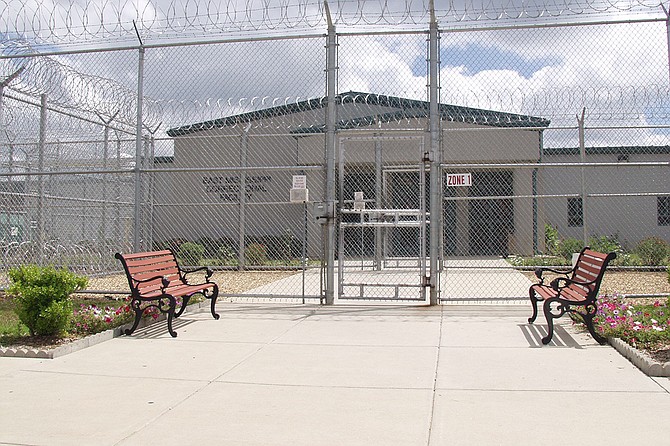 Merlin Hill could not stop shaking as the bailiff led him to the witness stand. The prisoner was still trembling as he raised his right, cuffed hand to swear he would tell the truth on March 15, 2018, in the fourth-floor federal courtroom in downtown Jackson.
Hill, a gaunt white man in his 50s, wore glasses, a white "MDOC CONVICT" shirt and black-and-white striped pants. He was one of 19 inmates who testified during the five-week class-action trial against the Mississippi Department of Corrections for what they describe as appalling conditions at the privately run East Mississippi Correctional Facility near Meridian.
Unlike his appearance, Hill's testimony seemed steadier. Southern Poverty Law Center attorney Jody Owens asked Hill about his medication regimen, a lengthy combination of drugs that, Hill said, helped him feel "normal." Hill said one of his medications, Klonopin, keeps him from shaking, but had run out the night before, just like it does almost every month. He is diagnosed with paranoia, schizophrenia, depression and bipolar disorder, among other conditions, he said. Without his medication, his disorders can be unbearable.
"Sometimes I have murderous thoughts, suicidal thoughts, it's unbearable sometimes," he told the court.
Hill was convicted of rape in 1998, choosing to serve a life sentence after he opted against taking a plea deal. He is one of more than 1,200 inmates at EMCF where MDOC houses a large population of inmates with mental-health needs.
Eighty percent of inmates at the prison facility are mentally ill.
In 2013, a group of inmates sued the Mississippi Department of Corrections over treatment, conditions and care they claim are unconstitutional at the prison. The litigation dragged on, and in 2015, U.S. Senior District Judge William H. Barbour certified the case as a class-action complaint on behalf of all inmates at EMCF. After failed settlement agreements, the case finally went to trial this spring.
The question at the heart of the case is whether any of the inmates' seven claims, from lack of sanitation or safety to medical care, violate their Eighth Amendment rights to be free from "cruel and unusual punishment."
'Pill Call' Behind Bars
At least two inmates sat in on the trial every day, usually chained around the waist, some handcuffed. Employees from the prison as well as the court bailiff sat behind them or in the public court seating. Attorneys from New York and Washington, D.C., with the ACLU National Prison Project and the private firm Covington & Burling joined local SPLC attorneys to represent the inmates. They were a diverse line-up of men and women, constantly changing who was taking the lead each day.
A smaller group of private attorneys, from Bradley and Phelps Dunbar, who were all white and predominantly male, represented the state. The warden at EMCF, Frank Shaw, usually sat with the defense attorneys and was in court for the majority of the trial. The plaintiffs' presentation lasted nearly a month, with attorneys calling inmates, staff workers at the prison and experts to testify about conditions there.
Inmates testified that EMCF nurses bring their medications to the window of the zone and say "pill call." If they do not make it up to the window at that time or hear the call, they can miss getting their medication altogether.
Warden Shaw testified that sometimes pill call happen on schedule, even as it is set once for the morning and once for the evening. When asked if staff has skipped pill call, Shaw said "it's happened before."
The private prison claims to offer individual and group therapy, but throughout the course of the trial, evidence revealed that the facility only recently opened an acute mental-health unit. Plaintiffs' attorney Erin Monju pointed out in her closing argument that the new facility on Housing Unit 3 is serving about five inmates, with some receiving group therapy and none receiving individual therapy as of trial time.
Inmates also testified to starting fires when they could not get the attention of picket officers or other officers when they needed medical or mental-care attention.
EMCF is one of three operational private prisons in Mississippi, all of which Utah-based Management and Training Company operates. MTC took over the contract to operate EMCF in 2012. Mississippi taxpayers pay MTC over $150 million in contract fees to house about 3,200 inmates in the three private facilities.
MDOC contracts with MTC to run EMCF and also pays Centurion, a subsidiary company of the Centene Corporation to provide medical and mental-health services at the Meridian facility. The State has a monitor, Vernell Thomas, who can oversee the prison and activity there, as a part of its contract agreement. Attorneys representing the inmates used her reports during the trial to show that sometimes she has identified problems that, they said, were never fixed.
MTC, which paid for the private attorneys to defend the State, maintains that the facility is safe, secure and has improved under its management.
"The Southern Poverty Law Center has painted a completely unfair and inaccurate picture of the East Mississippi Correctional Facility. It is nothing like they've described," a statement from the corporation says. "The majority of the inmates who have been at the facility since 2012 would agree they've seen significant improvements in safety and security, quantity and quality of programs, respect, and overall conditions since MTC took over."
Videos created by MTC released during the trial show freshly painted walls and what appears to be a sterile facility. Inmates' testimony depicted different conditions inside, however, and complaints went far beyond missing doses of medication.
Assaults and Gangs
Barry Melton is serving a 40-year sentence for possession of a controlled substance with intent to distribute, but the military veteran did not commit a crime of violence. Instead, violence found Melton when he got to EMCF, he testified in federal court in March.
"I was tied up, beaten for about four hours ... and I was sexually assaulted," Melton said on March 14. He went on to describe being assaulted on July 24, 2016, by "several gang members," who thought he had taken drugs that belonged to them.
"They wanted to check inside me," Melton said. "... He stuck a large magic marker up my rear end to see if I had some drugs (they thought) I'd taken."
Melton bled for almost three months after the assault, even after trying to get medical attention. He saw a nurse on the day of the assault in July but would not see a doctor until September, he said in court. Since his assault, Melton was transferred to another MTC private prison, Wilkinson County Correctional Facility.
His testimony aligned with what other inmates who testified said about gang members running the facility. Warden Shaw would later call Melton a "chronic complainer," saying he tends to make up stories. Shaw also said the Gangster Disciples and Vice Lords have the most members in his facility and that the other gangs fall in line with those two groups. Major gangs such as the Simon City Royals and the Latin Kings are officially allied with those two gangs with members watching their allies' backs.
Shaw and his staff monitor "STG" or security threat groups, he testified, in order to ensure they equalize the numbers of members so they do not manipulate pods.
Gangs are in both public and private prisons in Mississippi. Earlier this year, MDOC and the Mississippi Department of Public Safety corrected the data contained in the state's 2017 gang threat assessment. As of December, about 32 percent, or 6,087 of the more than 19,000 inmates in MDOC custody, claim a gang affiliation. The Mississippi Association of Gang Investigators, a nonprofit made up of law enforcement officials and prosecutors, told The Clarion-Ledger last year that they estimate that 53 percent of verified gang members in the state are white. Black Mississippians make up nearly 62 percent of the inmate population behind bars, however, and only black gang members were prosecuted under the state's gang law from 2010 to 2017.
During the EMCF trial, MDOC's own court monitor, Thomas, would not testify in open court for fear of retribution from gang members. Videos shown in open court revealed inmate-on-inmate assaults with staff either on or off the zone, and in some instances not interfering with inmates at all. The majority of MTC staff are women; the inmate population at EMCF is all men.
Warden Shaw testified that it can be dangerous for his staff to interfere with inmates, especially when they manipulate and take off their handcuffs. Some inmates must wear restraints when they are considered a high security risk outside their cells.
"It can be very dangerous for staff to approach an inmate like that," Shaw said after Owens showed him one recorded incident where staff members stood by while an inmate ran up to another inmate's cell, kicked another inmate through the cell door and ran off.
Shaw has been the warden at Wilkinson County Correctional Facility during his time with MTC as well as at a facility in Arizona called Kingman. In July 2015, inmates rioted at that facility while Shaw was the complex administrator there. Inmates destroyed enough property that the Arizona Department of Corrections had to relocate more than 1,000 inmates.
"The targeted destruction of MTC property, together with the near absence of destruction of inmate personal property and the absence of inmate-on-inmate violence, strongly suggest that the riots were more likely precipitated by inmate dissatisfaction with MTC's operation of the prison than by anger among the inmates themselves," Arizona's Department of Corrections stated in a report.
MTC lost the contract to run Kingman after the riots, and Shaw returned to Mississippi to be warden at the East Mississippi Correctional Facility.
Cause of Death?
Attorneys representing inmates pointed to several inmate deaths as proof that those housed at EMCF are at risk of harm, but the warden maintained that violence and death are at every correctional facility.
"Every correctional facility that I've ever worked at has a different number of deaths. People unfortunately die in custody," Shaw said when Owens cross-examined him April.
"And as people unfortunately die in custody, having four deaths in three months, is that a high number for you?" Owens asked of the deaths at the East Mississippi facility so far in 2018.
"I don't define it as a high number. It's an unfortunate number," Shaw responded. Hill, the inmate who trembled throughout his testimony, testified seeing a man choke to death in the hallway in January.
Another inmate died during the course of the trial in the hospital bringing the death count at EMCF to five this year, Owens said after the trial.
Defense attorneys, technically defending the state in the case, relied on two narratives when it came to inmate harm. First, they argued that the inmates themselves cause a lot of violence and self-harm. When attorneys representing the plaintiffs brought up contraband, weapons and self-harm, often the defense's response was to point to an inmate who tore down the light fixture to make the contraband weapon or clog his toilet by trying to flush items down it.
Lawyers representing the State of Mississippi also said a lot of the plaintiffs' claims were common in other prisons around the state and country.
"When you have 1,200 men who are hardened criminals ... murderers, rapists ... living in close proximity, you're going to have fights," W. Thomas Siler, an attorney defending the State of Mississippi, told Judge Barbour in his closing argument.
The State called Ken McGinnis, a former warden in Illinois who now consults on corrections, as a witness to analyze the rates of assaults in the facility. Using data MTC provided, McGinnis concluded that the rates of assault were not significant.
"And the problem with most of these units, the numbers are so small that statistically it's basically irrelevant, but it gives you some indication of what's going on and where the majority of incidents were occurring with assaults," McGinnis testified. "And not surprising, at least to me, the majority of those were going on in the mental-health area and in segregation."
"Segregation" refers to inmates who are kept in single-unit cells, separate from other inmates and isolated from other parts of the facility.
Attorneys for the inmates argued that McGinnis' numbers were not correct, finding a few reports not included on his list. SPLC counted 160 assaults in 2016 and 99 assaults in the first six months of 2017.
'Not Going to Do It'
Ultimately, a lot of problems at EMCF appear to boil down to staffing levels, testimony revealed. When the state contracted with MTC to run EMCF in 2012, the State sought to cut costs by using a private vendor to operate the facility.
The original contract signed in 2012, on the state's public contract portal, shows that the state only pays $26.24 per minimum-security inmate; $31.19 per medium-security inmate; and $71.11 per single-cell security inmate every day.
At the time, these costs were cheaper than what MDOC was paying to house its own prisoners. Since the initial contract was signed, Commissioner Pelicia Hall has renegotiated the MTC contracts she told lawmakers at the Capitol in April.
"We pay a per diem of about $41.74 in our private facilities because they have to by law operate those facilities at a rate of at least 10 percent less than the Department of Corrections, so they have some blended rates," she said at the Capitol April 23.
However, the bond indebtedness the state incurred on its private prisons is enormous. Mississippi still owes more than $81 million for building EMCF alone, which the State will not pay off until 2023. The State's bond debt totals nearly $218 million on the three operating private prisons and Walnut Grove, which shuttered in 2017—bonds taxpayers will be on the hook for through 2027, MDOC numbers show.
MTC paid for private attorneys to defend the State in the federal lawsuit, because Mississippi law creates immunity for the State in the case.
When MTC came to run the facility in 2012, even defense attorneys admitted the facility was a "bleak place." MDOC and MTC negotiated staffing levels at the time—and then renegotiated them in 2014. The state is paying MTC more than $92 million to run EMCF through July 2022, according to the contract, which was modified in 2017 and is now available for viewing on the Transparency Mississippi.
During the trial, MTC and MDOC employees testified that current correctional officers and medical staff levels cost more than the currently required contract obligation. In other words, both MTC and Centurion are paying some staff with their own money, not the State of Mississippi's money.
Gloria Perry, MDOC's chief medical officer who is a named defendant in the lawsuit, testified that EMCF is still looking for a chief psychiatrist. Perry testified that although Centurion proposed about 60 full-time medical-care employees for the facility in 2016, MDOC proposed to cut that to 43.
"What was the reasoning to do that ... to save money?" Judge Barbour asked her.
"Yes, sir. We were under constraints from the (state) contract review board," Perry said.
Barbour asked about the funding that the Legislature cut from MDOC's budget, which might have led to cuts in staff.
"We use the same contract (that requires 43 medical personnel). Centurion added more staff, but they've done it at their expense—the state of Mississippi is not paying for that," Perry testified.
Centurion currently has 52 medical personnel employee openings, and 48 of those are occupied, Monju confirmed during questioning at trial. Centurion is paying for the employees above the 43-employee mark, Perry said.
"They felt that additional staff was necessary," Perry said.
Plaintiffs' attorneys pointed out that Centurion could drop personnel levels back down to 43 employees at any time, due to how the contract is written. Centene provides medical services in all of MDOC prisons, private and public. The most recent contract between MDOC and Centurion runs from July 2016 to June 2019 and is valued at nearly $150 million. It is posted on the Transparency Mississippi website.
MTC also staffs EMCF at higher levels than its contract with MDOC requires. Warden Shaw testified that he has 177 correctional officers on staff at EMCF. He has approved adding officers during his time at the prison. The MTC-MDOC contract only requires 136 officers, however.
"Could you go back to 136?" Owens asked Shaw during trial.
"Not going to do it," Shaw said.
The plaintiffs' attorneys maintained that there is nothing contractually stopping MTC from dropping back to what even their organizations have deemed—by their actions at least—too low of staffing levels at EMCF. Recruitment, especially for mental-health care workers, is a statewide struggle that Judge Barbour alluded to during closing arguments.
"Where does the State of Mississippi find enough state psychiatrists to come to a rural area?" Barbour asked SPLC attorney Elissa Johnson during closing arguments.
Johnson maintained that MDOC has decided to send inmates with mental-care needs to EMCF and that the State enjoys no constitutional exception.
"The Mississippi Department of Corrections has demonstrated deliberate indifference," Johnson said. "... The Commissioner has been aware of these issues since she's been in office."
Martin Horn, a professor at the John Jay College of Criminal Justice in New York, said that private prison contractors will usually do what a state asks them to do—but this is spelled out in the contract.
"I would say typically when we see poor performance in private prisons, the fault is perhaps more with the contracting state or municipality than it is with the private operator," Horn told the Jackson Free Press. "... (Perhaps) the state is trying to do this on the cheap."
Where is the 'Dividing Line'?
Judge Barbour certified the inmates' case as a class-action lawsuit back in 2015.
But after several failed settlement agreements, the case went to trial this spring. Defense attorneys consistently relied on the claim that the prison had improved significantly since MTC took over in 2012.
Barbour, a Ronald Reagan appointee who is a cousin to former Gov. Haley Barbour, seemed intent on moving the trial along whenever he could. By the third week, Barbour vocalized his irritation with the plaintiffs' attorneys.
At one point, ACLU attorney Eric Balaban was questioning Bruce Gage, a psychiatrist and expert witness in the case. Gage described the risks of inmates being isolated in segregation unit.
"Did you find anything that was done right with medical at EMCF?" Judge Barbour asked Gage.
"Prescribers were a bright spot," he said, noting that the medical staff at EMCF seemed to be giving inmates what he viewed to be the proper medications for their conditions in most instances.
Balaban continued to question Gage, but Barbour seemed irked. He grew impatient with the style of questioning. When Balaban asked to show a video, the judge refused to see another one. He told him to move along with his testimony, but when Balaban returned to his prepared questions for Gage, Barbour cut him off.
"Why can't you change so you don't irritate the judge?" he asked. "... The mental health is not good. You don't have to prove every mental-health problem in this prison." Barbour cut Balaban's questioning off and ended court 10 minutes before he normally did, telling the plaintiffs to shorten their testimony in the coming week.
Judge Barbour toured the prison facility after the plaintiffs' attorneys concluded their arguments and before the defense's rebuttal. Attorneys for both the defense and the plaintiffs, along with the warden, toured the facility before Easter weekend. EMCF was in the midst of an audit from the American Correctional Association at the time of the visit.
"My observation from the tour of the prison was it was pretty well spit-shined. Unit 5 (the segregation unit) had been repainted and appeared to be clean," Barbour said. "... Should I take that with a grain of salt with plaintiffs noting that ACA came in three days before?"
Siler said the facility is in good condition and could not recall it looking any different. The State requires ACA to certify all its private prisons and to audit the facilities every three years. EMCF passed its past ACA inspection and is compliant with the Prison Rape Elimination Act.
Ultimately, Barbour was looking for what he called the "dividing line." He asked Johnson and Monju repeatedly where the line was when it came to what level of mental and medical health care is needed for inmates or what rate of assaults is commonplace in other prison facilities.
"Don't assaults happen at every prison handling mental-health inmates?" he asked Johnson during closing arguments.
Neither party seemed to budge on their views that the prison was in bad shape or just fine.
"I can't get the plaintiffs to say anything good, and I can't get the defendants to say anything is wrong," Barbour said.
Beyond the dividing line, Barbour was also looking for a potential solution. He repeatedly asked Johnson and Monju, "What do you want me to do?"
Technically, the complaint asks the court to rule on seven specific grievances, deeming the treatment of prisoners unconstitutional. It also asks the judge to order MDOC to develop a plan to address the "substantial risks of serious harm" to inmates in the facility, and for the defense to pay their attorneys' fees.
During closing arguments, Monju and Johnson said the judge could order a staffing analysis at the facility or mandate that MDOC create an oversight system or appoint a monitor to the prison.
None of these remedies is listed in their complaint, however.
Owens and Johnson said their requests for relief are broad solutions because there are several different approaches to remedies.
Ron Welch, a retired Mississippi prison litigation attorney, says in most of the major prison cases where a judge takes action, he or she will appoint a court monitor to come in and inspect the prison regularly for progress, depending on what conditions need to change.
"I think if you have a neutral third party, the judge can appoint an expert to go in and look and report every quarter, at a minimum," Welch said in an interview.
Welch explained that sometimes judges will order attorneys to submit proposed findings of fact and then issue an order based on those briefs.
But Barbour would not even let plaintiffs' attorneys argue for post-trial briefing. Instead, he asked each side for a list of cases they referenced in closing arguments. Judge Barbour could also direct the legal teams for both parties to come up with an agreement to remedy any grievance he finds to be unconstitutional.
Ultimately, Barbour will have to decide if any of the seven claims amounts to "cruel and unusual punishments" defined in the Eighth Amendment. If the judge believes some of the inmates' claims are credible, he will have to decide how to hold MDOC responsible for its contracts that have led to conditions at EMCF.
"This is the problem with private prisons," Welch said. "How the hell do you enforce it when they screw up?"
Future of Private Prisons
After the State passed a massive criminal-justice reform package in 2014, the number of incarcerated Mississippians dropped, leading to less of a need for private prisons. Or at least, that is what MDOC claimed when it closed Walnut Grove Correctional Facility, which was at the heart of a 2010 federal lawsuit and a U.S. Department of Justice investigation in 2006 for its maltreatment of youth who were previously housed in the facility until they were old enough to transfer to adult prisons.
In 2010, the ACLU Prison Project and SPLC sued the Walnut Grove Correctional Facility over conditions and won a consent decree for the facility. Inmates in that case testified about riots, violence and staff members smuggling contraband inside the prison. Similar to the EMCF case today, MTC had taken over the contract at Walnut Grove and alleged that conditions had greatly improved.
In 2015, U.S. District Judge Carlton Reeves kept the facility under the consent decree. A year later, MDOC closed the prison permanently.
"MDOC's budget is lower than what we anticipated," then-Commissioner Marshall Fisher said in a press release in 2016. "Pursuant to an intensive budget review and evaluation, we have determined this is the most prudent action. We have the space in our state-run prisons to house the 900 inmates at Walnut Grove."
Former MDOC Commissioner Chris Epps signed all of the initial private-prison contracts with MTC. Epps was the epicenter of a massive bribery scandal, which landed him and Carl Reddix of Health Assurance LLC, which previously provided health care at EMCF, in federal prison.
Attorney General Jim Hood filed 11 racketeering civil lawsuits in response to the Epps scandal in 2017, including against MTC and Health Assurance LLC, for conspiring with Epps in the bribes. Neither of those claims has been settled.
The civil suit against MTC accuses the corporation of contracting with former Rep. Cecil McCrory of Rankin County to lobby on their behalf in order to secure a contract with Epps.
"MTC and McCrory pursued a common plan and course of conduct, acted in concert with, aided and abetted and otherwise conspired with one another, in furtherance of their common scheme to defraud the State," the suit says.
"MTC knew, or should have known, that the 'consulting fees' it was paying Defendant McCrory were being used to pay bribes and kickbacks to assure that Defendant Epps would award public contracts, paid for by the State, to MTC."
Both Epps and McCrory are in federal prison; Epps is housed in Texas, and McCrory is in Alabama. MTC maintains that it was not aware of the bribery scheme.
"MTC hired McCrory as a lobbyist to communicate with state leaders about the progress we were making in the Mississippi prisons we operated," a statement from the corporation says.
"We had no idea he was sharing what we paid to him with Chris Epps. We terminated his contract immediately when we heard the reports."
While Mississippi taxpayers owe millions of dollars for private-prison bonds, they did not have to pay to defend the state in the EMCF trial. State law says that "the contractor shall defend any suit or claim brought against the State of Mississippi arising out of any act or omission in the operation of a private facility, and shall hold the State of Mississippi harmless."
MTC would not release the cost of litigation attached to paying for private attorneys to the defend the State for the last month. Whether or not Mississippi needs private prisons to house its population of around 19,000 inmates is also at the heart of this case.
On April 9, the sun lit up the federal courthouse on the day of closing arguments, and a few pastors gathered to pray on the steps. CJ Rhodes, the president of Clergy for Prison Reform, said his group formed in 2015 during the Walnut Grove trial. His group wants to reduce and eventually eradicate any private-prison contracts in Mississippi.
"I'm not convinced that if you have a profit motivation, you're concerned about making prisons humane," Rhodes said outside the courthouse.
" ... The criminal justice system (should be) about rehabilitation."
Rhodes said his understanding of the gospels in the Bible lead him to believe that all people have an opportunity for redemption. He hopes Judge Barbour is not "soft" on the prison in his ruling.
Barbour said he will issue a written opinion. He did not allow plaintiffs' attorneys to petition for post-trial briefing. He adjourned court before noon on Monday, April 9, as he crumbled up several pieces of paper sitting in front of him, clearly ready for a vacation.
Read more at jfp.ms/prisons. Email 
Arielle Dreher at [email protected]. Follow her on Twitter at @arielle_amara.
More stories by this author
Support our reporting -- Follow the MFP.