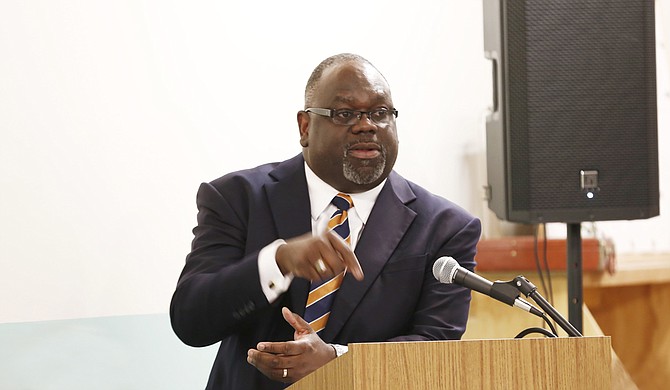 Legal advocates for prisoners in Mississippi say the state has failed to follow through on promises to create better conditions at Walnut Grove Correctional Facility and that attempts to address safety concerns at Walnut Grove, which started out as a youth prison, have spurred violence at other prisons.
Jody Owens, managing attorney for the Southern Poverty Law Center's Mississippi office, said Wilkinson County Correctional Facility in Woodville is now the most violent prison in the state.
The problems at Wilkinson County are a direct result of the Mississippi Department of Corrections' response to a 2012 federal court settlement at Walnut Grove that required MDOC to improve conditions and reduce violence at the facility.
In response, MDOC slashed the population of Walnut Grove by one-third. Wilkinson County is one of the prisons where close-custody prisoners were sent in what Owens characterizes as a smoke-and-mirrors move to make MDOC appear as if the agency was complying with the Walnut Grove order.
"When we look at this whack-a-mole, we have to ask ourselves what is the root the problems," Owens said.
In his opinion, the root is in the arrangement between MDOC and the private companies it hires to run the facilities. One of those companies, Centerville, Utah-based Management & Training Corporation, holds four such contracts, including for Walnut Grove and Wilkinson County. MTC also runs prisons in Marshall and Lauderdale counties; Correctional Corporation of America holds one contract, for Tallahatchie County Correctional Facility.
Management & Training Corp., which manages the prison, said in a statement that the company and MDOC has made good-faith efforts to address issues raised in the consent decree, including removing children and seriously mentally ill prisoners. MTC also said the facility is safe, secure, clean and accredited by the American Correctional Association. In addition, the prison has eliminated long-term segregation and high-security-risk prisoners.
In doing so, MDOC unsuccessfully asked a federal judge this spring to lift the court order. In an ordered handed down last week, U.S. District Judge Carlton Reeves wrote that prisoners' rights continued to be exposed to "current and ongoing violations."
Reeves heard arguments in April in a case over a federal consent decree at Walnut Grove, which a private prison company manages on behalf of the Mississippi Department of Corrections.
The judge's order, issued June 10, leaves the consent decree in place.
In its defense, MDOC argued that Walnut Grove has since cleaned up its act since the 2010 lawsuit was filed. "It's not the same facility I found when I arrived," Lepher Jenkins, who took over as warden at Walnut Grove after a July 2014 uprising that sent a number of prisoners to the hospital, testified during the hearing.
Attorneys for prisoners, from the ACLU National Prison Project and the Southern Poverty Law Center, said the conditions that first brought the lawsuit persist. Owens points to a number of "spice" (synthetic marijuana) overdoses at Walnut Grove in the weeks before hearing.
During the hearing, two prisoners testified about what they called unsafe conditions at Walnut Grove and the mistreatment of inmates by MDOC officials. This treatment continued during their time in custody at the Central Mississippi Correctional Facility in early April, when plaintiffs argued their case. The defendant, MDOC, put on its case three weeks later.
Judge Reeves, in his ruling, agreed with the plaintiffs.
"We know that most prisoners do not die in prison; they serve their sentences and are subsequently released. How they are treated while in prison affects how they will reintegrate into society upon their release. As such, public confidence in our criminal justice and public safety systems is vital," he wrote.
MDOC has not indicated whether the agency will appeal Reeves' decision. With another SPLC lawsuit pending against East Mississippi Correctional Facility in Meridian, Owens said it would be in the best interests of the agency to negotiate rather than fighting the lawsuits in court.
"We want to find a way to avoid litigation we would hope the state would be responsible," Owens said.
More stories by this author
Support our reporting -- Follow the MFP.