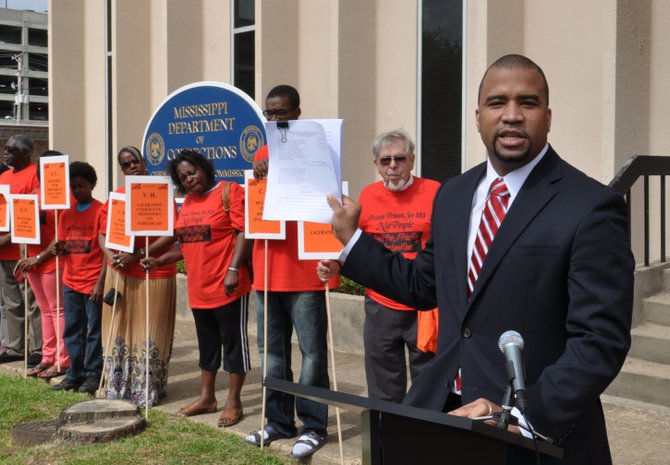 A rat infestation at Meridian's East Mississippi Correctional Facility has gotten so bad that some of the prisoners have adopted the disease-carrying vermin as pets, sometimes taking them on walks around the prison on leashes fashioned of paper clips and string.
It's a situation that encapsulates the issues at the heart of a new lawsuit over prison conditions in Mississippi.
This morning, the American Civil Liberties Union and the Southern Poverty Law Center filed a federal class-action lawsuit on behalf of 16 named plaintiffs against the Mississippi Department of Corrections for "massive human rights violations" at EMCF.
The 1,500-bed EMCF houses the state's severely mentally ill prisoners, and is run by Management & Training Corp., a Utah-based firm that is one of the nation's largest private corrections-management companies.
Attorneys involved with the lawsuit describe the prison as "hyper-violent, grotesquely filthy and dangerous." The complaint details numerous claims, including broken plumbing systems that result in people sometimes having to defecate in trash bags or food. It charges that chronic understaffing often leads to prisoner-on-prisoner altercations and rapes, as well as excessive use of force by corrections officers.
"The conduct that happens at East Mississippi Correctional Facility is a shock to the conscience of a decent civilized society," said Mississippi SPLC managing attorney Jody Owens at a press conference in front of MDOC headquarters this morning.
Grace Fisher, spokeswoman for MDOC, told the Jackson Free Press the agency would respond to the allegations in court.
Today's filing coincides with the third anniversary of a disturbance at the Walnut Grove Youth Correctional Facility. A federal investigation into a culture of corruption and violence, including guards' sexual misconduct toward the boys housed at Walnut Grove, resulted in a 2012 consent decree. Formerly run by Florida-based private prison contractor GEO Group, MTC took over that facility in 2012.
MTC has run the state's Meridian prison since July 2012. The company also operates Marshall County Correction Facility in Holly Springs and, starting July 1, will hold the contract for Wilkinson County Correctional Facility in Woodville.
More stories by this author
Support our reporting -- Follow the MFP.