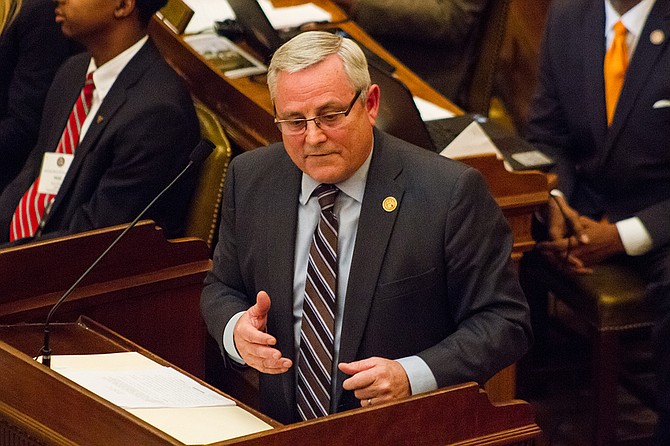 JACKSON — Mississippi can begin to look at justice reinvestment, and it should be a priority, Andre de Gruy, the state public defender who is also on the state's Corrections and Criminal Justice Oversight Task Force, told the re-entry council earlier this month. In 2014, the Legislature passed a criminal-justice reform package that decreased the number of men and women incarcerated in the state. De Gruy said the idea behind reducing the number of people behind bars is to reinvest those funds in re-entry efforts.
"Those savings should be going into programs that will keep people out of prison, and that's sort of (why) the re-entry council came about to kind of come up with things we can spend that money on," he said.
While several criminal-justice reform bills are dead, lawmakers could still consider several measures that would positively affect re-entry opportunities for men and women returning from prison. The state's re-entry council met on Friday, Feb. 2, to go over some of their recommendations as well as review what legislation is still moving forward this session. One solution is to repurpose or use drug courts as re-entry courts, U.S. District Judge Keith Starrett, who sits on the re-entry council, stressed. These types of courts are common all over the country, specifically for people who leave prison with a substance-addiction problem, he said.
"You don't mix the high-risk offenders—the ones who are coming out of prison who score high on the risk assessment—with the low-risk offenders," he said on Feb. 2. "... They have to be separated."
Legislation to open drug courts to more offenders died in House and Senate committees this year, and de Gruy said the drug-court budget would have to be increased to make the recommendation a reality. Several re-entry bills are still alive in the Legislature that have a decent chance of becoming law, however. The Oversight Task Force 2017 report recommends that the Mississippi Department of Corrections develop parole case plans for all inmates, which is carrying out an initial recommendation from the 2015 criminal-justice reform package. De Gruy told the re-entry council on Feb. 2 that House Bill 1172 contained the changes needed for MDOC to keep up with the rapid intake of case plans. MDOC cannot keep up with the current time restrictions on case plans in state law.
"Basically, it's kind of like your progress report for kids in school. You work with them, tell them what programming they need based on these risk assessments. It's something that takes some work to get together, and then it takes work to monitor each offender who's eligible as they go through the process," he said.
De Gruy said about 1,700 inmates are eligible under the bill for parole, and need case plans. House Bill 1172 passed that chamber last week, and the Senate will need to pass the bill to give MDOC the flexibility to keep up with the demand. Mississippi Supreme Court Justice Jim Kitchens asked who gets a case plan.
"Any chance it could be backed up to cover people who are not new offenders?" Kitchens asked de Gruy earlier this month at the re-entry council meeting.
"Ideally, I think they should, and I would hope that if they get to the point where they could do that," de Gruy answered.
Currently, case plans are for inmates who were convicted after July 1, 2014.
The Senate could consider another bill that would provide income tax credits to those who hire previously incarcerated men and women. House Bill 175 provides $2,500 for four years each former prisoner is employed. De Gruy said even if the Legislature amends bill is amended, any income tax credit is better than none at all.
"You have to start somewhere..." he cautioned. "Anything it does is more than we have now."
Several re-entry council proposals that died last year are in House Bill 387, which the Senate Corrections Committee will have to take up. Other reforms from the re-entry council are in Senate Bill 2841, which was dramatically amended before the Senate passed it last week.
Email state reporter Arielle Dreher at [email protected].
More stories by this author
Support our reporting -- Follow the MFP.