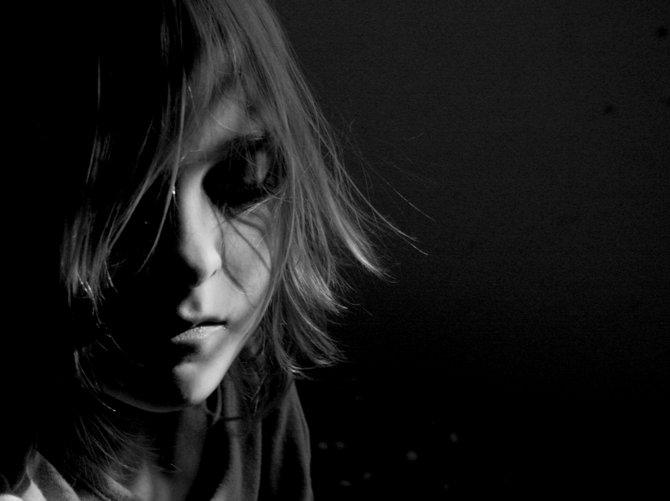 By the time she was 17, Sarah had run away from home a few times. Her mother and stepfather drank, and they ignored her. One day, as she was walking alone in the rural Ohio town where she lived, a man pulled up beside Sarah. He told her how pretty she was and asked why she looked so sad. Sarah told him she was angry with her mom.
The man, who was 30, offered to take Sarah to get her nails done—just to cheer her up—and Sarah agreed. He paid for the manicure while continuing to flatter her. He told Sarah he wanted to see her again.
For two months, the older man picked Sarah up, bought her meals and more manicures, and lavished her with his attention and praise. She began calling him her boyfriend, and Sarah was his girlfriend. Sarah moved in with him.
Another month went by, and then he told her that he couldn't make the rent payment. That's when he asked Sarah to go on "dates" with other men and have sex with them for money.
"Sarah felt uncomfortable but agreed because she would do anything not to return home and wanted to make him happy," the story continues on the Polaris Project website (polarisproject.org). The Washington, D.C.-based nonprofit leads the global fight against human trafficking and modern-day slavery.
Sarah's "boyfriend" told her it was OK, that he didn't mind if she had sex with other men to raise money for the rent. Once she started selling her body, it simply continued. Then, a "client" raped her. Sarah called the police who took her to a hospital and contacted the Polaris Project.
It's an old story and one that happens frequently in Mississippi. Heather Wagner, assistant attorney general in charge of the domestic violence unit in the state attorney general's office, says it's unclear just how big the problem is in the state.
"What we're finding is that we think we know what it is, and we think we know where it is, but we're playing a game of catchup trying to pinpoint it and trying to pin it down," she said.
The problem includes prostitution, exotic dancing, pimping, massage parlors and brothels, she said. With prostitution, you also frequently find pornography.
"Victims may be forced to have the acts filmed or something of that nature," Wagner said. "It's also used as a training tool" to show the victims what's expected of them.
"Unfortunately, the majority of victims are the 'girl next door,'" Wagner said. "A lot of people have misconceptions" about who gets involved. "Usually, it's a prolonged relationship" involving force, fraud or coercion," she said.
"We've heard of girls who are coerced into staying in prostitution because there were threats to tell her family back home," she said, emphasizing that the force doesn't need to be physical.
Some industries attract practitioners of the so-called "oldest profession." Gambling is a magnet, as are sporting events because they attract men away from home and looking for a good time.
"What happens in Las Vegas stays in Las Vegas; what happens at the Super Bowl stays at the Super Bowl," Wagner said sardonically.
Wagner's office is just beginning its efforts to stem sex trafficking in Mississippi. Law enforcement is aware of the problem but, until this year, the state's laws haven't given them much to work with. During the most recent legislative session, lawmakers strengthened the state's human trafficking laws to go after those behind it—and those buying sexual services—rather than just busting prostitutes.
Last year, before the state Legislature passed the new laws, Vancouver, Wash.-based Shared Hope International gave Mississippi a "D" because of the weakness of its laws protecting victims. Shared Hope is another organization working to eradicate sex trafficking. Mississippi's 2013 human trafficking laws are partially based on the organization's recommendations.
Wagner says that she's finding law enforcement agencies eager to get training and information. The state law-enforcement academy has asked her to develop a curriculum for their officers, for example, and to create an investigator's course.
"You really have to hit the demand. If you reduce the demand, simple economics tells you that the supply will go down," she said.
Of course, increased law-enforcement attention on the issue means more victims will be identified who need assistance to put their lives back together.
With the help of Polaris, Sarah got away from her "boyfriend" and received the emotional support she needed, along with a part-time job.
"Within four months, Sarah saved enough money to move into her own apartment," Polaris states. "She continues to work part-time and attend classes in the evenings. She hopes to attend college next year and eventually own her own business."
Locally, the Pearl-based Center for Violence Prevention is at the forefront of victim advocacy and protection in the state. Serving as a shelter and safety net for victims of domestic violence and sexual assault, the center is expanding to serve victims of sex trafficking as well. All of these issues involve using power and control to victimize others, said Sandy Middleton, the center's executive director. It's not about the sex.
"The traffickers, they're manipulators," Wagner said. "They know how to sense the vulnerabilities. ... (Victims) can be anybody."
Help the Jackson Free Press raise funds for the victims of sexual trafficking. The ninth annual JFP Chick Ball is July 20 at Hal & Mal's (200 S. Commerce St.). All proceeds go to the Center for Violence Prevention. The Chick Ball is accepting donations, from silent auction items to time and services. Cash is always welcome. Email [email protected], call 601-362-6121 ext. 23, or visit jfpchickball.com for more information.
More stories by this author
Support our reporting -- Become a JFP VIP.
The news business has changed dramatically in the past year, and we need your help more than ever to keep bringing you important stories about Jackson and the Metro. Become a JFP VIP with an annual membership or you can Sign up as a monthly supporter. Thanks for anything you can do to empower our journalism!