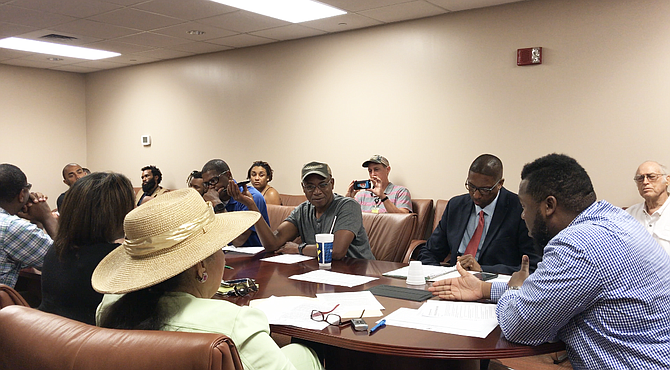 JACKSON — Members of Jackson's officer-involved-shooting task force started showing up at the Porter Building across from City Hall on Monday, Aug. 27, prepared for what was supposed to be their final meeting before handing policy recommendations to the mayor. Turns out they had arrived an hour early. Constituent Services Manager Keyshia Sanders said before heading to her birthday celebrations, birthday gifts in hand, that the meeting would start at 6 p.m., despite a City email indicating a 5 p.m. start time, an hour earlier than every other meeting in the last four months.
The previous week, the group did not have a quorum at a meeting at Mynelle Gardens with the chairman calling in and deciding about 45 minutes after the start time that the meeting should delay to this week.
Monday's schedule blip was just the first sign of disorganization that left an opening for a dissenting group of activists to unravel the meeting.
'Brutalized or Killed by Police?'
Normally, the task-force meetings invoke the feeling that the mayor-appointed members are behind glass or on display, as the general public sits in chairs that often surround their boardroom table. Attendees are typically only allowed to speak during the 10 minutes of public comment at the tail end of the meetings. However, some of the activists who walked in around 7 p.m. during Monday's meeting and plopped down next to other task-force members, quite literally invited themselves to the table.
"My name is Joseph Jordan, and I'm a resident of west Jackson," one man said, interjecting himself into an ongoing conversation about parameters on releasing video to the public, should any of an officer-involved shooting exist.
Several task-force members jumped in to inform him that they would call for questions at the end of the meeting. Jordan took issue with having community comments left for the end of the meeting because, as he said during the meeting, the community should more of a voice there, even more so than the task-force members.
"That's very sweet, but I had an important question, which is just to find out, like, who here has family or close friends that have been either brutalized or killed by police?" he asked.
Some called for point of order, but the chair of the task force, attorney C.J. Lawrence, said he wanted to hear the rest of Jordan's question. Jordan kept talking, and he and Lawrence got into a discussion about what other parts of the community should be part of the discussion.
"Welcome to Jackson. We've been here, we're going to be here, and we're about to continue with this meeting," said Nsombi Lambright, CEO of One Voice, marking a point where the conversation turned more personal. Jordan is a fairly new Jackson resident who moved here around five months ago from New York.
"Half of the people that you're sitting up in here with right now are people that I've been sitting with for a long time—I ain't never seen you before," Lawrence said, gesturing his hands toward Jordan before banging his hands down on the table. He then proceeded to call out the other activists he knew in the room by name, with the exception of one or two he did not know, including Jordan.
Adofo Minka, a local defense attorney and regular attendee of task-force meetings, interrupted to ask why more of the community is not at these meetings. Lawrence and Lambright told the activists that they should bring more of the community, and the meeting erupted again and continued on this path for more than an hour.
The activists took both joking and serious tones. One activist signed in on the roll as Forrest Gump. But they also evoked very serious condemnations of the task force and how it conducts meetings without a meaningful community presence.
'This Is Chaos'
Lawrence later told the Jackson Free Press that the door is always open for community members to come out and address issues. He feels he has done the most he can as an individual to garner community engagement at these meetings, but he also does not feel that it is his role as the chairperson.
Some members seemed to take some of the comments and critique about the task force personally, with Lawrence and others explaining that they are not the opposition.
"To be honest, Jo, you are a representative of the people just like we are representative of the people," Rukia Lumumba, founder of the People's Advocacy Institue, a task-force member and sister to the mayor, said to Jordan via speakerphone—she had called into the meeting.
Despite personal, and perhaps political and ideological differences, the activists and the task-force members seemingly want the same thing: police reform in Jackson. But both sides seem to disagree with how to approach that. Nevertheless, the task force missed its self-imposed August deadline for recommendations.
Mayor Lumumba appointed this 21-member group, now down to 13 as of Monday, to develop policy around officer-involved shootings, but did not give them a timeframe in which to do so. Both the mayor and members agree that this process has gone on for too long.
Now the group will go into its September meeting with some members of the already-dwindling base frustrated with how this meeting derailed.
Frances Greer-Morris, an older black woman and task-force member who always wears a church hat to meetings, gave Lawrence a stern talking-to after the meeting.
"This is chaos and a waste of time," she said. "Now listen to me, no comments, that's a bottom line." Next time she wants a strict agenda.
Another member said he was disappointed that Lawrence, the chair, used profanity in responding to the activists toward the end of the meeting.
Lawrence said he allowed the meeting to go on in this way instead of deferring to a parliamentary procedure because people in the community are frustrated and have a right to be.
'Secret Society Meeting'?
People are indeed frustrated. Tetrina Blalock, whose cousin, Lee Edward Bonner, whom JPD shot and killed in February, told the Jackson Free Press that she was not impressed with the task force, which she referred to as a "secret society meeting."
"I don't see nothing that they're doing other than praising each other on what changes they're not going to make," Blalock said Tuesday. She was not at Monday's meeting, but had been to at least one task-force meeting in the past.
She said the City could have promoted this task force better, like the efforts for Ice Cream Safari or the concert series. She also wanted a breadth of more "real citizens" on it.
Jordan, a self-proclaimed fan of discomfort and social insurrection, on the other hand, told the Jackson Free Press on Tuesday, Aug. 28, that he felt the meeting went well because they kept the task force from voting.
"I wanted to expose the contradiction of how the community is really not included, so ... I kind of pushed to have my voice in the room to show people that you can and should push to have your voice in the room if their structures are such that it does not ultimately allow for it," Jordan said.
Jordan did not divulge his group's next moves for the Sept. 6 meeting, but he did insist that they would explore other tactics.
"At the end of the day, I've got to get with the people that I'm organizing with, my affinity group folk," he said. "... We don't want to just be disruptive; we don't want to just be buffoons and get like media attention. It was a tactic that was used, ... but it is one of many tactics. I support a diversity of tactics."
Email city reporter Ko Bragg at [email protected] and read more at jfp.ms/policeshootings.
Support our reporting -- Follow the MFP.