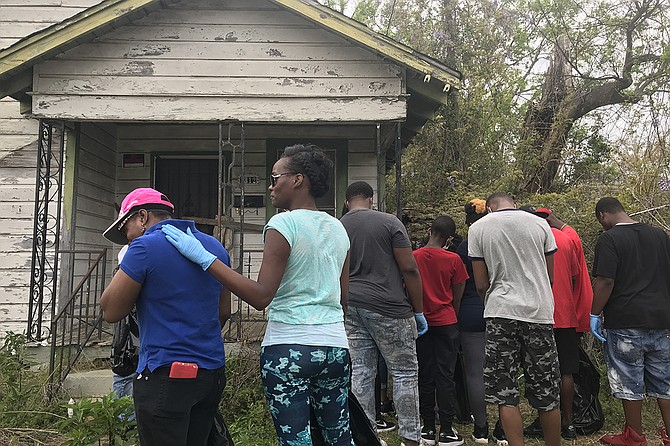 JACKSON — Sylvester Richard, 34, pulled up to Deer Park Street on Saturday, March 24, in a burgundy Chevy Tahoe sitting on 30-inch rims. He was at least an hour late, but seemingly not in a rush. He stopped to fist bump folks sitting outside of what looked like an abandoned building, but actually served as a makeshift pool hall. People danced on the corner outside of it and sipped from malt beers in 40-ounce bottles partially masked with paper bags.
"Here he comes, he's waving to his constituents," Richard's cousin Tetrina Blalock said as he got closer to her and the rest of their family and friends.
As Richard walked toward a blue tent set up in a dusty empty lot in the middle of the block where his family had gathered, everyone applauded as Blalock had encouraged everyone to do, as she made fun of him for rolling up like a celebrity.
The family had come together to do a neighborhood clean-up throughout the streets near the 1300 block of Deer Park Street, where Jackson police shot Richard's brother, Lee Edward Bonner, perhaps a dozen times about a month ago. Bonner was known for doing neighborhood cleanups and encouraging people around him to care about where they lived.
On Feb. 21, two plain-clothes detectives pursued Bonner and another man, whom JPD did not capture, in what police called a narcotics investigation. After a foot chase that led to an abandoned house on Deer Park Street with an overgrown yard, police say Bonner pulled put a gun and fired at the officers at least once, so they returned fire. Bonner died days later from injuries sustained during that shooting.
The family does not necessarily contest Bonner may have pulled a gun out, but they do see his death as "overkill." Richard told the Jackson Free Press his brother's left eye was gone when he made it to the hospital and that Bonner had been shot twice in the head, twice in the back, once in the left arm bursting the main artery there, twice in both sides, two times in the pelvis and twice more in the leg.
"It didn't take that many shots—he wasn't nothing but 130 pounds," Richard told the Jackson Free Press. "Nobody deserves that, they could have shot him in the leg, arm or anything. ... It's like they came with the intention to do that."
Richard's words are almost identical to what the grandmother of Stephon Clark, a 22-year-old black man Sacramento, Calif., police shot 20 times in her backyard on March 18 because they thought he had a gun, although it turned out to be a cell phone.
"They didn't have to kill him like that, they didn't have to shoot him so many times," Sequita Thompson said Monday about Clark at a press conference in Sacramento. She also believes they could have aimed for an arm or a leg, or used a Taser for instance.
In Clark's case, his community has been protesting on his behalf, even shutting down an interstate.
But, in Jackson, no one has taken to the streets for any of the last seven officer-involved shootings since Mayor Chokwe A. Lumumba took office in July 2017 with none of the officers involved identified to date. Bonner's brother wants police reform, but also for the community to come together and demand change—and more answers from JPD.
'I Know My Brother'
Richard looked out over Deer Park Street, which serves as a border of the west Jackson community he grew up in, just a stone's throw away from Jackson State University. He pointed out empty lots where more homes used to stand, and he reminisced about the corner store that now has wooden planks across the windows.
Richard sipped a grape Faygo that he was careful to throw into the trash when he finished, instead of casting it among the overwhelming litter that peppered the neighborhood. Richard reflected about the police harassing him and his brothers even when they were young—decades before Richard, Bonner and the brother in between them spent any time in jail.
Bonner had been out of jail for at least 10 months without violating his parole and it seemed that Bonner had been determined to stay out for good this time, Richard said.
"I know my brother—he tried," Richard said. "The way (the police) came at him...it was something very personal."
Blalock has also told the Jackson Free Press that she believes her cousin's shooting was personal. Richard and Blalock have both also said that Bonner had previously filed complaints against the officers who shot him, but a JFP records request to the JPD turned up no such documents. Still, Richard contends that the detectives were in Deer Park on Feb. 21 to be bothersome, not for a narcotics investigation.
"They ain't find no drugs on him, at all period," Richard said.
Richard also takes issue with the way JPD was quick to release that his brother was a convicted felon. Having a criminal record himself, Richard does not see being a good person and a convicted felon as mutually exclusive.
"You look at a (whole) person, you just don't view them from their background," Richard said. "You don't know what a person does for the community."
Stepping Up
Less than 200 feet from the place where Bonner had been shot, a blue T-shirt was cloaked around the sign as if it moonlighted as a mannequin. On the shirt, screen-printed white doves flittered above Bonner in a blue fitted cap with the brim to the rear. Above the image on the shirt reads "Justice for Lee Bonner."
Family and friends gathered in that yard to pray before the cleanup, and many had on various T-shirts with Bonner's picture pressed onto them. As they bowed their heads, surrounding a shrine with white candles and a wooden cross with a blue bandana tied around it, the remnants of a blue foil balloon in the tree branches crackled in the wind. It had gotten caught during the balloon release and candlelight vigil the family had hosted the week Bonner had passed. Bonner's godmother stepped out of the prayer circle as she began to cry.
JPD's silence on the shooting compounds this community's and family's grief. Mayor Chokwe A. Lumumba put out a statement Tuesday about developing a task force to review how JPD releases names and the timeframe in which that happens in efforts to examine the "longstanding practice of not releasing the names of officers involved in shootings," the statement reads.
A precinct meeting at JPD headquarters held an hour after that statement came out drove home the fact that JPD does not believe in releasing names of officers who shoot civilians because they fear retaliation, with citizens at the meeting agreeing wholeheartedly. Officers encouraged attendees to speak at the City Council meeting later that night to voice their concerns—even though the matter was not on the council's agenda.
Nevertheless, the Bonner family has not been idle. Blalock spoke on behalf of the family at a Jackson City Council meeting at the end of February, holding city officials' feet to the fire and demanding an independent investigation and more details. She hopes citizens can come together the way many did for the "March for Our Lives" rally that took place the morning of the Bonner-family cleanup.
"If black people could organize like that, boy...," Blalock said before trailing off.
Richard has his demands ready, too. He wants JPD to use body cameras, and he does not believe in JPD's protocol of placing officers who shoot civilians on administrative leave because he sees it as a paid vacation. And like his cousin, he wants the community to step it up, even as far as protesting; otherwise the same things will go on, he says.
Although Richard said he often keeps to himself these days, he has not given up on the idea that they may one day get justice for his oldest brother. "I think with him being a convicted felon, they didn't think we were going to step up like this," he says.
Email city reporter Ko Bragg at [email protected]. Read more at jfp.ms/JPDshootings.
Support our reporting -- Follow the MFP.