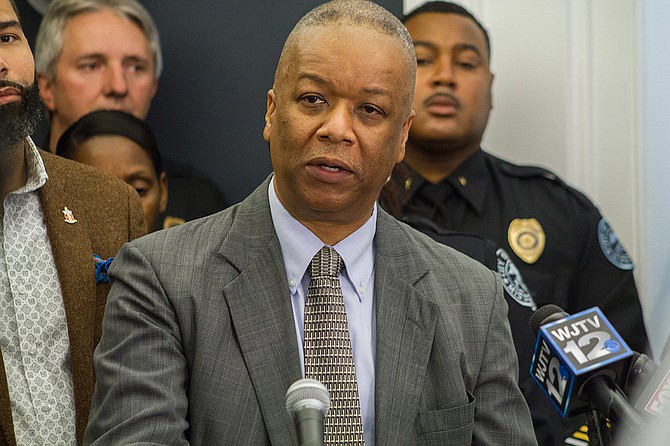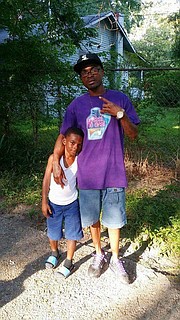 JACKSON — Lately Tetrina Blalock has been reconnecting with family members she has not seen in a while. Losing her cousin brought them together. Jackson Police Department officers shot Lee Edward Bonner on Feb. 21, and he died from his injuries two days later at the age of 37, not long before his first grandchild would be born.
Blalock thinks police shot her cousin between eight and 17 times, but she cannot know for sure because of what she calls JPD's "big cloak of secrecy."
JPD has not released the names of the two officers involved in the Bonner shooting, or any of the others involved in at least six other officer-involved shootings since July 2017. Blalock found out with the rest of the people in Jackson City Council chambers at the Feb. 27 meeting that the Mississippi Bureau of Investigations had stepped in to oversee her cousin's case.
Blalock says she is still getting the runaround as far as case numbers, an update of the investigation or a contact person. She has not received any condolences either, she said.
It does not sit well with Blalock that before JPD even released Bonner's name, it had told the public he had allegedly fired his handgun at officers and was a convicted felon. In the officer-involved shooting in January that killed Crystalline Barnes, 21, in her car, JPD sent out an apparent mugshot with the details of the incident. Mayor Chokwe A. Lumumba halted this practice with an executive order on Feb. 26.
"I knew Ms. Barnes in passing," Blalock told the Jackson Free Press. "I never thought that after what happened to her, it would turn around and happen to a relative of mine. ... You never think it's going to be that personal."
Blalock recalled a time when she and Bonner were younger, when he protected her from bullies—back when she had more trust in police. Now raising a 14-year-old boy, she tells him to keep his hands on the steering wheel at "10 and two" during a traffic stop to avoid getting shot.
"It shouldn't be that every time you see a police officer, your heart skips a beat, or you hold your breath because you don't know what's going to happen," Blalock told the Jackson Free Press.
Blalock does not hate police, and she has not lost hope in Jackson, but she does want change, transparency about JPD's use-of-force policy and the specifics of her cousin's case. Moreover, Blalock does not want another family to go through the same ordeal, and she promises not to rest until she gets clarity and justice.
"To not have answers hurts even more," Blalock said.
Protocols Revealed
Jackson's use-of-force policy dates back to 2004 establishes guidelines and protocol for both deadly and non-deadly responses to arrest or control someone.
The policy, which a city council member provided to the Jackson Free Press, instructs officers to demonstrate "sensitivity, sound judgment, and knowledge of the law," and to only use the amount of force necessary to apprehend someone.
In making a misdemeanor arrest, police are not supposed to employ deadly force, nor is it to be used for anyone unarmed, not resisting or "merely fleeing" from the officer. In a felony arrest, officers may use deadly force if they believe it will save their own lives or that of citizens, or if the suspect is a fleeing felon presenting an "imminent threat of death or serious bodily harm," the policy says.
"'I was in fear for my life ...,'" Blalock said of a common response officers say after shooting civilians. "It's like those seven words magically put a shield around you," Blalock said in the interview.
Document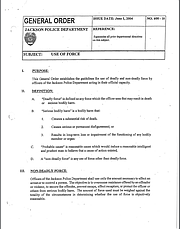 Police in Jackson are barred from shooting into crowds, firing from a moving vehicle and shooting toward a driver—except if an officer or "innocent citizens'" are in danger. They may not shoot at tires, either. In January, Jackson police officers fired into Barnes' car after saying she drove toward two officers at the scene.
Officers who shoot civilians attend stress counseling and a psychiatric/psychological evaluation, the results of which are sent to the police chief before he allows an officer to return to the line of duty. Interim Chief of Police Anthony Moore tweaked this policy. At a city council meeting on Feb. 27, the chief said officers now will not return until after a grand jury reaches a decision—a process that could take at least a year.
"They want the sensationalization of it to die down," Blalock said in response. "Once your nerves are no longer raw...."
The officer also has to debrief with JPD's Employee Assistance Program counselor within 48 hours of the incident so that he or she can confidentially disclose any moral, ethical or psychological after-effects.
During administrative leave after a shooting of a civilian, JPD's policy directs the officer involved to keep quiet about the incident unless discussing it with his or her attorney, investigators handling the case, "chosen clergy," immediate family members or his or her psychologist.
The officer also has to be available to give department interviews and statements regarding the shooting.
JPD has the wide authority to perform "any other action deemed appropriate" to protect officers, the department or the City, as the use-of-force order reads.
In this case, their actions have involved a code of silence, although the U.S. Department of Justice in 2015 recommended that departments release names of officers quickly to keep the public trust.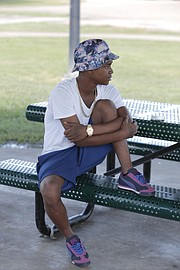 A full archive of the JFP's "Preventing Violence" series, supported by grants from the Solutions Journalism Network. Photo of Zeakyy Harrington by Imani Khayyam.
Phillip Atiba Goff, co-founder and president of the Center for Policing Equity at John Jay College of Criminal Justice in New York, told the Jackson Free Press that there is no consistent national standard for the protocol on releasing names. However, he also said that releasing video and information can build trust in communities as opposed to a policy of blocking information. Moore has said JPD does not have body cams or the funding for them.
The yin to that yang, as Goff put it, is that police departments also have a duty to protect their officers' identities especially since the nation has seen a spike in targeted, deadly ambushes of law enforcement.
"Finding a balance between officer privacy and officer protections after such a tragic and touchstone incident, and community trust is a difficult one, but those are at least the issues that departments should be balancing," Goff said.
Police Reform Stalling?
There is not an "off-the-shelf" prescription for the best use-of-force policy, Goff said, but he is sure that public outcry after such incidents can help communities achieve the right balance, even as national attention has shifted away. Goff is concerned about policing reform stalling out.
"America is supposed to be an engine for innovation; let's be an engine for innovation in the area of justice," he added. "And that can't happen without a sustained conversation."
Here in Jackson, Blalock is concerned, too, and hopes people see the larger picture. That is why voting matters to her. Jacksonians put Mayor Lumumba in office, who appointed Chief Moore—"the one who doesn't say anything," she said.
"I know the mayor said he's a man of few words, but no, he's mute," Blalock added about the chief.
Blalock does not want others to live with a slain family member constantly in the back of their minds like she does, or the paranoia of what could happen in a routine interaction with an officer. Not long before ending the phone interview with the JFP, Blalock looked in her rearview mirror.
"It's a police officer behind me right now, which is so interesting," she said.
Email city reporter Ko Bragg at [email protected] Find her on twitter @keaux_
Support our reporting -- Follow the MFP.