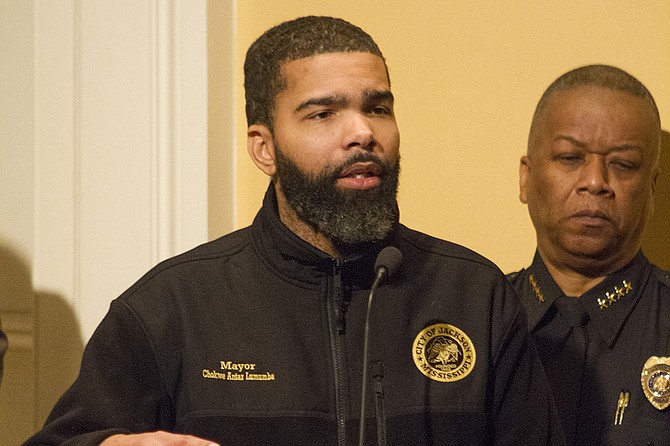 JACKSON — With two deadly officer-involved shootings in the first two months of 2018, public scrutiny has grown over the Jackson Police Department's use-of-force policy and its decision to withhold officers' names until they complete an internal investigation, a criminal investigation and a Hinds County grand jury returns an indictment—a process that can take at least a year. This Mississippi Burueau of Investigations now handles these cases as well.
The mayor created an officer-identification task force to develop City policy around how JPD will deal with the release of officers' names and the time frame in which that takes palce.
In the meantime, individual officers who shoot civilians are not held accountable to the public despite citizens' tax-dollars funding salaries for them on paid leave following these incidents. The lack of transparency has also translated into varying reports on the sheer number of times JPD officers have shot at civilians.
Police told the Jackson Free Press Wednesday, Feb. 28 that there had been five officer-involved shootings since Mayor Chokwe A. Lumumba took office in July 2017. The Jackson Free Press counted seven in that timeframe and nine total officer-involved shootings to date under mayor Lumumba based on press briefings, local media reports and the JPD Twitter feed.
This post will be updated regularly to reflect any newly found information, including the names of officers involved, should they become available.
June 2018
Unidentified Person
In a tweet, JPD released the following information: "#JPD is at the scene of an officer-involved shooting that occurred in 100 block of Calhoun St.," the tweet reads. "MBI is currently at the scene conducting the investigation. No additional info available."
Now that the Mississippi Bureau of Investigations handles these cases in Jackson, Sgt. Holmes told the Jackson Free Press his hands are tied in terms of providing the information reporters used to get about these incidents. MBI does not have to divulge information about open or closed cases. Read more here.
May 2018
Elliot Reed, 30 (deceased) and Chauncy Reed, 26
In a statement, JPD said police responded to a shooting involving an officer that occurred in the 900 block of Cooper Road at the Valero.
JPD said shortly after 1:00am this morning (Wednesday, May 9), an officer encountered the driver and passenger of a white SUV following a traffic stop.
"Following that encounter, shots were fired, from both the suspects and the officer," a statement reads.

One suspect, Elliot Reed, was critically injured and transported to a local hospital and he later died. The second, 26-year-old Chauncy Reed, was taken into custody at the scene. The officer did not suffer any serious injuries during the incident.
Chauncy Reed has been charged with Aggravated Assault on a Police Officer and Capital Murder.
The officer's name has not been released.
This investigation is being conducted by the Mississippi Bureau of Investigation.
February 2018
Lee Edward Bonner, 37
Bonner died as a result of an officer-involved shooting that took place on Feb. 21 on the 1300 block of Deer Park Street at about 3 p.m. A narcotics investigation resulted in an alleged shootout. Officers pursued two men originally, but they lost sight of one in a wooded area behind an abandoned house, police said.
Jackson Police Department spokesman Sgt. Roderick Holmes said narcotics officers noticed the second individual, Bonner, displayed a weapon, and that there was a shot and officers returned fire. Bonner later died as a result of his injuries.
At the scene, Holmes did not reveal if officers uncovered narcotics. He also said officers were not in standard police uniform because they were detectives.
The two officers involved are on paid administrative leave pending investigation, and their identities have not been released.
January 2018
Crystalline Barnes, 21
Barnes died on Jan. 27 after an early-morning traffic stop in response to a report that she may have forced another motorist off the roadway.
Jackson Police Department spokesman Roderick Holmes said the officer that made the stop in the 1400 block of Fernwood Drive called an additional unit for assistance. Barnes allegedly pulled away and did a U-turn "to evade the responding unit," Holmes said in a statement.
"(Barnes) later stops and began driving in reverse toward that officer who had exited the patrol vehicle just prior," the statement reads. "The officer then discharged their weapon into the vehicle before safely jumping out of its path and the suspect (sic) vehicle collided with the patrol vehicle."
Then Holmes said Barnes drove toward the other officer, who also discharged his or her weapon into the vehicle. That's when Barnes collided with a nearby utility pole just off the roadway.
JPD did not confirm whether Barnes died of a gunshot or from the collision soon afterward, saying only that she was "fatally wounded." JPD implied that the deceased young woman may have a criminal history—they released what looked like a mugshot in the accompanying press releases to media. Mayor Lumumba signed an executive order on Feb. 26 to stop JPD from disseminating mugshots of those shot by police.
Both officers are on administrative leave with pay as the internal and criminal investigation unfold. Police have not released their identities.
Reginald Harper, 26
On Jan. 4 police shot at Harper on the 3100 block of Terry Road near the Sunshine Food Mart . An off-duty officer was at the Popeye's nearby when staff told him there was a black man inside being unruly and disruptive. The officer located him near Sunshine and called for backup.
"The suspect could be heard verbally threatening to do harm to the officers," Holmes wrote in a statement to media. Holmes said the suspect, Harper, retrieved "what appeared to be a silver handgun from his waistband and pointed the weapon at officers."
An officer discharged his weapon twice before Harper fled. A vehicle in the area got hit in the crossfire, but no one was hurt.
On Jan. 6 Harper was found and arrested for attempted aggravated assault on a police officer. It is unclear the type of injuries, if any, he sustained in the incident. It is also unknown who the officers in the incident were, or whether or not they are on paid leave.
November 2017
Matthew Tate, 20, and Christopher Harvey, 24
On Nov. 24, 2017, JPD reported an incident that took place at a traffic stop on the 3000 block of Bienville Drive. Shortly after 3 a.m., police said as an officer approached the vehicle, the passenger "was exhibiting suspicious behavior" and later produced a handgun that he pointed at the officer.
The officer, who was not injured, fired shots at the car before it sped away. When police found Tate, the alleged shooter, walking in south Jackson, he appeared to have sustained a head injury.
Harvey, the driver, and Tate were both charged with aggravated assault on a police officer.
The identity of the officer and whether or not he or she is on paid leave is unknown.
Unidentified man with knife
In the first of two officer-involved shootings on Nov. 15, 2017, a female officer shot and killed a man who allegedly approached her with a 6-inch knife at about 5 p.m. She fired at least one shot into the man's chest.
The incident apparently happened on Mayes Street near Lampton Avenue.
The man, whose name has not been released to the public, died as a result of the shooting. The unnamed officer was not injured, and she was placed on administrative leave with pay.
Unidentified black male, 23
In the second officer-involved shooting on Nov. 15, 2017, a black man was shot in the leg in the Presidential Hills subdivision. Police say he did not stop at an administrative checkpoint. Officers further down the road apparently approached his vehicle, and he hit the gas, almost hitting them.
The man eventually stopped the car once he ended up driving into someone's yard a couple of streets over. Officers pursued him on foot, and when they found him in someone's backyard, they saw a black object in his hand that they believed to be a weapon. Despite verbal commands to drop it, police said the suspect ran and turned to point the black object at officers after which officers heard a shot. One officer returned fire, hitting the man in the leg. He apparently tried to continue running, but stopped because of his injuries.
Holmes said the suspect would be charged with aggravated assault on a police officer. It is unclear if police recovered the black object the suspect had in his hand, though Holmes said they found a gun in his car.
It is not clear if the officer who fired the shot was put on administrative leave with pay, nor has JPD released his or her name.
October 2017
On Oct. 27, 2017, JPD tweeted that police were on the scene of an officer-involved shooting at Memphis Street and Fontaine Avenue, where a black male was shot, but was in stable condition.
Local media reported that a 23-year-old man broke away from a group officers had approached. He started to run, and officers said he pulled out a gun. The police fired, striking the fleeing man in the side and back.
The officers were not injured, and two were placed on administrative leave with pay. Their names have not been released.
Email city reporter Ko Bragg at [email protected].
Support our reporting -- Follow the MFP.