Attorneys for the family of Crystalline Barnes, killed by Jackson police on Jan. 27, 2018, are demanding to know the names of officers who shot Jacksonians in incidents over the last several months. They believe the same officer, whom they have identified as Rakasha Adams, may have shot and killed a man on Nov. 15, 2017, as well as Barnes earlier this year.
JPD, to date, has cited its long-time practice of not naming cops who fire on residents. The department refuses to reveal names of officers involved in a growing number of officer-involved shootings in Jackson. The Jackson Free Press has not independently confirmed that Adams was involved in either shooting, but has also been denied the names of the officers.
Baltimore-based attorney Jason Downs of Downs Collins P.A. and Mississippi attorney Carlos Moore filed a petition on May 21 against the City of Jackson to retrieve the names of the two Jackson Police Department officers who were involved in the shooting of Crystalline Barnes, 21, in January, so that they can proceed with an excessive-force claim against JPD.
In a petition written on behalf of Crystalline Barnes' 2-year-old son, the attorneys urge the U.S. District Court for the Southern District of Mississippi to grant a hearing in which someone from JPD would release the names in question.
This comes a week after a press conference outside City Hall where Downs said that his law firm would be taking legal action against the City of Jackson should they not release the names of the officers who allegedly shot and killed Barnes. Following an independent investigation, Downs identified one of the officers in the Barnes shooting as Adams, and his May 21 petition says she was likely also involved in the November death. 


'Easily Angered' Officer?
Downs and Moore do not believe Adams received a proper mental evaluation after the November officer-involved shooting in which she allegedly shot an unidentified man in the chest when he brandished a knife.
"Upon information and belief, Jane Doe never received appropriate psychological screening or an adequate fitness for duty evaluation prior to resuming Jane Doe's duties as an officer for the JPD after the November 15 shooting," the court documents read. "Upon information and belief, Jane Doe is Officer Rakasha Adams."
Per JPD protocol, any officer who uses deadly force has to attend stress counseling and a psychiatric/psychological evaluation, the results of which are sent to the police chief before he allows an officer to return to the line of duty. Under Interim Chief of Police Anthony Moore, who replaced Lee Vance early this year, this policy is slightly different. At a city council meeting on Feb. 27, Moore said officers now will not return until after a grand jury reaches a decision—a process that could take at least a year.
Document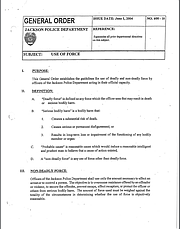 The officer also has to debrief with JPD's Employee Assistance Program counselor within 48 hours of the incident so that he or she can confidentially disclose any moral, ethical or psychological after-effects.
At the press conference on May 14, Downs stood by the Barnes family and Crystalline's two young children and told reporters that an independent investigation showed that Officer Adams had admitted in writing to having difficulty concentrating and that she is easily irritated and angered.
"We have an officer that admits to being easily angered walking the streets of Jackson armed with a gun," Downs said. "We believe that these factors play a role in Officer Adams' unjustified decision to shoot at Crystalline.
Different Accounts of Barnes' Death
The court documents detail a slightly different account of what happened to Barnes than what JPD released in January. Downs and Moore say Officer Adams began following Barnes on Jan. 27 as Barnes drove through Jackson. Adams had apparently been on duty near the intersection of Fernwood Drive and Overstreet Avenue as was a male officer who has not yet been formally identified.
"In contrast to the actions of reasonable police officers, Officer Adams and John Doe exited their vehicles and purportedly attempted to initiate a traffic stop of Ms. Barnes," the court document reads. Both parties agree that Barnes was pulled over in a traffic stop.
However, Downs and Moore allege that Adams and the other male officer fired, collectively, around 18 shots through the side doors and back window of Barnes' car as she drove forward. No gunshots went through the front of her vehicle, but hit the young woman once in the back of the head and once in the back, the attorneys say. Barnes collided head-on and crashed into a pole after being shot.
Jackson Police Department spokesman Sgt. Roderick Holmes said in January that the officer who made the stop in the 1400 block of Fernwood Drive called an additional unit for assistance. Barnes allegedly pulled away and did a U-turn "to evade the responding unit," Holmes said in a statement then.
"(Barnes) later stops and began driving in reverse toward that officer who had exited the patrol vehicle just prior," the statement reads. "The officer then discharged their weapon into the vehicle before safely jumping out of its path and the suspect's vehicle collided with the patrol vehicle."
Then Holmes said Barnes drove toward the other officer, who also discharged his or her weapon into the vehicle. That's when Barnes collided with a nearby utility pole just off the roadway.
Minimal Public Information Provided
The petition says Barnes' attorneys filed a public-records request on April 12, 2018, for any and all 911 calls, documents, footage including those from body cameras, police reports, and virtually any media or documentation involving the Barnes death. In return, JPD provided them a one-page incident report without including the name of either officer in the shooting.
Four days later, the attorneys filed another public-records request for the incident report related to the Nov. 15 shooting in which they accuse Adams of being involved. Again, they received a one-page incident report that did not name the officer involved in that shooting.
Barnes and Downs want the names of the officers in order to go through with an excessive force claim that includes "negligent supervision of Jane Doe for JPD's failure to properly provide psychological counseling and fitness for duty evaluations for Jane Doe." The attorneys wrote in the petition that a delay in the release of these names would be a delay in justice.
The Jackson Police Department currently has no policy in place for how it handles the identification of officers who shoot people, just a longstanding practice of never releasing the names or the status of the investigations. The Mississippi Bureau of Investigations stepped in to handle officer-involved shootings in the Jackson metro as of February.
Mayor Chokwe Antar Lumumba issued an executive order in March to develop a task force to create city policy on whether or not the City will release officers' names after an officer-involved shooting in Jackson. There have been eight such shootings since Lumumba took office in July 2017 with three lethal ones in 2018 alone.
The task force has met four times over eight weeks and has not reached conclusions to date.
Email city reporter Ko Bragg at [email protected]. Read more coverage at jfp.ms/policeshootings.
Support our reporting -- Follow the MFP.