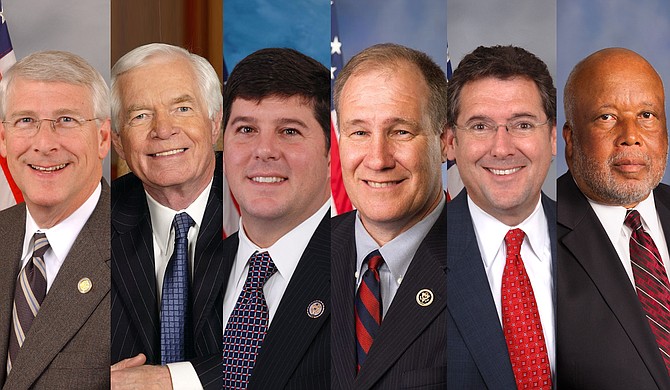 Gun regulations, laws and loopholes are back in headlines after a gunman huddled in a high-rise Las Vegas hotel room packed with high-powered weapons and shot hundreds of festival-goers down below, killing 59 of them. The gun industry holds one of the strongest lobbying presences in Washington, D.C., particularly in the White House. In the 2016 election, the National Rifle Association spent more than $54 million, the Center for Responsive Politics data show, including millions to support Donald Trump and to run negative ads against his Democratic challenger Hillary Clinton.
Mississippi lawmakers, on the whole, traditionally support gun rights with minimum regulations, and benefit from contributions from the NRA and other pro-gun organizations. In the wake of the Las Vegas massacre, the Jackson Free Press assembled details on the gun-related legislation that Mississippi lawmakers in Washington have supported or co-sponsored, as well as how much gun-rights groups have donated to them.
Sen. Roger Wicker (R)
For the 2018 election cycle so far, Wicker is ranked as the second-highest recipient of gun-lobby funds in the U.S. Senate, totaling $4,700, the Center for Responsive Politics report shows. From 2011 to 2016, Wicker received more than $12,000 from gun-rights gun rights PACs and individual campaign contributions. While the former representative-turned-senator does not rank at the top of donor lists for gun rights PACs, he is the only Mississippi congressional lawmaker who received a donation from the National Rifle Association of America Political Victory Fund in 2017 for $1,000.
On his website, Wicker notes that he opposes gun restrictions. "I do not feel more gun control laws are the answer to the problems confronting our nation," his website says. This year alone, Wicker supported the repeal of a controversial Obama-era gun-control regulation, which reported certain individuals to the National Instant Criminal Background Check System. Trump signed that repeal in February. Wicker also co-sponsored legislation with Sen. Thad Cochran, R-Miss., to extend concealed-carry permit privileges across state lines.
Sen. Thad Cochran (R)
From 2013 to 2018, Cochran received $35,500 from gun-rights PACs and individuals, the Center for Responsive Politics data show. Cochran is one of seven co-sponsors of the Firearm Act of 2017, which would prohibit the federal government from requiring race or ethnicity to be disclosed in connection with the transfer of a firearm. The measure has not moved from the judiciary committee since it was referred in July. Cochran also co-sponsored the Constitutional Concealed Carry Reciprocity Act of 2017. The legislation would allow men and women with conceal-carry licenses to carry concealed weapons in states with similar statutes. The legislation has support from several senators, but it has not moved out of the Senate Judiciary Committee since February. House Republicans support a similar version of the bill.
Both Cochran and Wicker voted against expanding background checks on all firearms back in 2015, after a measure came before the Senate following the mass shooting in San Bernardino, Calif. Both Republicans issued statements saying they would not want to vote in favor of measures that they felt were infringing on citizens' Second Amendment rights.
Today, about one in five gun owners obtained a firearm without a background check in the last two years, a new survey from Harvard and Northeastern University researchers found.
Rep. Steven Palazzo (R)
Palazzo made headlines in January 2016 when he introduced a resolution to censure then-President Barack Obama's executive actions on gun control, which expanded background checks. Palazzo said Obama's actions "to take away the Second Amendment rights of law-abiding citizens is just the latest, if not most egregious, violation of the separation of powers found in the United States Constitution."
The Gulf Coast lawmaker has co-sponsored more pieces of gun-rights legislation than his fellow Mississippi Republicans in the House this year, including the Lawful Purpose and Self Defense Act, which revises various gun laws "that interfere with the right of the people to obtain and use firearms for all lawful purposes," the bill says. Palazzo has also co-sponsored a measure that would make it easier to transport firearms across state lines.
In January, U.S. Rep. Blake Farenthold, R-Texas, authored the "Protect our Military Families' 2nd Amendment Rights Act," which Palazzo co-sponsored. The measure would allow the spouse of an armed-forces member to have the "same rights regarding the receipt of firearms at the location of any duty station of the member." Palazzo also joined several Republicans to co-sponsor legislation to ease regulations and taxes on firearm silencers. From 2015 to 2016, Palazzo received $10,500 from gun-rights individuals and PACS, the Center for Responsive politics data show.
Rep. Trent Kelly (R)
Remember that congressional baseball game shooting in June? Rep. Kelly was the initial target of the shooter, who came up along the third baseline of the diamond, but missed the Mississippi congressman and hit five others, Kelly told The Commercial Dispatch. Kelly, who has only been in the House for two years, received more than $6,000 in donations from gun-rights individuals and PACs in 2016, when he was re-elected. The NRA Institute for Legislative Action endorsed Kelly during his first election bid, when he ran to fill former Rep. Alan Nunnelee's spot in 2015.
The Tupelo native has not co-sponsored many gun bills this term, but he is a co-sponsor on the wildly popular Concealed Carry Reciprocity Act of 2017, which has 212 co-sponsors to date in the House version. The legislation allows a person who is licensed to conceal and carry in their own state to conceal-carry when they enter an other state with similar statutes. Kelly also co-sponsored, along with over 100 Republicans in the House, a bill that would ease taxes and regulations on firearm silencers.
Rep. Gregg Harper (R)
Congressman Harper has signed on to the most popular gun legislation in the House, the Concealed Carry Reciprocity Act, as well as co-sponsored the interstate transportation of firearms bill that was referred to a subcommittee in February and has not moved since then.
Beyond that, the Pearl native has appeared to steer clear of too much involvement with Second Amendment legislation. He is not a co-sponsor on this year's silencer legislation. In the 2015 to 2016 election cycle, Harper received only $2,000 from gun-rights PACs, the Center for Responsive Politics numbers show.
Rep. Bennie Thompson (D)
Mississippi's only Democratic Congressmen has not sponsored or co-sponsored any gun-related legislation this term, but the long-time representative advocated for and co-sponsored bi-partisan gun-control reform.
The Public Safety and Second Amendment Rights Protection Act of 2015, sponsored by New York Republican Rep. Peter King, expands background checks and the coordination of data on gun owners. Thompson still advocates for passing the measure, which has not moved out of the Homeland Security Committee since 2015.
"The massacre which occurred in Las Vegas is yet another incident that would have been avoided if there were common-sense gun control policies in place," Thompson said in a statement. "A comprehensive approach to address gun violence should be taken to protect the freedom and safety of all Americans. This starts with regulating bump stocks to prevent semiautomatic weapons to act as if they were automatic. But, our work will not and cannot stop there. Republicans and Democrats must come together to pass the bipartisan King-Thompson legislation to strengthen background checks that will save countless lives."
By the Numbers: Mississippi and Guns
Mississippi Church Protection Act: Despite federal efforts to expand gun rights nationally, Mississippi has taken state law into its own hands—widely expanding carry rights in the 2016 legislative session. House Bill 786 opened up carry options for men and women in the state who do not have licenses. In Mississippi, it is legal to carry a loaded or unloaded pistol or revolver on your person in Mississippi in a sheath, belt holster, shoulder holster, purse, handbag or briefcase or a fully enclosed bag if the person is not engaged in criminal activity.
Additionally, the legislation allows churches to form armed security forces that are held immune for civil liability if they resist any unlawful attempt by someone to commit a crime of violence defined in state law (which is anything from attempted murder to carjacking or robbery, in some instances). 
The NRA, which backed the legislation fully, praised Gov. Phil Bryant for signing into law the broad measure.
Firearm and Homicide Deaths: Mississippi is ranked second highest nationally—tied with Alabama and Wyoming—for firearm mortality. In 2015, the Centers for Disease Control reported 589 firearm deaths in the state. Mississippi's rate of firearm deaths, 19.6, is almost double the national rate. Mississippi also has the second-highest homicide rate in the country, second only to Louisiana. The CDC reported 325 homicides in the state in 2015.
What's up in Congress now?
President Donald Trump personally received more than $900,000 in funds from gun-rights lobbyists in 2016, as well as benefited from the over $54 million investment from the National Rifle Association, which endorsed Trump in the 2016 election and ran opposition advertisements about Hillary Clinton. Trump rolled back the Obama administration's expansion of background checks for those that the Social Security Administration reported were mentally impaired recipients in February. Obama had ordered that those individuals be included in a national background-check database.
After the Las Vegas tragedy, the NRA and some Republicans said they would support some regulation of the same device the shooter in Las Vegas, who killed 59 people attending a country music concert, used to make his weapon fire faster. Stephen Paddock used a bump stock, which is a piece of plastic or metal that when attached to his semiautomatic rifle allowed the weapon to fire more rounds in less time than a typical semiautomatic weapon. "Devices designed to allow semi-automatic rifles to function like fully automatic rifles should be subject to additional regulations," a statement from the NRA says.
The NRA has put archived scorecards, which grade lawmakers on their gun stances, behind a pay-wall for members only.
Mississippi lawmakers who responded to inquiries about bump-stock legislation seem to be open to the idea. "I continue to be shocked and saddened by the horrible scope of the killing and injuries perpetrated in Las Vegas," Sen. Cochran said in a statement. "As we address the aftermath of this violence, I will carefully review information and proposals regarding how best to respond to this tragic event."
Previously, both Mississippi Sens. Cochran and Wicker supported Republican gun-control proposals in 2016 that focused on people on terror watch lists purchasing weapons. The Senate debated different gun control measures after the Pulse Nightclub shooting in Orlando, Fla., last year. The senators believed suspected terrorists should not have access to firearms but also voted against expanding background checks during that same debate.
Before the Vegas shooting, legislation to ease regulations on silencers, which reduce noise when guns are fired, garnered a lot of Republican support in the House. Both Reps. Palazzo and Kelly co-sponsored the Hearing Protection Act of 2017, which eliminates the tax on firearm silencers. But post-Vegas, Congress seems hesitant to act in either direction at this point—at least until the dust settles and the news cycle moves on.
Firearm Deaths in Mississippi:
589 The number of firearm deaths in 2015
2nd Highest national rate of firearm deaths
Source: Centers for Disease Control 2015 Data
Trace Data for Firearms from and found in Mississippi:
3,225 Firearms Recovered in Mississippi
4,563 Firearms Traced to Mississippi as a Source State
Source: Bureau of Alcohol, Tobacco, Firearms and Explosives 2016 Data
National Gun Owner Statistics:
3% of American adults own half of the guns in the U.S.
Source: The Guardian report on unpublished results of National Firearms Survey.
22% of gun owners in U.S. obtained a firearm in past two years without a background check
More stories by this author
Support our reporting -- Follow the MFP.