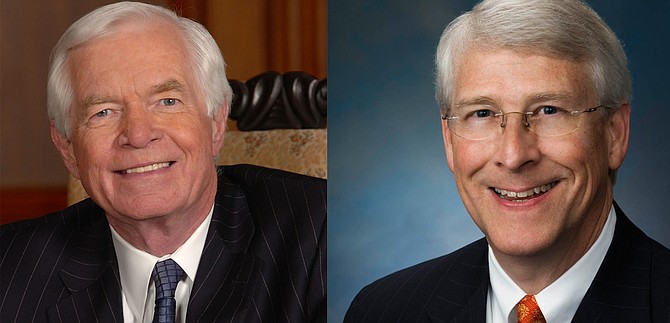 Only one day after a mass shooting in California left 14 people dead and 21 more injured, the U.S. Senate rejected a bill that would require background checks for people purchasing firearms. Mississippi Sens. Roger Wicker and Thad Cochran joined 48 fellow Republicans in voting against the amendment to a health-care bill.
The amendment was the same proposal the Senate rejected in 2013 after the mass killing of 20 children and six adults at Sandy Hook Elementary School in Newtown, Conn. Wicker and Cochran voted against that measure as well.
U.S. Sens. Joe Manchin, D-W.Va. and. Patrick Toomey, R-Pa., co-authored the measure, which requires background checks and lists those prohibited from buying firearms in the National Instant Criminal Background Check System. Currently, the checks are only required when licensed gun dealers sell firearms.
Thursday's vote was 50 to 48 against the amendment. Most Republican senators voted against the measure with the notable exception of former Republican presidential nominee Sen. John McCain, R-Arizona.
Both Mississippi senators have received high marks from the national gun lobby over the years. In 2014, the National Rifle Association endorsed Cochran's reelection bid and gave him a 100-percent rating. Wicker also received a 100-percent rating from the NRA in 2012.
The gun lobby has helped both Mississippi senators in their reelection bids. Through the current campaign cycle, Wicker received has received $21,300 in donations from gun-rights and manufacturer political-action committees, records from the Washington, D.C.-based Center for Responsive Politics show. For the 2014 campaign cycle, Cochran received $9,900 in funds from the NRA.
This is despite the fact that Mississippi is ranked third in the nation for gun-related deaths. U.S. Centers for Disease Control and Prevention data show that Mississippi's firearm mortality rate of 17.8 per 100,000 people trails only Alaska and Louisiana, respectively.
Cochran aide Chris Gallegos said in a statement: "Senator Cochran has concerns regarding the potential of such legislative proposals to infringe on the Second Amendment rights of law-abiding citizens."
Ryan Taylor, Wicker's communications director said in a statement: "Senator Wicker voted against that particular amendment yesterday for the same reasons that he voted against it in 2013. He believes it is a flawed approach that could have opened the door to a national gun registry. Senator Wicker has made it clear that he will not support any attempt to infringe or undermine the Constitution's Second Amendment protections."
The Senate also killed a rival plan by Sen. John Cornyn, R-Texas, that would have allowed the government to delay firearms sales to suspected terrorists for up to 72 hours. Under that proposal, the transaction could be halted permanently during that waiting period if federal officials persuade a judge to do so.
Senators voted 55-44 for Cornyn's proposal, but it needed 60 votes to pass—and like the Manchin-Toomey bill, it failed.
President Barack Obama remains dedicated to expanding gun control despite the Senate's inaction on Thursday.
"I'm going to talk about this on a regular basis. And I will politicize this. Because our inaction is a political decision that we're making," Obama said at a news conference. "Unless we change that political dynamic, we're not going to be able to make a big dent in this problem."
This story has been updated to include a response from Sen. Wicker's office. The Associated Press contributed to this report.
More stories by this author
Support our reporting -- Follow the MFP.