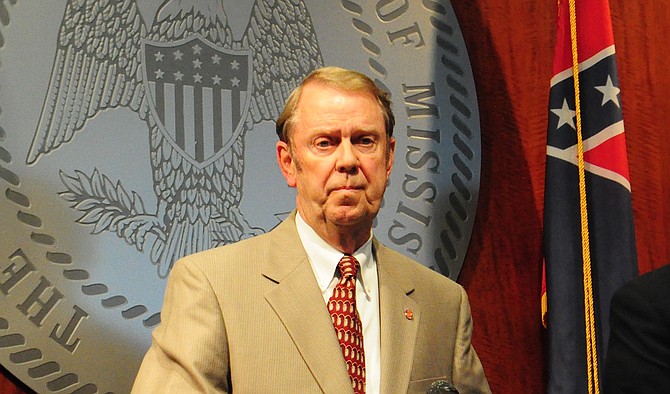 JACKSON — The U.S. House of Representatives made good on President Donald Trump's campaign promise of repealing and replacing the Affordable Care Act last week, but the legislation could have dire impacts for Mississippi, a Republican leader says.
The American Health Care Act of 2017 passed the House by four votes with many members admitting later to not reading the full bill or the Congressional Budget Office analyzing its impact. The bill, which Mississippi's three Republican congressmen voted to pass, would repeal several parts of the ACA and changes other parts of federal health- care law, including capping Medicaid spending.
These changes to "Obamacare" could have adverse impacts on seniors, who already pay more for insurance at a 3-to-1 ratio, those who have not reached age 65 in order to qualify for Medicare as well as millennials too old to be on their parents' insurance plan—not to mention people on Medicaid. Mississippi Insurance Commissioner Mike Chaney said the new plan will likely not work until lawmakers address the cost of health care and fix the Medicaid program.
"It's pretty simple. If we don't control the cost of health care, you're not going to do anything," Chaney said May 5. "... To me, all we've done is rearrange the chairs on the Titanic. It's still a sinking ship until we fix Medicaid."
About 88,483 Mississippians would lose their coverage from the Affordable Care Act Marketplace plans, but Chaney and advocates agree that Mississippians on Medicaid are likely to be most affected—in terms of coverage at least—by the repeal of Obamacare and its regulations.
Medicaid Meltdown
Mississippi has the highest Medicaid matching rate in the country, Kaiser Family Foundation data show. Chaney said that equals out to around 4 federal dollars to each state dollar. About a quarter of the state's population receives Medicaid benefits: 760,400 Mississippians, with about half of them children.
Both factors add up to bad news for Mississippians on Medicaid if Trump's plan to block-grant Medicaid funds takes root, Roy Mitchell, executive director at the Mississippi Health Advocacy Program, says. The House's health-care proposal would likely be based on 2016 spending levels for Medicaid funds, and Mississippi's spending level is low, despite our high match rate compared to other states expanding Medicaid while Mississippi did not, Mitchell says.
"It's hard to say how many could be kicked off (Medicaid) at this point, but 760,000 people ultimately will be impacted in some way because if you take that much money out of the program, you're either going to cut eligibility or services," Mitchell told the Jackson Free Press. "And we have such a fragile health care access system now that you can bet hospitals are going to close if you start tinkering with it to that degree."
Chaney told the Jackson Free Press that the House's repeal bill does not address a plan for those people who could lose health-insurance coverage from the impending changes to states' Medicaid programs. He said it was hard to guess how many people would come off the Medicaid rolls but did say the state needs the ability to change some of the Medicaid waivers and laws, which would fall under the governor's purview, not the insurance commissioner's.
The commissioner's department could take the risk-pool portal and add in additional companies that could offer plans with defined benefits, something not allowed under the ACA. These defined benefit plans could offer some coverage for Mississippians, and Chaney said he has companies "chomping at the bit" to offer this kind of coverage in the state.
A 'Pre-Existing' Silver Lining?
Back in 2009, insurers could deny a woman who was domestically abused health coverage in Mississippi. In the health-care world before the ACA, state policy or insurers themselves could determine what insurance companies were required to cover.
Chaney told the Free Press in 2009 that the state had only six mandated conditions companies had to cover—and domestic abuse was not one of them. The Legislature did not have to address the problem, however, because the implementation of the ACA meant all states and insurance companies operating in them were required to cover all Americans, regardless of pre-existing conditions like cancer, surgeries in pregnancy or mental-health conditions—to name a few.
The MacArthur Amendment, which the U.S. House approved last week, would give states the power to specify "the essential health benefits" that each insurer must cover in their state. Essentially, states could have free rein to return to pre-ACA low-level requirements, although the amendment attempts to curb this by prohibiting "gender rating" and "limiting access to coverage for individuals with preexisting conditions."
In Mississippi, that may not be the case, at least on this insurance commissioner's watch. Chaney said he changed the state's essential health benefits back in 2014 to include everything from maternity and newborn care to chronic disease management to mental-health and substance-abuse disorder services.
Chaney said he wrote the list by looking at the benefits the largest small group carriers in the state, BlueCross BlueShield and United Healthcare, offered.
"We took their essential health benefits because that included private plans and policies and that's what I used: they cover pregnancy, C-sections, postpartum depression under 'mental health parities' and domestic violence. ... I caught a lot of hell over doing that," he said.
Chaney has no plan to change that list of 10 essential health benefits, even if given the option to do so. This is good news for Mississippians who already have health insurance coverage or will be looking to be insured once Trump signs some form of the Obamacare repeal, but insurers could still bump prices—especially for seniors. Not to mention, Chaney may not hold the insurance-commissioner position forever.
Charging Seniors More
Insurance companies are already allowed to charge seniors more for health coverage at a ratio of three-to-one, so a senior might be paying $600 a month for an insurance plan that a young adult is paying $200 a month for. Under the AHCA, that ratio would rise to five-to-one, so that senior previously paying $600 a month might have to pay $1,000 for their same policy. Chaney said he is only OK with that new ratio as long as he has the flexibility to make it go up or down depending on what market rates are. If insurance companies do not adjust their lower rates, in our hypothetical the $200 a month rate available to younger people, older people will have to pay much higher prices.
"My concern is for the person who's 55 years old, and they've retired early in life, and they're on a fixed income, will they be able to afford the new rates?" Chaney said last week.
The ACA used money from the Medicare trust fund to give tax subsidies for low-income individuals with Marketplace plans, but under the AHCA those go away, a BBC side-by-side comparison of the plans shows, and turn into tax credits for middle class Americans. Chaney's concern is that the money leaving the Medicare trust fund does not seem to be taking care of people over the age of 65.
"The real issue is the money that leaves the Medicare trust fund that doesn't take care of the people over 65," Chaney said. "They are the ones that are the most vulnerable, they are the longer lifetime expectancy than we used to have, and they're the ones that get hurt the most."
The Senate will likely make several changes to the House's bill, if not scrap it and introduce their own bill altogether. Either way the legislation will likely look different by the time it reaches Trump's desk. But Chaney said he thinks the five-to-one ratio change, giving states the authority to dictate essential health benefits and chopping down and capping Medicaid funds will most likely stay in any proposal.
"It's got a long way to go," Chaney said of the bill.
Any changes Congress makes to the ACA will likely affect Mississippians with private and public health insurance or Medicaid coverage. How far those changes go and how many Mississippians they will affect remain to be seen.
Email state reporter Arielle Dreher at [email protected]. Comment at jfp.ms/state.
More stories by this author
Support our reporting -- Follow the MFP.