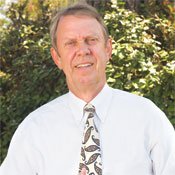 Mississippi Insurance Commissioner Mike Chaney expressed outrage today that the state of Mississippi is one of eight states in the nation, including the District of Columbia, which allows insurance companies to consider domestic abuse as a pre-existing condition with which to deny health-care coverage. The National Women's Law Center reported in April that the state of Arkansas passed a law prohibiting insurance companies to pull coverage for domestic violence survivors, putting a spotlight on the remaining states.
"The truth is we've got eight states in the union that count domestic abuse as a pre-existing condition, and Mississippi is one of them," Chaney told the Jackson Free Press. "I've got to get some of my lawyers to do some research on this, but we have only six mandated (conditions that must be covered) in our state statues, and we have 25 or more optional coverages, but domestic abuse doesn't seem to be one of them."
Chaney said all insurance companies in the state can take advantage of the state's limited coverage mandate, and that he would prefer the state to change its law to force insurance companies to cover victims of domestic abuse.
"Would I do something about it? Hell, yeah, I'd do something about it, but I'm a regulator, not a legislator. I have to come to terms with that every week," Chaney said. "The whole situation is bad. Let's say a woman works with a company that had Blue Cross/Blue Shield, and she gets beat up in her house and Blue Cross says 'we're not covering you because getting beat up is your pre-existing condition.' That's terrible."
Chaney explained that the law has to be changed at the Legislature: "They would have to change the statute to say that spousal abuse is a mandated coverage. We've done it before when we added coverage for mammograms and some other things."
Sen. Dean Kirby, R-Pearl, served as chair of the Senate's Insurance Committee before moving to the Finance Committee, where he has served as chairman for two years. Kirby said the state law on the issue surprised him.
"I didn't even know we allowed for them to deny coverage due to domestic abuse," Kirby said. "I wonder how long that's been on the books, because I certainly didn't pass it, and I've been on the committee for 12 years," Kirby said. "I would think that the chairman of the insurance committees in the House and Senate would consider seriously changing that law."
Senate Insurance Chairman Eugene Clarke, R-Hollandale, and House Insurance Chairman Walker Robinson, D-Bolton, could not immediately be reached for comment.
Kirby, who is a property and casualty insurance agent, said he did not think a state law change would impact insurance companies significantly.
"I can't see it making a lot of difference in the premium, and I think the legislature should really consider changing it," Kirby said. "I can't imagine there being so much domestic abuse that they would consider exempting it. I think the companies are probably paying for it and don't even realize that it qualifies as a pre-existing condition."
Previous Comments
ID

151980

Comment

This is difficult to comprehend. Why would the insurance company do something like this? Trying to force people out of abusive relationships? If somebody lives in a high crime neighborhood, will they still cover medical treatment after muggings? Are they excluding medical care related to high risk sports as well, like mountain climbing or hang gliding? Will there be no coverage if somebody gets into a car accident while speeding or driving under the influence. Oh, hang on, most of the victims of domestic violence are women and we're already so expensive because we get ourselves pregnant. Gotta cut the cost where one can.

Author

RhinosMom

Date

2009-09-16T13:53:12-06:00
ID

151994

Comment

RhinosMom- They do it because they will most likely have to pay out more, not because they aren't trying to force anyone out of an abusive relationship. This needs to fixed soon,I still think some senators and reps. need a old-fashion ass-whoppin over this, so they will no what it's like to be abused. They do exclude medical coverage for high risk sports and even people who ride motorcycles instead of driving cars in some states.

Author

BubbaT

Date

2009-09-16T17:37:24-06:00
ID

152005

Comment

BubbaT, I agree that things need to change. I doubt changing the legislation will make much difference though. If states make a list of conditions that have to be covered, insurance companies will find other conditions to exclude. After all, there are quite a few folks who agree that some people should be charged more - thinking of smokers here and there has been discussion about obese people - so their premiums may go down. Where should one draw the line or should the line be drawn? I am deeply concerned about the shift toward the bottom line and away from compassion and integrity in society in general. But I have a feeling that people have been concerned about just this thing for many generations and I'm not sure if things are really getting worse or if it is only perception. Still hoping we can be kinder to each other.

Author

RhinosMom

Date

2009-09-17T09:08:12-06:00
ID

152012

Comment

Insurance Commissioner Mike Chaney has submitted this clarification to the JFP about his statements in the above story. Verbatim: "There have been recent articles and news stories which seem to imply that Mississippi, and the Mississippi Insurance Department in particular, allow insurance companies to deny coverage to and refuse to pay claims for victims of domestic violence. Such implication is patently untrue. Mississippi does not at this time have a law which bans insurance companies from considering domestic violence as a pre-existing condition. However, the reason there is not such a law is that there has not been a problem with insurance companies denying coverage or refusing to pay the claims of domestic violence victims in this state. If it were an issue, the Legislature and the Department would have addressed it by now. The Mississippi Department of Insurance is unaware of any insurance company operating in this state that would deny coverage if the applicant had been a victim of domestic violence. Nor have we received any complaint from a consumer stating their insurance company refused to pay their medical bills incurred from domestic violence. Such action by an insurance company would not be tolerated by the Department. It is the position of the Department that if an insurance company denied payment of a claim incurred in an act of domestic violence, such action would be a violation of the Unfair Trade Practices Act, as promulgated in Miss. Code Ann. §§ 83-5-29 through 83-5-51, and the Department would take the appropriate action. Should the Mississippi Legislature choose to enact legislation addressing this issue, the Mississippi Insurance Department would be very supportive of the passage of such legislation." —Mike Chaney

Author

DonnaLadd

Date

2009-09-17T12:23:40-06:00
More like this story
More stories by this author