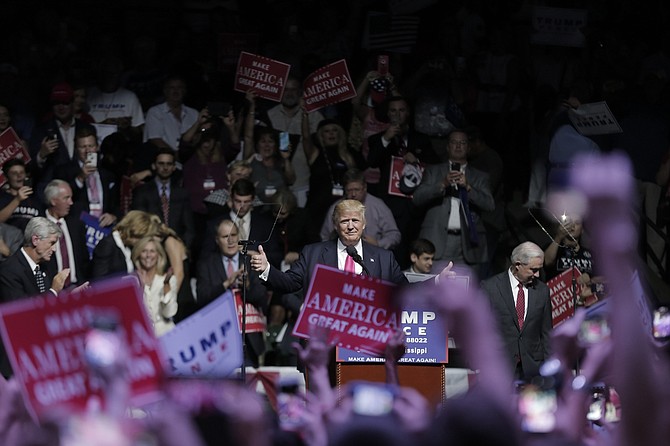 JACKSON — Lower- and middle-class Mississippians could have the most to lose from Trump's proposed health-care reforms, including those who benefit from insurance plans through the Affordable Care Act marketplace as well as those who qualify for Medicaid.
Re-enrollment for marketplace insurance plans was underway before the presidential election, and Roy Mitchell, executive director at the Mississippi Health Advocacy Program, said enrollment spiked the day after the election.
"I think they had one of the highest days (of enrollment) ever; there is a lot of concern—we've had calls from people concerned about their existing coverage and viability," Mitchell told the Jackson Free Press. "We are trying to reassure people that as it stands now, the comprehensive health coverage is still available through 2017."
More than 77,000 Mississippians have insurance coverage through the Affordable Care Act marketplace, and consumers who pay premiums by Dec. 15 will be covered at the start of the new year. The Affordable Care Act, commonly called Obamacare, will be in effect until the new president-elect, Donald Trump, and a heavily Republican Congress say differently. Long a complaint among Capitol Hill Republicans, repealing Obamacare is at the top of Trump's "Healthcare Reform" policy paper.
Mississippians re-enrolling in ACA marketplace insurance plans will likely have to pay more for their premiums. Insurance Commissioner Mike Chaney warned Mississippians of the rate hikes back in August. In an Aug. 4 press release, he said that Humana monthly premiums will go up an average of 43 percent. The majority of Mississippians with ACA insurance plans currently receive federal government subsidies to help pay for the plans, another part of the ACA that could go away with a Trump presidency.
A lot of the ACA's future will depend on how seriously Trump takes his own policy papers. Just days after winning the projected votes of the electoral college, Trump sat down with President Barack Obama at the White House, a meeting that seemed to shift his thoughts on parts of the Affordable Care Act.
Trump told The Wall Street Journal that he favors "keeping the prohibition against insurers denying coverage because of a patients' existing condition and a provision that allows parents to provide years of additional coverage for children on their insurance policies."
In that same interview, Trump said, "Either Obamacare will be amended, or repealed and replaced."
Medicaid Chopping Block
Beyond the ACA, who is eligible for Medicaid in each state could change if Trump and the Republican-led Congress make good on another one of the president-elect's health-care reforms: block-granting Medicaid.
"Nearly every state already offers benefits beyond what is required in the current Medicaid structure. The state governments know their people best and can manage the administration of Medicaid far better without federal overhead," Trump's health-care policy paper says.
Mississippi never expanded Medicaid coverage, opting for a limited managed-care program that continues to balloon, much to Republican lawmakers' chagrin.
Even with the state's limits, however, federal mandates required the state's Division of Medicaid to adjust its eligibility requirements, leading to more Mississippians on the rolls. State funding for Medicaid has increased since 2012.
Sen. Brice Wiggins, R-Pascagoula, chairs the Medicaid Committee in the Senate. He said that while he thinks the country will see something done on Obamacare, that it is too early to say what those reforms will look like.
In an August budget working-group meeting, the executive director of the state's Division of Medicaid, David Dzielak, told lawmakers that the state saw an increase in spending for two reasons. First, the Affordable Care Act affected how Medicaid eligibility works, which led to more kids and adults becoming eligible to receive Medicaid benefits. The state's rolls increased accordingly. Now, 765,050 Mississippians receive Medicaid or CHIP benefits as of the end of October; that number is down from March, when 780,315 Mississippians were covered.
Secondly, Dzielak said that the increasing cost of medical services also contributed to driving costs up. Wiggins said that it is also important to note that 80 percent of the Medicaid costs to the state are driven by 20 percent of the Medicaid population: namely the elderly and those in long-term care facilities.
Medicaid is the second-largest spending item in Mississippi's state budget, behind all of education.
The state also has the highest federal medical assistance percentage in the country, meaning that Mississippi gets the best bang for its buck when it spends money on Medicaid. The state's federal medical assistance percentage is 74.63, the highest in the nation.
"We have the highest match in the country. For (every dollar) we put in, we get at least $3 back in federal money," Mitchell told the Jackson Free Press..
The Block-Grant Debate
Block-granting Medicaid could have several consequences for Mississippians who benefit from the coverage. First, a block-grant means a fixed amount instead of a need-based amount, Mitchell said. Currently, Medicaid funding can fluctuate based on poverty levels, income and social security status. In a block-grant situation, the state Legislature would control what services qualify for Medicaid coverage and what eligibility requirements are for a person in the state to enroll. Sen. Wiggins says block-granting would give Mississippi lawmakers the ability to control the rising costs and spending on Medicaid.
"We cannot continue on the road we're going, but another thing that we have to keep in mind is we do have a significant Medicaid population," he said.
Advocates worry about how block-granting will affect who gets coverage.
"The state (would) get a certain amount of money, not as much as they were getting, but in turn for taking a lesser amount, they (would) get the flexibility to decide what services they're going to provide, what payments they are going to give to providers and what eligibility guidelines," Mitchell said.
Wiggins said he has faith in his colleagues if they were to block-grant Medicaid, to pay attention to the specific needs of Mississippians, especially since the state has such a high population eligible for Medicaid, he said.
"I don't see us at all leaving anybody out in the sense that we aren't going to take care of the vulnerable population," he said.
Thousands of Mississippians receive medical care through Medicaid, and children receive that same care through the Children's Health Insurance Program, referred to as CHIP. The 2016 Kids Count report found that 29 percent of Mississippi children are in poverty. Over 400,000 children in the state receive health care from Medicaid or CHIP benefits.
Email state reporter Arielle Dreher at [email protected]
More stories by this author
Support our reporting -- Follow the MFP.