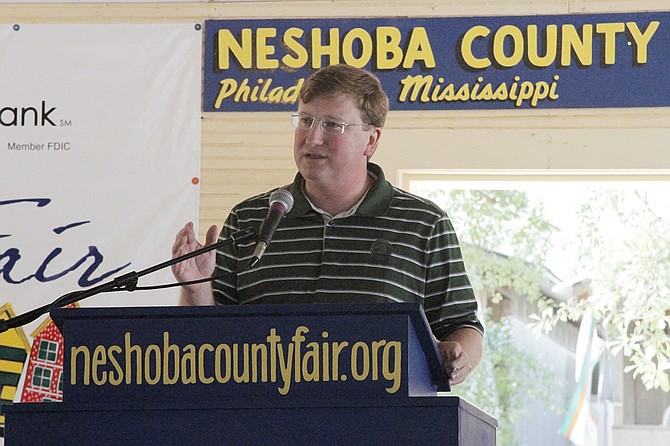 JACKSON — The words "mental health" may never been used more in a handful of minutes than they were Wednesday at the Neshoba County Fair. Both Lt. Gov. Tate Reeves and Attorney General Jim Hood shared their views on the state of mental-health care in Mississippi and where we need to go moving forward at the annual event known for quick and ideological stump speeches by political candidates.
While the state just settled one lawsuit concerning mental-health care for children, Mississippi is still in the beginning litigation stages of a related U.S. Department of Justice lawsuit. That action alleges that the state over-relies on institutionalization to provide mental-health care—not community-based services.
Hood denounced the Legislature's budget cuts to the Mississippi Department of Mental Health on Wednesday at the fair, pointing to large tax cuts for corporations as the reason the money is not there. He said his office is still training law-enforcement officers to de-escalate situations when they encounter a person with a mental illness to hopefully avoid officer-involved shootings and get people proper treatment.
"We work with our mental-health care people to have local law enforcement get to know them and get their phone numbers, so when they do encounter someone with a mental-health-care issue, they can get them treatment rather than taking them to jail," Hood said in his speech Wednesday.
Lt. Gov. Tate Reeves, who spoke after Hood, took direct swipes at the attorney general just minutes into his speech, saying Hood and his "friends in the news media" cannot seem to see straight, "bless their bleeding little hearts."
Reeves praised the Legislature for creating the mental-health court pilot program in the past session, saying the courts will help individuals get treatment they need instead of locking them up in jails.
"It takes real solutions, not just more of (Mississippians') tax dollars," he said.
The pilot program did not include funding for courts, so the few circuit courts included in the bill have to seek funding from other grants to start their programs.
In Reeves' speech, Reeves said Hood has worked hard to protect DMH's reputation, and he referenced the attorney general's refusal to publicly release the taxpayer-funded Technical Collaborative Assistance, or TAC, report, which was a part of the children's mental-health lawsuit.
"I think the DOJ has sued us ... because we haven't done enough community-based care," Reeves told reporters Wednesday. "We do too much institutionalization, so we've got to work together and find solutions for that."
Hood, who is now defending the state against DOJ, said he has been working on mental health for almost four years. The attorney general said he is putting together a task force to deal with communication among the different parties involved in mental health between the department and the 15 state community mental-health centers.
"Yes, we need more mental-health care in the community. That's the cheapest bang for our buck to provide that mental-health care out in the communities, but our problem is we don't have enough beds to start with," Hood told reporters. "... There's a lot of work to be done—and, yes, we need both."
Neither Hood nor Reeves shot down questions about whether they plan to for governor in the 2019 election, implying that they are considering runs for the state's top-elected spot.
Reeves did not say "no" when asked if he was running and reiterated that he was grateful to serve Mississippians politically for 14 years, adding that policy drives him.
"I'm convinced that the policies in place will make a difference for kids in the long term," he told reporters. "That's neither a yes or a no."
Hood said he is looking at a run for governor.
"I'm looking at that issue. ... I've had so many Democrats—and what's outstanding is how many Republicans tell me to run," Hood said. "My wife ... my family has to make (that decision)."
Email state reporter Arielle Dreher at [email protected]. See more stories at jfp.ms/mentalhealth.
More stories by this author
Support our reporting -- Follow the MFP.