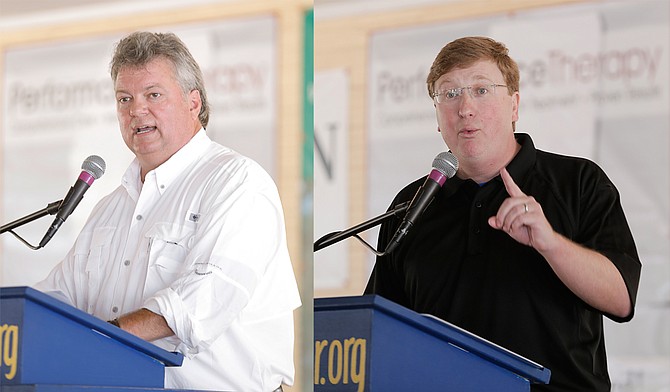 JACKSON — The state of Mississippi's political climate and economy are either staggering under the weight of lawsuits or having a really positive year, depending on whom you ask. Attorney General Jim Hood and Lt. Gov. Tate Reeves proved that Wednesday at the Neshoba County Fair.
Hood told fairgoers that he usually doesn't get into policy or tax issues as the attorney general, but said the Legislature's actions in the past few years, passing a lot of "political bills" that his office is forced to defend, led to him speaking out.
"There have been a lot of bills that we've had to defend that have created a lot of fervor, but they haven't really done much," Hood said on Wednesday.
Most recently, Hood's office declined to appeal House Bill 1523 after the U.S. District Court issued a preliminary injunction blocking the bill from becoming law. On Wednesday, Hood pointed to bills like HB 1523 and the Planned Parenthood Medicaid reimbursement bill that the Legislature passed a few months ago, saying they cost taxpayers money, especially when the state loses. Hood told reporters the HB 1523 lawsuits at least so far will cost the state $300,000, just to pay the plaintiffs' attorney fees.
Lt. Gov. Reeves relayed a very different picture of the Mississippi legislative session and political climate.
"It's been a really positive year in your state capitol," Reeves said on Wednesday. "We have put our heads together and our shoulder to the wheel, together with Governor Bryant and Speaker Gunn, we're fighting for smaller government and making Mississippi an even better place to invest capital and raise a family."
Reeves said he was fighting to protect Mississippians First Amendment rights to practice faith "without being harassed by big government." Reeves said he heard from people all over the state following the Obergefell ruling in June 2015 legalizing same-sex marriage across the United States.
"I heard from people all over Mississippi, many of them pastors, who were concerned at how far government could go to make them violate the tenets of their faith," Reeves said. "Your Legislature took action. Liberals hollered for boycotts because we gave those with deeply held religious beliefs a voice."
Reeves said he appreciated Gov. Bryant appealing HB 1523 but was not surprised that Hood declined to defend the case.
"The attorney general told reporters just a few weeks ago the Legislature was too focused on social issues," Reeves told fairgoers. "What he doesn't seem to understand is our conservative Legislature has this focus only because his liberal friends on the bench keep chipping away at our rights."
Hood, who spoke before the lieutenant governor, did not listen to Reeves' speech but told reporters afterward that the State could likely run up a tab of millions of dollars defending political bills, including the state's appeal of the Jackson Women's Health Organization case, which just returned to the lower federal court. The State will have to pay up attorneys' fees for before the anti-abortion effort is finished.
"We're talking about a lot of money that could go to protect kids and schools," Hood told reporters Wednesday. "Those are political bills that don't protect us from federal lawsuits."
Email state reporter Arielle Dreher at [email protected]. Read more about HB 1523 at jacksonfreepress.com/lgbt.
More stories by this author