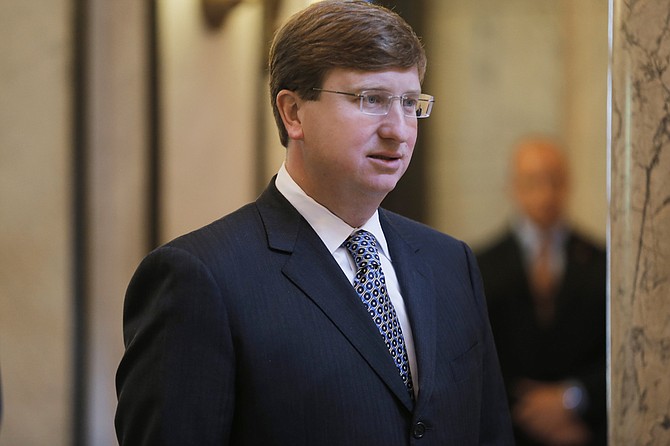 PHILADELPHIA, Miss. (AP) — Mississippi Republicans are harming the public by cutting health spending, Democrat Jim Hood said Wednesday, but Republican Tate Reeves said it's the Democrats who are hurting people by fighting GOP efforts to cut taxes in Mississippi.
Hood, the state's attorney general, and Reeves, the lieutenant governor, voiced their stark differences on the state budget in back-to-back speeches at the Neshoba County Fair. They addressed hundreds of spectators in and around a tin-roofed pavilion at the heart of the fairgrounds south of Philadelphia.
Hood said the Republican-controlled Legislature is hurting people by cutting mental health funding as opioid addiction spreads. He also said lawmakers have fallen short in funding schools and highways.
"All the cuts that we've had in our state have created such a problem that the Legislature is not facing the issues that we need to face. We have examples of ... all the tax cuts to large, international corporations, billionaire corporations — giving away our state treasury when we need it the most," Hood said.
He pointed to other states where Republican-led legislatures and governors cut taxes and later had budget problems.
"There's a pattern of that. It's happened in Kansas. It's a complete failure," Hood said. "You look at Louisiana. Bobby Jindal left with a $2 billion deficit over there, trying the same things — giving these large tax cuts to these large corporations."
But Reeves said Hood and other "liberals" are fighting Republicans' efforts to cut taxes in Mississippi.
"Our beautiful state has much to brag about," Reeves said. "It takes special set of blinders to ignore the good and only see the bad. Democrats like the previous speaker would have you believe the sky is falling, that Mississippi is in peril and only he and his liberal friends can save it."
Reeves said Republican leaders "have taken on the status quo, and we have the bullet holes to show for it."
"It's not easy," Reeves said. "The liberals are entrenched deep in state government. They've convinced some politicians and their liberal friends in the media that their way is the only way to serve Mississippians, that their demands for tax dollars shouldn't be questioned or scrutinized."
Reeves and Hood are widely seen as possible contenders for governor in 2019. But, neither made a formal announcement of candidacy at the fair.
Republican Gov. Phil Bryant is limited to two terms and can't run again. He speaks at the fair Thursday.
Known as "Mississippi's Giant Houseparty," the fair is an annual gathering where hundreds of extended families live in brightly painted cabins for more than a week. It features midway rides, horse races on a red dirt track and country music concerts. For two days every year, one of the main forms of entertainment is a series of short speeches by politicians.
Copyright Associated Press. All rights reserved. This material may not be published, broadcast, rewritten, or redistributed.