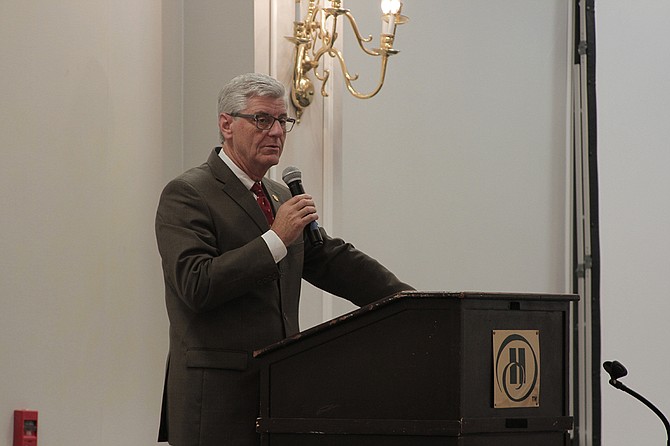 After seven years of litigation, one Mississippi teenager will finally get to move from the East Mississippi State Hospital to a regional center that provides services for those with intellectual and developmental disabilities. His move—out of an institution and into more integrated care—marks the end of a prolonged legal struggle for children's mental-health care in the state that started when he was 13.
L.S., the teen who will receive services at a regional center, was the last plaintiff standing in the lawsuit. It was originally a class-action case on behalf of all children in Mississippi seeking services for mental health care and developmental disorders.
Mental health, Medicaid and State of Mississippi representatives signed the settlement agreement late last week, ending the Troupe v. Barbour case after seven years.
As a part of the agreement, the attorney general's office released the long-hidden TAC report, which documents how the Department of Mental Health and the Division of Medicaid spent more and provided more services for children in institutions than in home- and community-based services. The latter is now a common best practice.
DMH issued a response to the TAC report that documents changes they have made since the TAC report was completed at the end of 2015. The response says the department will close 50 institutional beds for children this month "as a result of expansion of community services and decreased in need for institutional beds."
Adam Moore, the director of communications at the department, said closing those beds is a result of consolidating inpatient units at East Mississippi State Hospital and the Mississippi State Hospital in Rankin County. Now judges committing children for inpatient acute mental-health care can only send them to Mississippi State Hospital.
The department's response lists several initiatives and the progress made on children's mental-health care since the TAC report was finished in 2015, including expanding the services of the Wraparound Institute.
"Even as the agency receives budget cuts, DMH's focus will remain on building up direct services in the community to ensure capacity is available to reduce the reliance on inpatient institutional services," the DMH release says.
The State still faces a federal lawsuit for relying on institutions to serve adults who need mental-health care in the state. Legislation to move DMH under the governor's purview faced significant resistance from lawmakers in the 2017 legislative session—and ultimately died.
Jockeying for Control
Gov. Phil Bryant still wants to run the Mississippi Department of Mental Health. After the release of a sealed report, which examined mental-health care for children, Mississippians now have access to a possible roadmap to offering more home- and community-based services instead of relying on the state's institutions to provide mental care. The report's underlying point echoes what the U.S. Department of Justice alleged back in 2011: Mississippi over-relies on institutions to care for those with mental-health illnesses.
"I think if you would raise ... the Department of Mental Health to a cabinet-level position as we did with Child Protection Services, we might be able to draw more attention, more support, (and) more of a direct effort by not only this governor but governors of the future to make sure that those services are delivered," Bryant told reporters last week after an awards event for the Division of Child Protection Services last week.
That is, Bryant would like the director of DMH to report directly to him rather than to a board he appoints. The Department of Mental Health, the State's largest agency, reports to the Board of Mental Health, which is made up of members that the governor appoints, pending confirmation by the Mississippi Senate. When asked if he plans to make changes to the board, Bryant said, "I have, and I will," implying a shake-up is in order.
Closing Hospitals?
Gov. Bryant dodged a question about the potential to close some of the state's mental-health hospitals in June.
"I think that would be, honestly, a decision for the Board of Mental Health; that's their responsibility," he told reporters June 23.
"I don't manage the DMH; if I did, I might have sufficient information to make that decision."
When the Legislature cut DMH's budget this year, the agency announced it would have to reduce its workforce by 650 employees by June 2018.
The TAC report addresses the potential shift in personnel from institutions to home- and community-based services. Mississippi will need to keep some institutions, the TAC report says, but hospitals "should not be a solution or default system for an underfunded or fragmented community system." Researchers recommend that DMH should expand the current functions of the state hospital staff to include home- and community-based services.
"The services provided by redeployed state hospital staff would complement the role of (community mental health centers) and other providers without duplication," the TAC report says.
"DMH can manage the provision of lower-cost alternatives to institutional treatment...(T)he state could redeploy hospital staff to increase mobile crisis response capacity, to provide emergency services and crisis triage functions, to provide crisis stabilization services," the report says.
It also says that hospital staff would be ideal for providing in-home therapy and care coordination, and psychiatrists could serve in community environments. Of course, this is just a suggestion. Earlier this year, after the Legislature cut the DMH budget, it announced layoffs and retention leading to a loss of 650 employees by this time next year.
Read more about the state's pending mental health litigation at jacksonfreepress.com/mentalhealth.
More stories by this author
Support our reporting -- Follow the MFP.