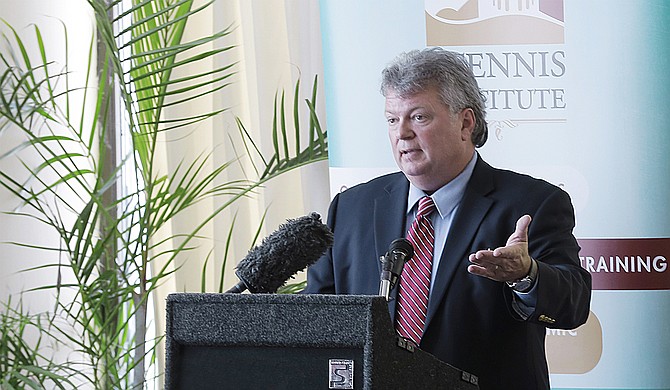 JACKSON — The U.S. Department of Justice sued the State of Mississippi last week for unnecessarily institutionalizing adults with mental illness at a higher rate than providing community-based mental health-care services.
"The State discriminates against adults with mental illness by administering and funding its programs and services for these individuals in a manner that has resulted in their repeated, prolonged, and unnecessary institutionalization in state-run psychiatric hospitals," the lawsuit, filed in federal court in Jackson last Thursday, says.
In 2011, the DOJ sent then-Gov. Haley Barbour a letter following a federal investigation of Mississippi's mental health-care system that concluded that the state violated the Americans with Disabilities Act by not providing mental-health services to individuals "in the most integrated settings appropriate to their needs."
Lengthy negotiations ensued, primarily with the attorney general's office, to avoid a potential lawsuit. Hood refused to accept the department's demands for a court-ordered consent decree, a press release from his office states, which is why he pushed the Legislature to funnel more money into the Department of Mental Health. The Legislature did increase the agency's budget until this year, when lawmakers cut $8.3 million from the department's budget. Attorney General Jim Hood called the lawsuit a "clarion call" to those in state leadership.
"I see this litigation as a challenge to our Legislature to find the resources we need to continue to expand mental health services," Hood said in a press release. "This is a clear opportunity for our Legislature, mental health professionals, our faith-based community and all of us as Mississippians to come together to determine an effective way to address issues related to our mental health delivery system for years to come."
Gov. Phil Bryant told the Associated Press last week that the lawsuit was "another attempt by the federal government to dictate policy to the states through the courts."
The state's over-reliance on institutionalization of patients versus community-based care is at the heart of DOJ's complaint. Back in 2003, President George W. Bush put together a task force to study the country's mental-health services, the DOJ complaint says.
"The committee concluded that '[m]ore individuals could recover from even the most serious mental illnesses if they had access in their communities to treatment and supports that are tailored to their needs,'" the lawsuit says.
DOJ's lawsuit alleges that the Mississippi Department of Mental Health spends significantly more on its state hospitals than on community-based services. The lawsuit states that MDMH spent $202.5 million on its state hospitals in fiscal-year 2015, while providing about $25 million in grants for community-based services.
The department has had to reduce the number of beds at several of the state hospitals over the years—most recently, it closed 67 chemical-dependency beds and 34 psychiatric units for adults. The DOJ lawsuit says that, not including forensic beds, state hospitals have about 500 adult psychiatric beds that serve approximately 3,300 adults per year with an average length of stay around 43 days.
Evidence shows that community-based services are not only more effective, but they are also more cost-effective.
"The State reports that the cost for one individual in the State Hospitals is over $470 per day, on average ... the approximate cost to the State (minus the federal portion) to serve Medicaid eligible individuals with the most intensive needs who instead receive ACT (Assertive Community Treatment) in the community is approximately $30 per day," the DOJ lawsuit says. "And many individuals served at the state hospitals will not need the most intensive and most expensive community-based services in order to avoid unnecessary hospitalizations."
For more state news visit jacksonfreepress.com/state. Email Arielle Dreher at [email protected] and follow her on Twitter @arielle_amara for breaking news.
More stories by this author
Support our reporting -- Follow the MFP.