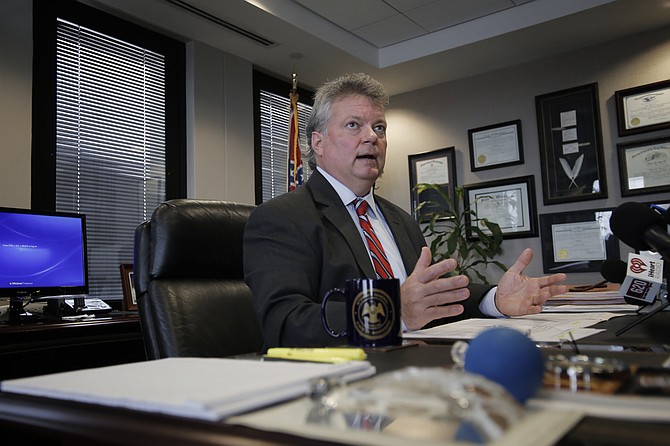 JACKSON — Attorney General Jim Hood is calling on the Legislature to increase funding for the Mississippi Department of Mental Health as a part of his legislative priorities this session. It is especially urgent in light of pending litigation against the State for its over-reliance on mental-health institutionalization instead of offering community-based services to serve those Mississippians who need mental health care.
If the Legislature had given the Department of Mental Health $12 million more in their budget last year, Hood says, the U.S. Department of Justice might not have sued the State over mental health care. Instead, budget cuts affected the agency, and the justice department sued Mississippi in August in a separate case about the over-reliance of institutionalization in the state's adult mental health-care system.
The State was already in pending litigation over the its lack of options for children's mental health care, in a case called Troupe v. Barbour.
"The problem with Mississippi and the reason the federal government didn't sue us for a long time—I worked with DOJ; they worked great with us—was that we don't have enough beds in a facility (like) here in in Jackson to take care of people now," Hood said in a press conference in his office Thursday. "You've got a kid that's got drug or mental health issues, and it's hard to get them in a bed, especially if their parents have a mental health issue."
Mississippi has six inpatient hospitals and facilities across the state for Mississippians with beds for those with "serious mental illness or substance abuse problems," the DMH website says. Alabama, a state with almost 2 million more people than Mississippi, has only three inpatient facilities, one of which serves those being held criminally, their website shows. Other states have dealt with Olmstead challenges in different ways. In Delaware, after years of work, the state is almost out of their settlement agreement. Georgia, however, is $200 million into settling its DOJ lawsuit, which that State has been fighting for 15 years, Hood said.
Hood said Mississippi needs more beds, and said that is what DMH has been trying to tell the feds.
"We're not just warehousing (people); we don't even have enough warehouse beds for people that need to be (in) in-patient treatment," Hood said. "The community services need to be out-patient where somebody goes by and makes sure they're taking their medication. It's a lot cheaper to put them in their home and apartment than it is to put them in an institution."
Hood said the Legislature was able to spend more money on mental health in the past few years, which helped avoid litigation, until the new budget year kicked in. DMH is not one of the agencies that Gov. Phil Bryant exempted from his latest budget cut, which means the department will have to deal with another cut in their fiscal-year 2017 budget, as will most state agencies.
In August, the U.S. Department of Justice sued the state for its adult mental health-care system, under the U.S. Supreme Court's Olmstead decision, which requires states to administer services in the most integrated setting possible for those with disabilities and those that require mental health care.
"Every day, hundreds of adults with mental illness are unnecessarily and illegally segregated in Mississippi's state-run psychiatric hospitals or are at serious risk of entering these institutions," the August DOJ Olmstead complaint says.
Last December, a U.S. magistrate judge consolidated the Troupe v. Barbour lawsuit with the DOJ Olmstead complaint, saying that both lawsuits addressed the same part of the state's mental health-care system.
Hood told reporters Thursday that consolidating the lawsuits would save Mississippi money, especially if the state loses or settles the case and has to pay the other side's attorney fees.
Either way, Hood said, "the mental-health litigation will take quite some time."
Email state reporter Arielle Dreher at [email protected].
More stories by this author
Support our reporting -- Follow the MFP.